Greg Strobel, a two-time NCAA champion at Oregon State and head coach of Lehigh University, passed away in his sleep.
A self-described "shy country bumpkin from Scappoose, Oregon," Strobel was a titan in the sport who excelled in every capacity at which he applied himself. He was a three-time Oregon State high school champion, a two-time NCAA champion and three-time All-American at Oregon State, and the head coach of Lehigh University for 13 seasons. Strobel was also an avid fisherman in his spare time.
The Strobel led Mountain Hawks won six EIWA championships and placed as high as third in 2004. Rob Rohn and Troy Letters won NCAA titles during Strobel's tenure in Bethlehem.
Strobel was also involved in six different Olympics, usually in a coaching capacity with Team USA. He was an adept administrator, having been elevated to the role of assistant Athletics Director at Lehigh after his coaching career ended, a position he held until he retired in 2019.
Strobel was also a member of USA Wrestling's board of directors and the executive director of the EIWA at the time of his passing.
Greg Strobel leaves behind two children, four grandchildren, and an unparalleled legacy in the sport to which he dedicated the majority of his life's work.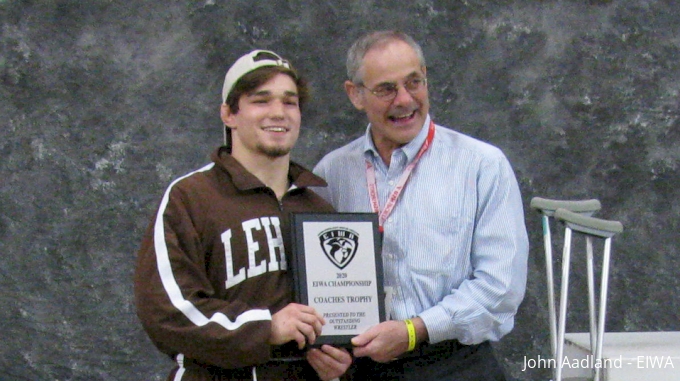 Greg Strobel presenting the 2020 EIWA Outstanding Wrestling Award to Josh Humphrey of Lehigh.