2020 Senior Nationals
74 kg Is Up For Grabs At Senior Nationals
74 kg Is Up For Grabs At Senior Nationals
With almost 50 entries and a lot of good college middleweights, 74 kg is up for grabs at Senior Nationals.
Oct 6, 2020
by JD Rader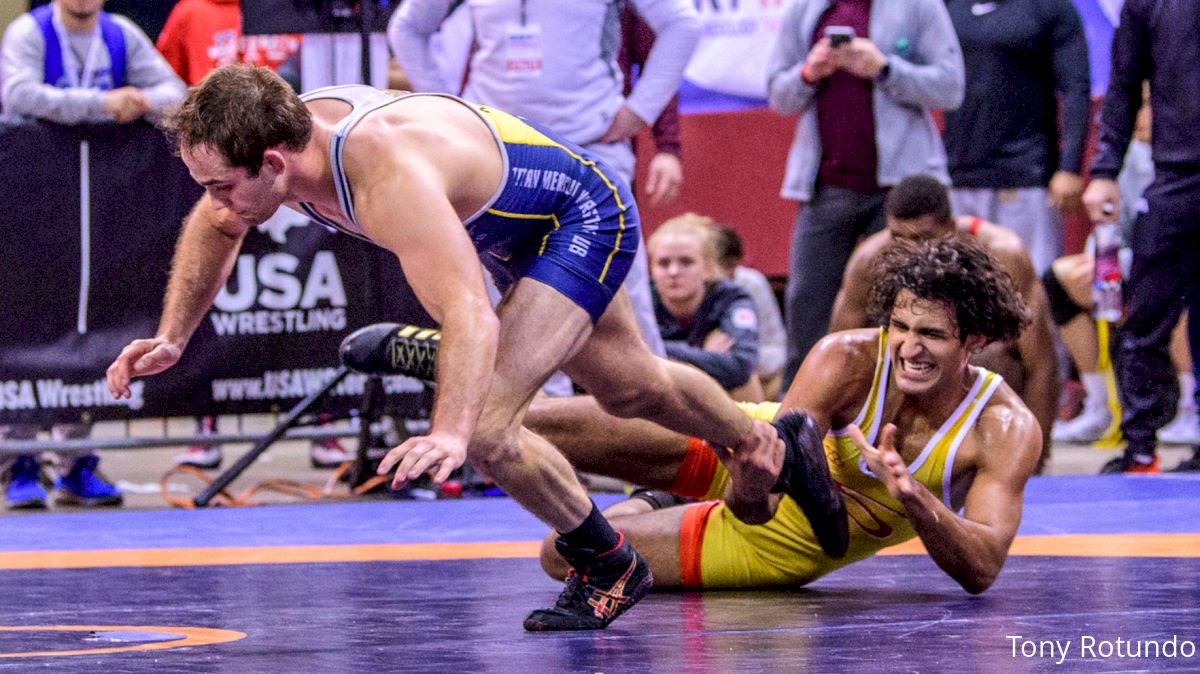 Unlock this article, live events, and more with a subscription!
Get Started
Already a subscriber? Log In
Now less than a week away from the first whistle, Senior Nationals registration is starting to heat up. With 49 wrestlers currently signed up at the end of early registration, 74 kg is going to be one of the largest weight classes in Coralville.
Watch 2020 Senior Nationals LIVE on FloWrestling
The bulk of those 49 entries are college wrestlers. With many of these top wrestlers having split matches in the past, 74 kg will be up for grabs in Coralville.
Senior Nationals Previews: 57 kg | 86 kg
Seeds
Logan Massa (CKWC)
Evan Wick (TMWC)
Anthony Valencia (Sunkist Kids)
Ryan Deakin (TMWC)
David Carr (Cyclone RTC)
Hayden Hidlay (TMWC)
Joey Lavallee (TMWC)
CJ Brucki
Dan Vallimont (Pennsylvania RTC)
Danny Braunagel (Illinois RTC)
Austin Headlee (Sunkist Kids)
Rick Durso (Pennsylvania RTC)
Contenders
Logan Massa is in his sixth year at Michigan, but still has one year of eligibility left. The super senior All-American for the Wolverines in 2017, putting up a 9-0 major decision over Anthony Valencia en route to a third-place finish. Massa has looked quite impressive as of late, winning 2019 Senior Nationals and beating two-time World bronze medalist Bekzod Abdurakhmonov 4-3 at the Nittany Lion Wrestling Club event in September. Massa is currently the sixth-ranked wrestler in the country at 74 kg.
Watch Logan Massa tech fall Anthony Valencia at 2019 Senior Nationals below.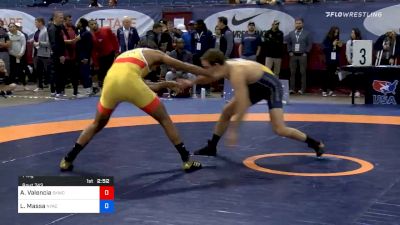 Unlock this video, live events, and more with a subscription!
Get Started
Already a subscriber? Log In
Ryan Deakin will be the only person at this weight who has either won the US Open or made a Final X appearance. However, his lack of results at 74 kg hurt him in the seeding meeting. In the 2019 US Open, finals, Deakin defeated two-time World medalist James Green and qualified for Final X at 70 kg. In folkstyle, Deakin was a 2019 All-American for Northwestern. Last season, he went undefeated, was the #1 seed at last year's NCAA Championships, and gave David Carr his only loss of the season. If the seeds stay the same and things go chalk, we could see this rematch in the quarterfinals.
Anthony Valencia got beat 18-8 by Logan Massa at 2019 Senior Nationals, but he did beat him at the 2019 US Open. Similar to Massa, Valencia is going into his sixth year of college but still has one year of eligibility left. Valencia is three-for-three for qualifying for NCAA Championships. The seeding committee clearly used 2019 Senior Nationals placements as a main criteria because despite finishing one spot behind Evan Wick in December, Valencia owns the only head-to-head victory.
Evan Wick is a two-time All-American for the Wisconsin Badgers and placed fourth at 2019 Senior Nationals. While Wick and Massa have never hit in freestyle, Wick is 3-2 against Massa in folkstyle.
Watch Evan Wick defeat Logan Massa at the 2018 NCAA Championships below.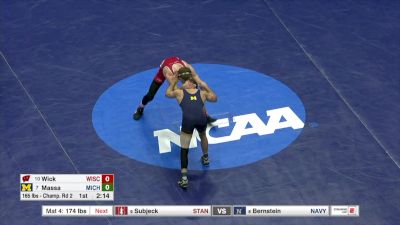 Unlock this video, live events, and more with a subscription!
Get Started
Already a subscriber? Log In
Hayden Hidlay will be returning to 74 kg for the first time since 2017 UWW Junior World Team Trials. The NC State All-American is as technically sound as they come. If Deakin and Hidlay hit, it will be a rematch of the 2018 U23 National finals, which Hidlay won two-matches-to-one.
David Carr is one year removed from a Junior World gold medal and four years removed from a Cadet World bronze medal. He is incredible at freestyle. As just a freshman this past season, Carr was the Big 12 champion and earned the three seed at the NCAA Championships.
Other Notable Entries
Ricky Durso has a lot of people talking after dismantling Malik Amine 10-0 at the NLWC event. He was a 2014 All-American for Franklin & Marshall.
Paddy Gallagher is fresh off a victory at Who's #1 over Travis Mastrogiovanni. Just 19 years old, the Ohio State commit might not be a title contender, but it will be interesting to see how one of the top pound-for-pound high schoolers stacks up against some of the best NCAA middleweights.
Dan Vallimont (2010 NCAA finalist), Joey Lavallee (2017 NCAA finalist), Collin Purinton (2020 NCAA qualifier), CJ Brucki (2X NCAA qualifier), Philip Conigliaro (2020 NCAA qualifier), Danny Braunagel (2020 NCAA qualifier), Muhammed McBryde (2019 U23 World Team member), Quentin Perez (3X NCAA qualifier), and Jeremiah Moody (2018 UWW Junior Nationals champion), AC Headlee (3X NCAA qualifier) all figure to make some noise at the Xtream Arena in Coralville as well.
Complete List of 74 kg Entries
| | | | |
| --- | --- | --- | --- |
| Name | State | Team | Ranking |
| Logan Massa | MI | Cliff Keen Wrestling Club | 6 |
| Anthony Valencia | AZ | Sunkist Kids Wrestling Club | 10 |
| Ryan Deakin | CO | Titan Mercury Wrestling Club (TMWC) | |
| Evan Wick | CA | Titan Mercury Wrestling Club (TMWC) | |
| Hayden Hidlay | NC | Titan Mercury Wrestling Club (TMWC) | |
| Dan Vallimont | PA | New York Athletic Club | |
| Joey Lavallee | MO | Titan Mercury Wrestling Club (TMWC) | |
| David Carr | OH | Cyclone Regional Training Center C-RTC | |
| Collin Purinton | NE | Nebraska Wrestling Training Center | |
| Quentin Perez | MD | Navy-Marine Corps Mat Club | |
| Austin Headlee | NC | Sunkist Kids Wrestling Club | |
| Padraic Gallagher | OH | The Wrestling Factory of Cleveland | |
| Jarrett Jacques | MO | Tiger Style Wrestling Club | |
| Cameron Amine | MI | Cliff Keen Wrestling Club | |
| Rick Durso | PA | Pennsylvania RTC | |
| Jeremiah Moody | WI | Hawkeye Wrestling Club | |
| CJ Brucki | IL | | |
| Danny Braunagel | IL | Illinois Regional Training Center/Illini WC | |
| Philip Conigliaro | MA | | |
| Gator Groves | AZ | | |
| AJ Jaffe | IL | | |
| Wyatt Hardesty | GA | | |
| Brenton Dotter | WI | | |
| Kyle Summers | MO | | |
| Joshua Kim | CA | | |
| Anthony Rivera | OK | | |
| Jack Chesman | IN | Indiana RTC | |
| William Formato | NC | | |
| Aaron Goldman | TX | Spartan Mat Club | |
| Cory Graham | IN | Legends of Gold | |
| Kevin Tao | CA | San Francisco Wrestling Club | |
| Laurence Kosoy | FL | | |
| Jacob Wright | CA | Valley Regional Training Center | |
| Tony Raupp | ND | Minot MatWrats Wrestling Club | |
| Evan Barczak | NY | Pennsylvania RTC | |
| Jack Nigro | NH | | |
| Austin Kraisser | MD | Buies Creek Wrestling Club | |
| Matthew Malcom | IA | Nebraska Golden Eagles Wrestling Club | |
| Dylan Montelongo | CO | Denver Wrestling Club | |
| Muhamed Mcbryde | NY | Buffalo Wrestling Club RTC | |
| Dracius Mckee | TX | | |
| Caleb Licking | NE | Nebraska Wrestling Training Center | |
| Elroy Perkin | WI | Gopher Wrestling Club - RTC | |
| Grant Henderson | IA | Viking Wrestling Club (IA) | |
| Renaldo Rodriguez-Spencer | IA | Viking Wrestling Club (IA) | |
| Jake Keating | VA | Cavalier Wrestling Club | |
| Zeth Dean | MI | | |
| Dennis Owcarz | TX | | |
| Shabaka Johns | IN | | |
| Andrew Torres | AZ | Firestorm Wrestling Club | |
| Trever Devestern | CA | Titan Mercury Wrestling Club (TMWC) | |