2020 Senior Nationals
Why I'm Psyched For 65kg This Weekend
Why I'm Psyched For 65kg This Weekend
Mike Mal talks about the three biggest reasons he's fired up for 65kg this weekend at Senior Nationals.
Oct 5, 2020
by Michael Malinconico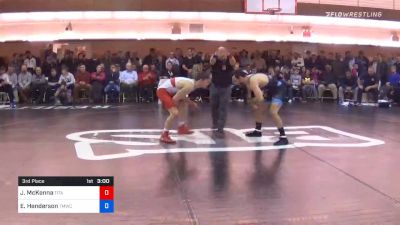 Unlock this article, live events, and more with a subscription!
Get Started
Already a subscriber? Log In
Senior Nationals is this weekend and there are a ton of reasons to tune and watch, but 65kg has cemented itself as the most interesting weight in my eyes. Here are a few reasons why.
Evan Henderson vs Joey McKenna
These two let it fly at the 2019 Bill Farrell to the tune of 26 points. McKenna took an early 8-0 lead and was in on a leg when Henderson started storming back with a chest wrap and monster feet to back throw. Watch the rest above.
From what I understand, Henderson is training up in Ithaca right now, so I'm interested in seeing what weapons, if any, Henderson has added to his arsenal. If it were up to McKenna he'd keep the match within the parameters of his baseline, single leg, offense... but nobody muddies the waters better than Evan Henderson.
The Return of Austin Gomez
We haven't seen Austin Gomez in competition since his 16-5 loss to Iowa's Austin DeSanto in the bloodround of the 2019 NCAA tournament. As an outsider looking in, I always thought that Gomez would be better up in weight and it looks like he might agree. While I can't imagine that 57kg was ever an option I'm interested to see if Gomez being up at 65kg for Senior Nationals means that we will see him compete at 141lbs the next time we see him a cardinal and gold singlet.
Luke Pletcher Is On a Roll
Before the pandemic, Ohio State's Luke Pletcher was riding a serious wave of success that saw him take home a Big Ten title. While anything can happen on those three days in March he was pacing to win his first-ever NCAA title. Take that and add in the fact that he put up a W against Darion Caldwell on July 25th on the Dake/Chamizo card and that learning tricks from Keith Gavin in the Pitt room and he's going to give the field serious fits.
Jaydin Eierman Is Always A Must-Watch
While the above headline is true enough, I am intrigued to see what the better part of a year in the Hawkeye wrestling room has done to Eierman's wrestling style and pace.