METCALF
Brent Metcalf's Career Timeline
Brent Metcalf's Career Timeline
A chronological timeline with everything you need to know before watching METCALF.
Sep 22, 2020
by JD Rader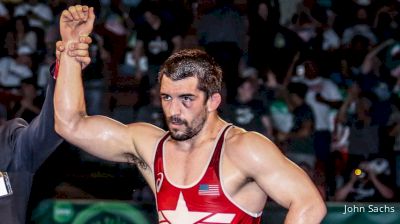 Unlock this article, live events, and more with a subscription!
Get Started
Already a subscriber? Log In
Because of his time, team, style, and mentality, Brent Metcalf is one of the most popular and polarizing wrestlers in recent American history. His accolades include four-time state champion, six-time Junior Nationals champion, two-time NCAA champion, Hodge Trophy winner, and four-time World Team member.
Watch METCALF Episode 1 on FloWrestling
You'll have to watch the entire three-part series to get the incredible full story with all the shocking details, but here's a timeline with some of Metcalf's biggest accomplishments throughout his wrestling career.
High School
Brent Metcalf was a bad dude in high school. Wrestling for coach Roy Hall at Davison High School in Michigan, Metcalf finished as arguably the #1 overall recruit with a career record of 228-0 with 156 pins and four state titles.
Metcalf wasn't the only hammer at Davison High School at the time. NCAA champions Paul Donahoe and Jon Reader were both teammates with Metcalf.
On the national scene, Metcalf was just as dominant. His only two folkstyle losses were in four years were to #1-ranked Dustin Schlatter of Ohio, who he had beaten previously, and 2005 All-American Mike Tannebaum of the University of Michigan.
In freestyle/Greco-Roman, Metcalf is a Fargo legend. He never lost at Junior Nationals. He won six career titles, tying the national record held by Sean Hage of Georgia. In 2005 Metcalf won Outstanding Wrestler for both freestyle and Greco.
---
College
2005-2006
In high school signed his NLI with Virginia Tech to wrestle for head coach Tom Brands. He spent his first year of college in Blacksburg, Virginia, and redshirted without competing.
2006-2007
After Metcalf's freshman year, Brands took the head coaching position at Iowa. Metcalf, along with several other Hokies, transferred to Iowa after Brands announced this. Controversially, these athletes were not allowed to compete for the Hawkeyes and lost a year of eligibility. Metcalf competed unattached and went 14-0.
2007-2008
This is when the legend of Metcalf really began to take hold. This season Metcalf became just the second wrestler ever, along with Cael Sanderson, to win the Hodge Trophy as a sophomore. In addition to the Hodge, Metcalf won what is regarded as one of, if not the, hardest NCAA bracket of all time, was named OW of the NCAA Championships, defeated Dustin Schlatter in the Big Ten finals, was named Big Ten OW and Wrestler of the Year, and even Jesse Owens Big Ten Male Athlete of the Year.
This was a debut season like the NCAA had never seen.
2008-2009
Metcalf was the favorite to repeat as the 149-lb NCAA champion. He was 37-0 with 20 pins and seven tech falls heading into the NCAA Championships and coming off of a Big Ten Championships where he pinned Jenkins in the finals and earned OW. After making it to the finals, however, Metcalf was famously upset by NC State's Darrion Caldwell.
2009-2010
Brent got back to the top once again his senior year. After going undefeated in the regular season with over 20 pins/tech falls, Metcalf suffered his first Big Ten Championship career loss when he fell in the finals to Ohio State's Lance Palmer. Metcalf would avenge this in the NCAA finals, however.
---
International
2010
After falling short in 2008 and 2009, Metcalf made his first Senior World Team in 2010 fresh out of college. Metcalf went through Teyon Ware, Josh Churella, and Doug Schwab before defeating Jared Frayer in the finals.
Watch Brent Metcalf beat Jared Frayer and make his first World Team below.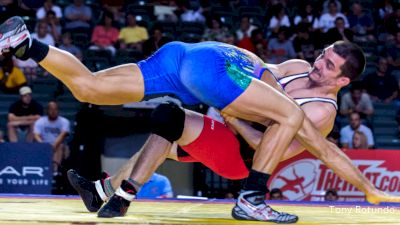 Unlock this video, live events, and more with a subscription!
Get Started
Already a subscriber? Log In
At the World Championships, however, Metcalf drew 2008 Olympic bronze and multiple time World medalist Otar Tushishvili of Georgia in the first round and went 0-1.
2011
Metcalf took a step back in 2011. Despite beating two-time World medalist Magomedmurad Gadzhiev of Russia at Beat the Streets and 2002 World bronze Zaur Botaev at Yarygin, Metcalf took third at the US Open and lost to Teyon Ware in the finals of World Team Trials two matches to one.
2012
Between the 2011 World Team Trials and 2012 Olympic Trials, Metcalf went 6-2 in three international competitions. At OTT Metcalf once again made the finals but fell short. This time to Frayer two matches to none.
2013
2013 was arguably the best year of Brent Metcalf's international career. He made the Yarygin finals, went 4-1 at the World Cup, beat 2016 World champion Magomed Kurbanaliev and World and Olympic champion Soslan Ramonov TWICE, and made it back on the World Team by defeating Jordan Oliver and Kellen Russell. Once again, however, Metcalf drew a bad draw at the World Championships and went 0-1. This time, it was two-time World champion Mehdi Taghavi of Iran.
2014
Metcalf continued to ride his momentum into 2014. The Hawkeye won the Golden Grand Prix, US Open, World Team Trials, and went 4-0 at the World Cup. At Beat the Streets 2014 Metcalf also once again defeated Kurbanaliev.
Watch Metcalf defeat 2016 World champion and 2013 bronze Magomed Kurbanaliev below.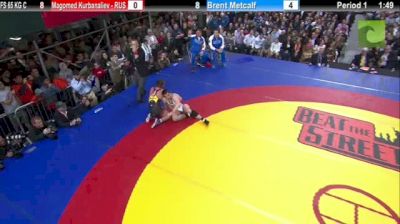 2015
Before making his third-straight World Team, Metcalf once again went 4-0 at the World Cup, won the US Open, and made the finals of the Yarygin. Although his opponent was just 18 at the time, Metcalf did beat 2018 and 2019 World champion and #2 P4P wrestler in the world, Zaurbek Sidakov, 9-1, at the Yarygin.
Metcalf also defeated another 18-year-old phenom at Agon 1 in Aaron Pico. Before that, in December of 2014, Metcalf defeated World silver medalist Franklin Gomez at Flo Premier League 3.
Brent picked up the only Senior World Championship victories of his career in Las Vegas. He defeated Norbert Lukacs of Hungary 11-0 and Katal Yeerlanbieke of China 5-3 before losing to returning silver medalist Sayed Mohammadi of Iran. Mohammadi would go on to get bronze.
2016
Metcalf's competitive career came to a close at the 2016 Olympic Team Trials. Despite being the #1 seed, Metcalf lost went 0-2 losing to Frank Molinaro and Jayson Ness. Although this did end up being Metcalf's last competition and he was very emotional after the Trials, Metcalf did not officially retire from competition.
---
Coaching
Metcalf began his coaching career shortly after his competitive career ended in 2016. He was originally set to be an assistant coach at Cedar Rapids Prairie High School, about 30 minutes from Iowa City. However, in November Metcalf took a position as the National Freestyle Developmental Coach for USA Wrestling where he was the head of USAW's Elite Accelerator Program.
In April of 2017, Metcalf accepted a position as an assistant coach for Iowa State under head coach Kevin Dresser. He is still coaching there today.
Listen to Metcalf discuss becoming a Cyclone below.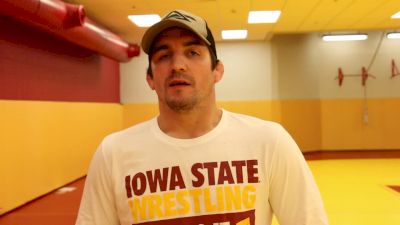 ---
If you want even more Metcalf, you can check out FloWrestling's extensive backlog of Brent's matches HERE interviews HERE, and technique catalog HERE.