Big 12
John Smith & Oklahoma State Are Loading Up On Sibling Talent
John Smith & Oklahoma State Are Loading Up On Sibling Talent
Oklahoma State has a top-ranked recruiting class coming to Stillwater, and here's one reason why: sibling talent.
Sep 14, 2020
by Seth Duckworth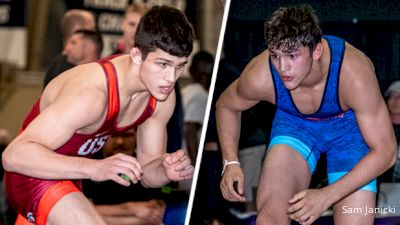 Unlock this video, live events, and more with a subscription!
Get Started
Already a subscriber? Log In
Unlock this article, live events, and more with a subscription!
Get Started
Already a subscriber? Log In
Historically, wrestling programs across the board are known for having siblings join forces within their programs and create family legacies at those institutions. The Brands at Iowa, the Smiths and Rosholts at Oklahoma State, the Stiebers at Ohio State, the Sandersons at Iowa State, the Schultzs at OU, and many more.
Oklahoma State has a load of talent that just came in with the #1 recruiting class in the country for 2020, and has another potentially #1 class for 2021 with three top-20 recruits and four ranked in the top 60.
Interestingly, the reason for that top 2021 class is in part the family ties to some of those kids. And Oklahoma State may have set themselves up to get a lot more talent down the road with wrestlers that come in from the same households.
It starts with the 2021 recruiting class. The Cowboys' highest-ranked recruit on the 2021 Big Board is Travis Mastrogiovanni, the brother of 2020 recruit Trevor Mastrogiovanni. He's committed to the Cowboys for 2021 as is Kyle Haas, the younger brother of recruiting coordinator and former Cowboy Tyler Caldwell. Haas is ranked #10 overall in that class.
Watch Travis Mastro in action: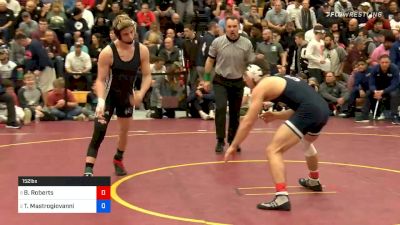 Unlock this video, live events, and more with a subscription!
Get Started
Already a subscriber? Log In
One of the more talked-about recruits in recent Oklahoma State history is AJ Ferrari. Ferrari was a Cadet World medalist and, at the time of his commitment, was the #1 overall prospect in that class. Another alluring fact for Oklahoma State fans is he has two younger brothers who are both big talents in their own right. Anthony, who is a high school junior and member of the 2022 class, was ranked #15 on the most recent 2022 Big Board. Their youngest brother Angelo will be a high school freshman this season and last year was ranked as the #37 junior high wrestler in the country. Of note is the fact that the Ferraris recently moved to Stillwater and are expected to compete for the Pioneers next season.
Angelo is not the only freshman to be that the Cowboys should have their eyes on. Victor Voinovich was another one of Oklahoma State's big commitments for their 2021 class. His younger brother Kael has been a dominant star on the youth scene for some time. He was ranked #19 on the most recent Junior High Big Board. Though he's not a sibling of any commits, Jace Roller is another junior high legacy that's carving out quite the youth career. Roller is ranked #20 on that same junior high big board and is the son of All-American Shane Roller.
Though not quite on the national scene at the same level as these others, there are quite a few other Cowboy siblings that are solid wrestlers and could certainly be role players at Oklahoma State in the future. Cason Lindsey, brother of OSU freshman Cade Lindsey, is now a high school senior and became a Kansas state champion last season. Jeremy Manibog is the younger brother of Daniel Manibog and was a state placer in Texas last year. Cutter Sheets is the younger brother of OSU 157-pounder Wyatt Sheets and was a state placer in Oklahoma the last two seasons. Kooper Doucet is not ranked on any national boards currently that I'm aware of, but is one that I believe could emerge as a prime prospect for the Cowboys in the coming years. He is the younger brother of Konner Doucet and, as a freshman last season, finished second at the Oklahoma state tournament and was a junior high state champion as well.
Not only is there some pretty serious talent coming in the next few years for OSU, but there's also a lot of firepower in their siblings that could help stock the Cowboys with some talent down the road.
---
Seth Duckworth is a Stillwater-based writer who covers Oklahoma State University wrestling for Pistols Firing Blog, the best OSU news and community site on the internet. Follow Seth on Twitter.