Big 12
What The Fix Suspension Could Mean For Oklahoma State's Lineup This Season
What The Fix Suspension Could Mean For Oklahoma State's Lineup This Season
The Daton Fix suspension by USADA might have implications for Oklahoma State's lineup during dual season.
Sep 14, 2020
by Seth Duckworth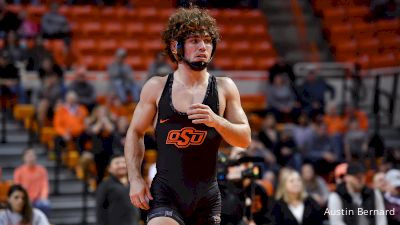 Unlock this video, live events, and more with a subscription!
Get Started
Already a subscriber? Log In
Unlock this article, live events, and more with a subscription!
Get Started
Already a subscriber? Log In
The storyline that has consumed most of the wrestling world this past week is Daton Fix's USADA suspension for testing positive for ostarine on January 22, 2020. The suspension will take place for one year and was dated back to a start date of February 10, 2020. This means Daton is suspended until February 10, 2021.
USADA does not have any jurisdiction over the NCAA, and I don't believe any word on this has been officially put out by the NCAA yet. The NCAA has its own testing procedures, but traditionally they do follow bans that are put in place by USADA. Oklahoma State's response that was released last week seems to allude to this fact, as they note that Daton may at least back just before the end of the season.
From the release:
The possibility remains that Fix can compete for Oklahoma State this season and be eligible to compete in the 2021 Big 12 Championships and NCAA Championships, which typically happen in March. He would also be eligible to compete at the U.S. Olympic Trials, which typically happen in April.
That creates a very unique situation for Oklahoma State. We obviously don't know the definitive lineup plans for the Cowboys this season, but the two feasible weights we could see Daton competing at are 125 or 133.
At 125 I believe it becomes sort of simpler solution for OSU. Last season the Cowboys had Rhett Golowenski, Colton Klein, and Dallas Wilson listed at this weight. Wilson is no longer showing in the OSU student directory, but Golowenski and Klein are guys they could feasibly enter into the lineup for the dual and regular tournament season. Neither of them is near the level of Fix, but they don't have redshirts available and could be given an opportunity and step up as a starter in duals and whatever regular-season tournaments they have before handing it off to Fix to take over for the postseason. This would almost certainly be the best overall postseason scenario for OSU as it would put Fix at 125, with Kaid Brock at 133, and either Kaden Gfeller or Dusty Hone at 141.
The other option if Fix is going 125 would be to possibly wrestle true freshman Jakason Burks. I don't see them going that direction. Burks is a very talented kid and OSU expects him to be a big part of the lineup moving forward. Using a year of eligibility for him for just for a few duals in a season that is certain to be shortened due to COVID-19? It just doesn't make a lot of sense. That becomes a very different conversation if Fix goes 133. For Burks' situation at 125, I would think there is a real possibility they wrestle him as a true freshman if he's the best guy in the room and Daton Fix is not planning on going 125 for his abbreviated season.
Where it becomes a little more chaotic for OSU is if Daton is at 133 and plans to wrestle his shortened part of the season there. Last year the starter for the Cowboys at 133 was true freshman Reece Witcraft. He was an NCAA qualifier and will be a sophomore next season for the Cowboys with a redshirt available. Similar to the scenario described for Burks it would be interesting to see how they handle that. I.e., would they wrestle Witcraft and burn a year of his eligibility just for the dual season and with him not having a possibility to compete in the postseason? That theoretically could happen I guess, but there are certainly reasons to stay away from that just the same as with Burks at 125.
Andrew Nieman is a redshirt senior who I think could reasonably be used as a starter at 133 for dual season before handing the reigns to Fix to close out the season. He's not a high-profile type, but a guy who's stuck it out in the room for four years and is certainly one that you would love to see have an opportunity to get some starts in his career before graduating and moving on in life. Redshirt freshman Colt Newton would be another similar option here though he's much younger. He's listed at 133 but competed last season at 141. He dealt with some injuries in high school and had some surgeries and recovery that kept him out most of last season, but if that's all gone well, he has the tools to be an asset for OSU.
The final variable to look at if Daton would be a 133 this season is Kaid Brock, Dusty Hone, and Kaden Gfeller. Brock was the 141 for the Cowboys during the 2018-19 season and Hone for '19-20. Kaden Gfeller has competed at the weight and started at 149 for the Cowboys in '18-19 and won a Big 12 title. Brock had previously been a 133 and he could make that cut and return to 133 again. There is no doubt that the best lineup for OSU without Daton Fix would be one with Kaid Brock down at 133 and either Hone or Gfeller at 141. It is incredibly difficult to see OSU wrestle Brock for the regular season at 133 and not allow the two-time All-American and senior to wrestle in the postseason with Fix returning and taking his job. It's also tough to see them wrestle Brock at 133 to improve their chances in the regular season, then have him bump to take the 141 spot if Fix returns as that would likely damage Brock's NCAA and Big 12 seeding.
The other variable to insert is Fix may be able to use another Olympic redshirt. That's an enticing possibility for a few reasons.
If you're John Smith, this simplifies the decision making on the lineup. Brock almost certainly goes down to 133, and Hone and Gfeller fight it out for 141. The other factor is the Cowboys also just brought in the best recruiting class in the country and an additional year of Fix in the lineup with that group might do some pretty big things.
Between COVID, Fix's suspension, and a bit of a logjam for OSU at 141, there are a number of decision-making variables coming up for the Cowboys this season and it will certainly be interesting to see how it all plays out.
---
Seth Duckworth is a Stillwater-based writer who covers Oklahoma State University wrestling for Pistols Firing Blog, the best OSU news and community site on the internet. Follow Seth on Twitter.