Coach Myers Wrestling S&C: Plank Madness For Youth Wrestlers
Coach Myers Wrestling S&C: Plank Madness For Youth Wrestlers
Dustin Myers walks you through a plank workout that can be used to help develop core strength in youth wrestlers.
Aug 18, 2020
by Dustin Myers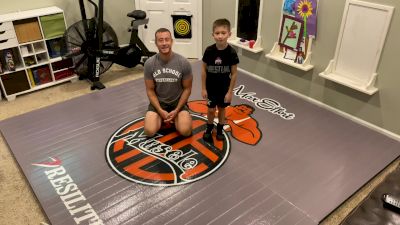 Unlock this video, live events, and more with a subscription!
Get Started
Already a subscriber? Log In
Unlock this article, live events, and more with a subscription!
Get Started
Already a subscriber? Log In
Plank positions are one of the best ways to develop core strength and muscle endurance for young athletes. Learning to brace, stabilize, and maintain position during static holds will also help youth athletes begin to understand how to recruit their abs, lower back, glutes, and lats. This "mind/muscle connection" is crucial as they begin to transition into loaded strength training.
To cover all of the bases, I came up with a plank routine that my 8-year-old son can do daily in less than 10 minutes. Jack has deemed the workout "Plank Madness," and it is perfect for your youth wrestler as well.
Here's what the workout entails:
10 different plank positions
10 seconds each
Start with 1 round and work up to 3 rounds with a minute rest between each.
Front Plank
Also known as the forearm plank, this is the holy grail of core strength and stability. Assume a "push-up position" and, keeping your body perfectly straight, lower your forearms down onto the ground. Keep your head in a neutral position (raising your head too high will strain your neck and cause your hips to drop) and your abdominals flexed. Do not make the mistake of letting your abs stretch and your hips sag, or rocking side to side.
Side Plank (right, left)
Start by laying on one side, and then prop yourself up onto your elbow, making sure that your feet are lined up with one on top of the other. Slowly raise your hip off the ground, tightening your obliques until your body is perfectly straight. Avoid letting your shoulders roll or twist (the easiest solution is to point your top arm straight towards the ceiling). In addition to the obliques, the side plank also stresses the abductors, delts, and lats.
Star Plank (right, left)
"One leg up" . . . raise your top leg and hold it and your top arm towards the ceiling. This will put an enormous amount of emphasis on your glute and hip abductor on the bottom side.
Superman Plank
Lay face down on the mat with your hands overhead and in front of you. Arch up slightly as you lift your hands off the ground, engaging your glutes, erectors, and upper back. Keep your thighs off the floor slightly and your head in a neutral position.
Single Leg Glute Bridge (right, left)
Lay on your back or across a couch with your legs bent and feet flat on the floor. Lift one leg and press thru the heal of your grounded foot as you bridge your hips up, squeezing the glute at the top. Maintain a straight line from knee thru the hip to your shoulder.
Pike Plank
Get into a push-up position then push back until your hips are up into an "A-Frame" or downward dog position.
Push-Up Plank
Push-up position, abs tight, and core braced.
…and we always finish each set off with 10 quality push-ups.
This is a great workout for your young wrestler and it is something they can do every day and even in front of the TV. Remember: make it fun for them! Do it with them and emphasize proper form. If they have a tough time maintaining position on some of the harder ones, start with 5 seconds and work up to 10. And when 10 seconds becomes too easy on certain positions, up the count to 15 or 20.
---
Coach Myers is the strength coach for the Ohio Regional Training Center at The Ohio State University. With the Ohio RTC since 2012, he served as Ohio State Wrestling's primary strength coach from 2014-18, helping the Buckeyes win three Big Ten titles, their first-ever team NCAA championship, and two runner-up finishes.
A certified strength and conditioning specialist (CSCS), Coach Myers owns the Old School Gym in Pataskala, OH, and is a founding partner of top supplement company Max Effort Muscle. Follow him on Instagram and Facebook, and learn more about his strength and conditioning programs for wrestlers of all ages here.