Unlock this article, live events, and more with a subscription!
Get Started
Already a subscriber? Log In
Who, What, and How Are Points Being Scored At 57kg: Part 2
It's worth repeating: My goal is to run through the 2019 World Championships in its entirety and see who, what, how, and when points are scored at the highest level of the sport. I'm going to start with the most meaningful rounds of the tournament: the quarters, semis, repechage, and medal rounds. This will give me the ability to look at how trends present themselves in different weight classes. Once I get a good collection of data from each weight class, I'll go back and add in the round of 16, round of 32, and the qualification round. The questions that I hope to answer in this series are as follows:
What - What tech and what position is scoring the most?
Who - What athletes from what countries are using which tech to score?
When - What technique works in what rounds?
How - Which setups, and which ties are being used to get to the scoring tech, and which finishes are used the most?
Yesterday we focused on what point were scored at 57 kg at the 2019 World Championships in Nur Sultan, KAZ. Today I'd like to direct our attention to the "how." In other words, how are lightest weight guys getting to their best attacks and how are they finishing once they've gotten there?
One thing that I'd like to get across is the way that I like to categorize tie-ups. Once you understand where my John Nash brain is coming up with this stuff then you can train your athletes as you see fit.
Short Range - control ties (Underhooks, 2-on-1s, front headlocks, etc.)
Mid Range - inside tie, elbow control, collar tie,
Long Range - no tie (space), wrists, fingers
Head Inside Set-Ups And Finishes
Now that we're all on the same page, let's get to the numbers. We know that the bulk of the points were scored from single legs and that they were split fairly evenly 16 points from head inside and 20 with the head on the outside. Here are the numbers involved with head inside singles.
Set-Ups
Out of the 8 head inside singles that scored in the meaningful rounds of the tournament 4 of them were from long range tie-ups.
3 of those were from space (no tie at all), and one was from wrists.
2 of the head inside singles that scored came from mid-range tie-ups like inside control.
1 scoring head inside attack came from a scramble.
The other 1 came from Uguev's ever-deadly under hook.
Finishes
There are some clear patterns in the numbers on how to finish single-leg attacks and they all point to getting to the second leg.
5 of the 8 single legs that started with the head on the inside were finished to a double of some type.
3 of those 5 were finished to a backside double (running the corner, shelving the leg on your hip and attacking the second leg from behind).
1 of the 5 finishes was a strait double when the guy squared up.
1 of those 5 was a cut-back double. Take a look at the video below — it's basically the same finish, only you secure the takedown by grabbing both legs.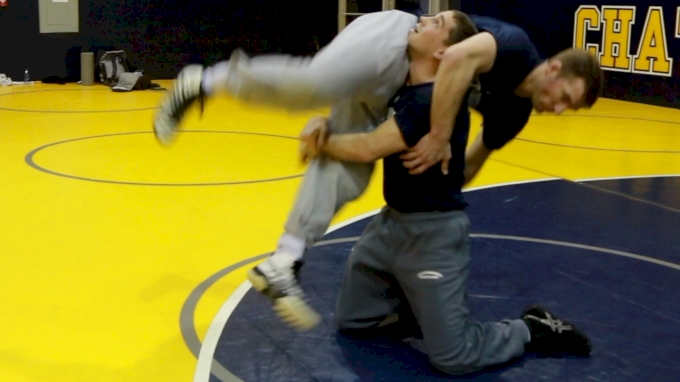 Unlock this video, live events, and more with a subscription!
Get Started
Already a subscriber? Log In
Head Outside Set-Ups And Finishes
Set-Ups
One of the things that has made scratch my head the most since starting this is how diverse the setups were when attacking a leg with your head on the outside. With other attacks, it seems that we can find a clear pattern from which they came, but with these head outside shots there's almost no rhyme or reason. The idea seems to be "just get to the leg and figure it out." Look at the column below that's headed with "INITIATED FROM."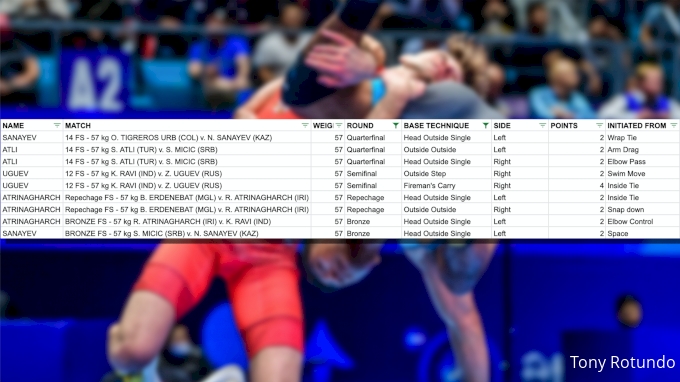 Finishes
As much as the setups to head outside shots varied you'd think the same would apply to finishes, right? Nope.
5 of the 10 scoring head outside attacks were finished to a double.
2 of the 10 were finished like a fireman's carry (one started that way and the other wound up there due to their opponent's reaction).
What Have We Learned?
I'm afraid that some of this may be misleading to young coaches. If you simply take the numbers at face value, especially the ones having to do with finishes you'd be inclined to force your athletes to finish everything to a double leg. That's a tricky endeavor. Once you have a lock on one leg one of the most difficult things to do in our sport that no one likes to talk about is getting a lock from one leg to two legs. I may have to do a video to help illustrate this point, but the position at which you attempt to change off from one leg to two is paramount.
It will also be interesting to see if these numbers hold up at higher weights. I think the fact that many of the 57kg athletes are choosing to finish their single legs on the mat is a luxury of lack of weight on their heads and neck while finishing, but that's just a working guess right now.