Calm, Cool & Collected: Pat Lugo Moves On With The Hawkeye Wrestling Club
Calm, Cool & Collected: Pat Lugo Moves On With The Hawkeye Wrestling Club
After frustration with the way his NCAA career ended, Pat Lugo has new goals ahead with the Hawkeye Wrestling Club.
Jul 29, 2020
by Anna Kayser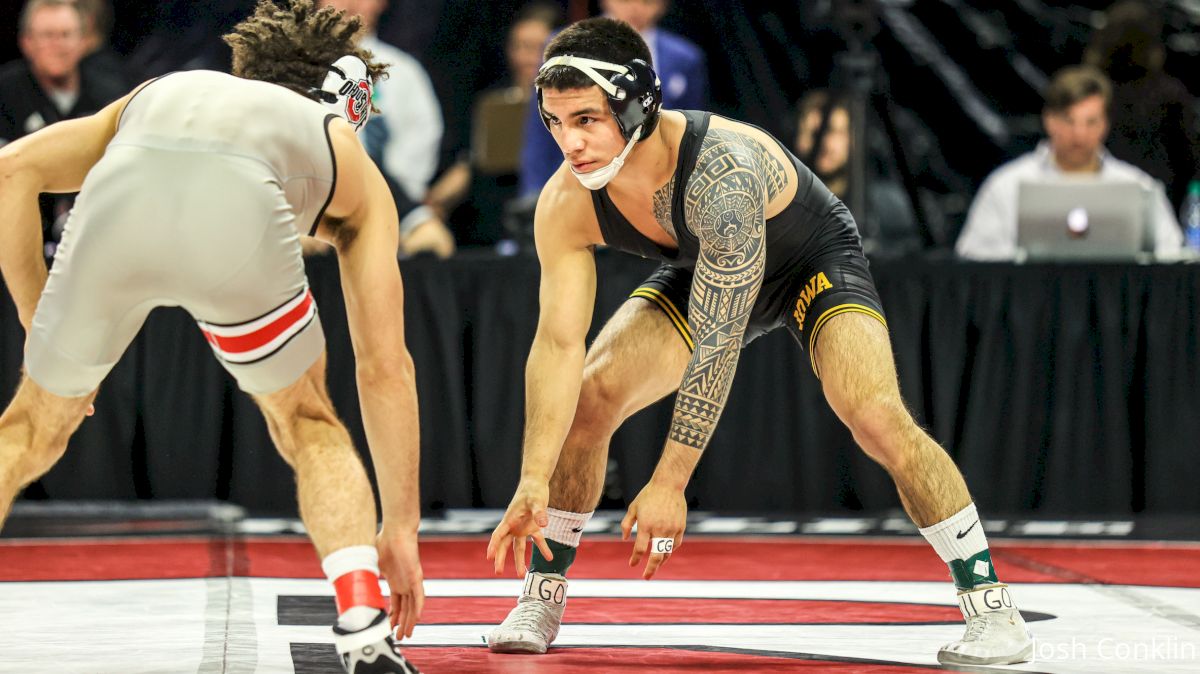 Unlock this article, live events, and more with a subscription!
Get Started
Already a subscriber? Log In
Pat Lugo's collegiate wrestling career ended on March 12, when rising cases of the novel coronavirus – including a case of Utah Jazz player Rudy Gobert – led to the suspension of most major sports leagues and the cancelation of all NCAA championship events.
Lugo was angry, and he had a right to be. After a dominant senior season in which he was crowned the 149-pound Big Ten champion, the Florida native was headed toward NCAAs as the No. 1 seed with a good chance to mark his name in the history books.
"It was a little hard to get back up," Lugo told FloWrestling. "I wasn't in a bad spot in life . . . I just got off my routine of things. I was trying to figure things out on my own. I've tried to figure things out on my own in the past – [but] it's always better to have people help you. So how did I move on? I had people help me."
Before graduation and the cancelation of NCAAs, Lugo's plans were to always join the Hawkeye Wrestling Club and take his career to the international stage.
Instead of a natural transition from being a college athlete to his post-graduate plans, Lugo was pushed into his new career and had to put what could have been behind him. By joining the HWC and looking up to Sam Brooks, who he's been close with since joining the Iowa roster in 2017, the transition was easy.
"It gave me the next step," Lugo said. "I knew I wanted to keep wrestling, but I wasn't 100 percent sure where I would go, but Tom and Terry being here made it easy for me to make that decision."
Now, that anger from what he was robbed of is still there, but it manifests itself in a different way that helps him raise his wrestling to a different level.
It pushes him, helps him train harder, and forces him to keep moving forward to the next best thing. Now he's looking toward the 2021 Olympics, which weren't even on his radar before they got bumped back from 2020.
"Olympic champ, world champ. Those are my two main goals right now in life," Lugo said. "Those are the things I work on every day, whether it's in the wrestling room or mental reps. Just telling myself I'm the best every day, it adds on and it gets you mentally stronger, little by little."
Building his personal brand is something that, now that he's out of a black Iowa singlet, is another point of emphasis. With the Hawkeye Wrestling Club, it's about leading by example and really taking your career into your own hands.
Lugo is well on his way, too. On June 30, he was named the USA Wrestling Athlete of the Week after defeating another reigning Big Ten champion, former Buckeye Luke Pletcher, at the Rumble on the Rooftop in Chicago.
"It was a big stepping stone [for building] my own personal brand, who I am," Lugo said. "It helped me build that, it helps me open doors to more opportunities. It felt good getting my hand raised again, it felt good to wrestle again, it felt good to get tired again. Being USA Wrestling Athlete of the Week, I know I'm up there with the best guys."
Next up for Lugo is just staying in his routine. He's not planning for the long term; he wants to attack each day with everything he has. When you plan for a goal and it gets ripped away, making each day count becomes important, both on the wrestling mat and in life.
"Stay cool, stay calm, stay collected," Lugo said. "The more I think, the more trouble happens."
---
Anna attended the University of Iowa, where she covered multiple sports from volleyball to football to wrestling. She went to Pittsburgh in March 2019 for the NCAA DI Wrestling Championships and did live coverage of the entire event and Spencer Lee's second-straight NCAA title. Follow her on Twitter.