Coach Myers Wrestling S&C: Sled Drill With Echemendia & Moore
Coach Myers Wrestling S&C: Sled Drill With Echemendia & Moore
Dustin Myers demonstrates a powerful sled drill with Anthony Echemendia and Kollin Moore.
Jul 28, 2020
by Dustin Myers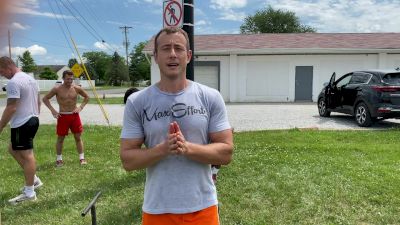 Unlock this video, live events, and more with a subscription!
Get Started
Already a subscriber? Log In
Unlock this article, live events, and more with a subscription!
Get Started
Already a subscriber? Log In
I've always used sled work — pushing, pulling, dragging, rowing — to train my athletes. I believe that a prowler or sled is the best tool to build functional strength and endurance, particularly in combat athletes such as wrestlers.
One of the issues I was faced with was how to make sled more of a power modality rather than just building strength or increasing muscle endurance. The other factor I'm interested in is how do we increase an athlete's "power endurance" — the ability to explode powerfully over and over again during the span of a match without losing a significant amount of their power? When you want to develop a fast, powerful sprint you would work with short intervals. Likewise, when you want to build power on compound lifts, you would focus on moving the bar very fast with heavy loads for low reps.
I refer to this style of sled work as "burst training." There are several different protocols I use — short repeating intervals, contrasting antagonistic movements, etc. — which I will detail in a later article. The burst protocol in this video is a 5-second push paired with a 5-8 second sprint. Use a heavy sled (or a light one in the grass, which adds a ton of friction and resistance) and have the athlete transition right into a sprint after their 5-second push. Keep rolling the group through the sprints until each person has done 5 burst combos. Rest 1-2 minutes then repeat.
---
Coach Myers is the strength coach for the Ohio Regional Training Center at The Ohio State University. With the Ohio RTC since 2012, he served as Ohio State Wrestling's primary strength coach from 2014-18, helping the Buckeyes win three Big Ten titles, their first-ever team NCAA championship, and two runner-up finishes.
A certified strength and conditioning specialist (CSCS), Coach Myers owns the Old School Gym in Pataskala, OH, and is a founding partner of top supplement company Max Effort Muscle. Follow him on Instagram and Facebook, and learn more about his strength and conditioning programs for wrestlers of all ages here.