FloWrestling 1: Dake vs Chamizo
Luke Pletcher vs Darrion Caldwell Is A Riveting Clash Of Styles
Luke Pletcher vs Darrion Caldwell Is A Riveting Clash Of Styles
When Luke Pletcher and Darrion Caldwell clash on July 25, you'll see two incredibly different styles — and a whole lot of shots.
Jul 16, 2020
by Hunter Sharpless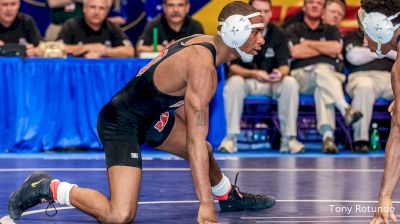 Unlock this video, live events, and more with a subscription!
Get Started
Already a subscriber? Log In
Unlock this article, live events, and more with a subscription!
Get Started
Already a subscriber? Log In
"I did not see that coming."
Back in early June on FRL, Ben Askren was all of us when reflecting on the insane leap that Luke Pletcher made from his first few years at Ohio State into his senior campaign: nobody saw that coming.
To be sure, Pletcher was always a solid wrestler — very good, even, a two-time All-American. But the jump he made before 2019-20, and even the jump he made within 2019-20, was mind-boggling.
Unforeseen ascensions are one of the hallmarks of the world of sports, those teams and individuals who transcend rudimentary progression (someone being marginally better than a few years before) and grow astronomically within a short period of time, against all odds and predictions. This phenomenon is especially interesting in wrestling, a sport that is so pure, so whittled down to the bone.
Watch Pletcher vs Caldwell LIVE only on FloWrestling
Saturday, July 25 | Austin, TX
When Pletcher and Darrion Caldwell clash on July 25, the Bellator MMA featherweight champ will be facing an elite wrestler, a guy who went from a solid, well-rounded competitor to one who controls the mat even against the toughest competition.
How did Pletcher evolve & what changed?
There are two questions I want to ask here: first, how exactly did Pletcher make the leap to elite; and second, what were the specific skills that improved so much?
The first clue to the puzzle is a pretty simple physical switch.
"The most obvious change this year was moving up from 133 to 141," said Andy Vance, a FloWrestling contributor as well as an expert Ohio State mind for Eleven Warriors. "Pletcher is one of the strongest, densest guys in the class, but moving up actually made him seem lighter on his feet. He seemed quicker, and there was no question he shot more. His bonus rate his senior season was double his career average, and that was all due to him going out and being aggressive with his offense, rather than grinding out a bunch of tight decisions."
Pletcher, then, became a more balanced wrestler — a more stable mixture of strength and agility, the latter trait allowing him to become more confident and aggressive in his attacks. The Caldwell match is being wrestled at 149, which gives the former Buckeye plenty of room to add muscle while retaining that lightness on the mat.
The second clue to the puzzle was a mental switch.
"It's all about going out there and letting it fly," Vance said. "Pletcher has the weapons to get anyone to the ground; he's technically sound, he's got all the power in the world, and the average competitor will have a helluva time taking him down. So he's got to maintain that more proactive approach to his offense that we saw throughout his final folkstyle season.
"It's not a confidence issue – Pletcher knows what he's capable of, and has a pretty unflappable personality in general – so it's about not reverting to that more 'grind it out' tendency, but charging ahead and keeping his opponent on his heels."
Vance also mentioned Pletcher's two matches against Penn State's Nick Lee by way of an intra-season switch.
They were both tight affairs, with the Nittany Lion taking the first via an 8-4 decision and then Pletcher avenging that loss to the tune of a 6-5 win in the Big Ten Championships final.
In Happy Valley, Pletcher actually stormed out of the gates, securing a takedown for an early 2-0 lead just seconds into the bout, but the rest of the match was all Nick Lee, who shed a couple of Pletcher attacks and then wore the Buckeye down.
In Minneapolis, at the conference championships, six of the 11 total points were scored in the first period, but the second and third periods were what looked completely different for Pletcher, who was able to strike a balance between fending off Lee's attacks from a distance and staying close physically to keep the pressure on.
The deciding takedown happened with just over 50 seconds remaining, a few moments after Pletcher managed to escape a pretty solid shot from Lee. The pair drifted back to the center of the mat, Pletcher locked Lee up, gave a sort of a half-hearted snapdown, and then shot powerfully through to a double-leg. Pletcher finished and then Lee quickly escaped, which meant Pletcher was left with 45 seconds to defend a one-point lead.
The second time around between these two saw fewer points but was just as exciting. Pletcher was the guy who made things happen, and who decided when those things would happen.
Jump to the 14-minute mark for Pletcher's appearance on FRL, episode 522: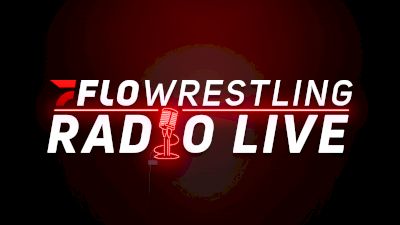 Unlock this video, live events, and more with a subscription!
Get Started
Already a subscriber? Log In
Who dictates pace in a clash of styles?
As both Pletcher and Caldwell have already noted in various interviews they've given in the last couple of weeks on the Bader Show and FRL, the first thing that jumps off the page about this matchup is a clash of styles.
For his part, Caldwell has described Pletcher as a "tank," "explosive," and "athletic." That all checks out. Reviewing some Caldwell film, Pletcher was practically speechless at how wild the MMA fighter's shots were back in his wrestling days. "He's gonna shoot from everywhere," Pletcher said.
The back-and-forth between Caldwell's shots and Pletcher's re-attacks is exactly what makes this match so dang compelling.
"For the first three years of his Buckeye career, Pletcher was pretty consistent as a guy who was darn difficult to get to the mat, but who wasn't going to fire off a hundred shots a match, either," Vance said. "A 3-2 or 5-3 type decision was pretty common."
All of those somewhat-exhausted tropes about a well-coached wrestler were true about Pletcher. Good defense, high mat IQ, difficult to bring down, well-rounded, tough, etc. etc. Those things are important and they're certainly still true about Pletcher, but if folks are expecting him to shimmy onto the mat and set up shop in a defensive stance, they're wrong.
Like we already mentioned, one of the key components for Pletcher's evolution has been the change in mentality. It almost reminds me of the difference between a great athlete or team having a "not going to lose" mentality vs a "going to dominate" mentality.
So maybe the situation, then, isn't about a difference in "style" so much as a difference of "tendency." Pletcher's initial tendency, in other words, may default to defensive solidity, particularly against an unknown opponent who's definitely going to be aggressive with his shots, but facing a guy who's been out of the game for so long might be all the more incentive for Pletcher to emulate what he did against Nick Lee the second time around: don't just take shots, call the shots. Dictate the match.
Those matches against Lee offer another interesting point of reference ahead of the Caldwell fight: a shorter, stockier Pletcher battling a taller, rangier opponent. Lee may have boasted superior length, but in no way did Pletcher look outmatched athletically in those matchups.
Don't sleep on Pletcher vs Caldwell on July 25. Fireworks are a certainty.