Unlock this article, live events, and more with a subscription!
Get Started
Already a subscriber? Log In
Frank Chamizo and Kyle Dake are both multiple-time world champions, have wrestled at least three different weights during their Senior level careers, and are masters of defense. However, the paths they took to get to their super match on July 25th couldn't be more different. Today, beginning with 2010, I'll take you on a year by year journey through Chamizo and Dake's careers to show how they got here.
Watch Dake vs Chamizo LIVE only on FloWrestling
Saturday, July 25 | Austin, TX
2010
Frank Chamizo - As just an 18-year old Chamizo burst onto the Senior level winning a bronze medal at 55kg for Cuba. En route to the medal, Chamizo beat future world champion, Hassan Rahimi of Iran, in the quarterfinals before falling to two-time world champion Viktor Lebedev in the semifinals. Quite an impressive run from such a young wrestler.
Kyle Dake - While Chamizo was making waves on the international scene, Dake was taking the collegiate wrestling world by storm. In 2010, it was even rarer than it is today for a true freshman to win a national title especially in the loaded weight Dake found himself. In the semifinals, Dake defeated a senior Reece Humphrey and then in the finals beat Montell Marion who would go on to finish in the top four at the NCAA Championships two more times and make the NCAA finals again his senior season.
2011
Frank Chamizo - A year after introducing himself to the world, Chamizo wasn't able to find the podium for Cuba for a second consecutive year. He once again hit Lebedev this time in the quarterfinals and then fell to Mihran Jaburyan of Armenia in the repechage. Lebedev would go on to defend his world title and also of note, American Nick Simmons would finish fifth.
2011 was also the year that would change Chamizo's career path drastically. Chamizo had outgrown 55kg and missed weight at the Pan American Championships. After missing weight, the Cuban Wrestling Federation suspended him for two and a half years before he's girlfriend finally convinced him to get married and move to Italy.
Chamizo goes into detail about how he got from Cuba to Italy.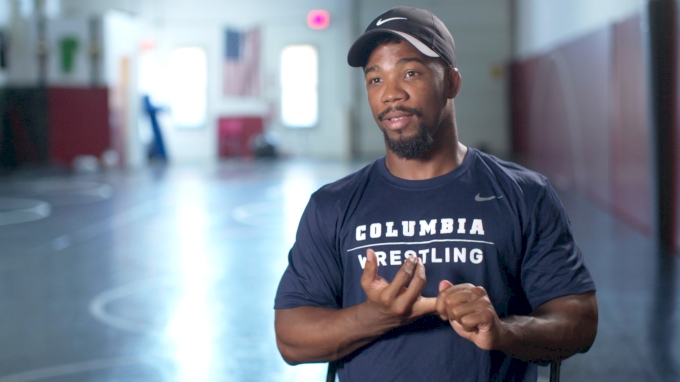 Unlock this video, live events, and more with a subscription!
Get Started
Already a subscriber? Log In
Kyle Dake - Back in the United States, Dake would move up a weight class and not miss a beat at the NCAA Championships. On his way to the 149-pound NCAA title, Dake would outscore his opponents 32-1 and didn't allow the lone point until his finals match with Frank Molinaro where he rode the Nittany Lion for over six minutes. Molinaro would, of course, go on to win an NCAA title of his own the next year and would fall to Chamizo in the 2016 Olympic bronze medal bout at 65kg.
2012
Frank Chamizo - Chamizo did not compete at all in 2012 as he figured out what his next move was while he was suspended from the Cuban National Team.
Kyle Dake - In St. Louis, Dake was making history as he became the first wrestler in NCAA history to win NCAA titles at three different weight classes. Dake marched his way to the 157-pound title with three falls and a 4-1 win over Derek St. John in the finals who would win an NCAA title of his own the next March. It was also the first undefeated season of his college career.
2013
Frank Chamizo - Chamizo would compete in three tournaments in 2013 for Italy at his new weight of 66kg. The Grand Prix of Spain where he finished second, The Ziolkowski Memorial where he turned in a fifth-place finish, and Henri Deglane where he was third.
Kyle Dake - Stateside Dake would cement his legacy has as one of the greatest NCAA wrestlers of all time. Not only did Dake become the first wrestler to ever win four NCAA titles at four different weights, but he would do so while beating returning NCAA champion and Hodge Trophy winner David Taylor.
Just a few months after making folkstyle history, Dake would quickly make the transition to Senior freestyle and instantly make an impact. At the 2013 World Team Trials, Dake would beat Travis Paulson, Andrew Howe, and David Taylor just to earn a three-match series with returning Olympic champion, Jordan Burroughs. Dake didn't have an answer for Burroughs in match one as he was teched in the first period, but quickly made adjustments and forced overtime in match two before losing to Burroughs and kicking off a rivalry that is still ongoing.
Watch Burroughs and Dake square off in match two.
2014
Frank Chamizo - Once again Chamizo did not compete at the World Championships due to his impending transfer to Italy, but was very active hitting five tournaments at the new UWW weight of 65kg. Chamizo won the Yasar Dogu and Grand Prix of Spain, was third at the Ali Aliev and the International D. A. Kunaev Tournament, and was eighth at the City of Sassari Tournament.
Kyle Dake - Dake was only able to compete once in 2014, at the Granma Cup where he took gold, before his year was ended due to a torn Lisfranc Ligament in his left foot. The injury would require surgery and Dake wouldn't see the mat again until 2015.
2015
Frank Chamizo - Chamizo was back at the World Championships in 2015, this time competing for Italy, and returned with a bang. Not only would he bring home his first World Championship, but he did so in style beating two-time world medalist Magomedmurad Gadzhiev, Olympic champion Toghrul Asgarov, two-time world medalist Ahmad Mohammadi, and Olympic/world medalist Ikhtiyor Navruzov.
Kyle Dake - In Madison, Wisconsin, Dake returned to the mat at the 2015 World Team Trials and once again ran a gauntlet of Colt Sponseller, Andrew Howe, and David Taylor just to earn a best of three series with Jordan Burroughs. For the second time in three years, Dake would fall to Burroughs in two straight matches.
Take an incredible behind-the-scenes look at Dake's return to the mat, run to make the finals, and series with Burroughs.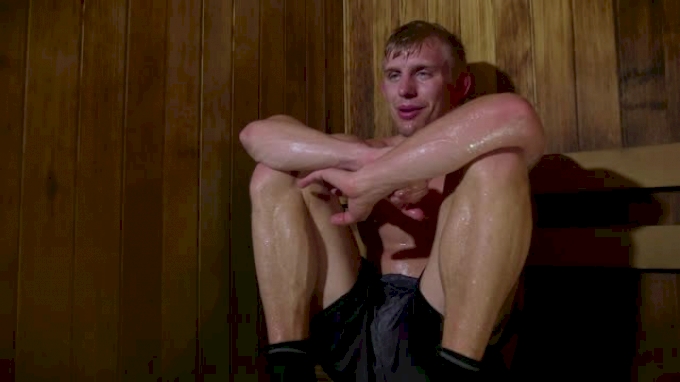 Unlock this video, live events, and more with a subscription!
Get Started
Already a subscriber? Log In
2016
Frank Chamizo - Chamizo followed up his world title-winning year in 2015 with another incredible year in 2016. Competing in three major tournaments, Chamizo was second at the Alexander Medved falling to future Olympic champion Soslan Ramonov, he won the European Championships, and brought home a bronze medal from the 2016 Rio Olympics after falling to 2012 Olympic champion Toghrul Asgarov and then beating Frank Molinaro in the bronze medal bout.
Watch Chamizo and Molinaro battle for bronze at the Olympics.
Kyle Dake - After not getting past Jordan Burroughs the past two times he entered the World Team Trials, Dake decided to move up to 86kg where no one was sitting in the Olympic Team Trials finals. Dake would make the finals and despite being severely undersized against J'den Cox, would take a match and narrowly miss beating Cox at the buzzer in match three of the series. Cox would go on to win a bronze medal at the Rio Olympics.
2017
Frank Chamizo - Chamizo once again changed weight classes in 2017 moving up to 70kg and didn't miss a beat winning his second world championship. On the way to the gold medal, Chamizo beat Olympic and world medalists Ikhtiyor Navruzov and Akzhurek Tanatarov and multiple-time world medalists Yakup Gör and James Green.
Kyle Dake - It was deja vu for Dake as he once again ran the gauntlet of the mini-tournament to set up a three-match series with Jordan Burroughs for a spot on the world team. Before facing Burroughs that night, Dake had to go through Isaiah Martinez and Alex Dieringer. However, this time, Dake would do something he never did before...beat Jordan Burroughs. Dake was even leading 3-0 with under a minute and a half to go in match two before Burroughs stormed back to force a third match and then got it done in the third bout make another world team.
2018
Frank Chamizo - At Beat The Streets in 2018 a new rivalry was born as Frank Chamizo once again moved up weights to 74kg to challenge Jordan Burroughs. Burroughs would win an instant classic and the match and talk that lead up to it would be the storyline of the year in international wrestling. The two would meet again in a controversial Yasar Dogu final won by Chamizo and then at the World Championships with a bronze medal on the line, Burroughs would come out on top leaving Chamizo with a fifth-place finish.
Watch Burroughs beat Chamizo at Beat The Streets.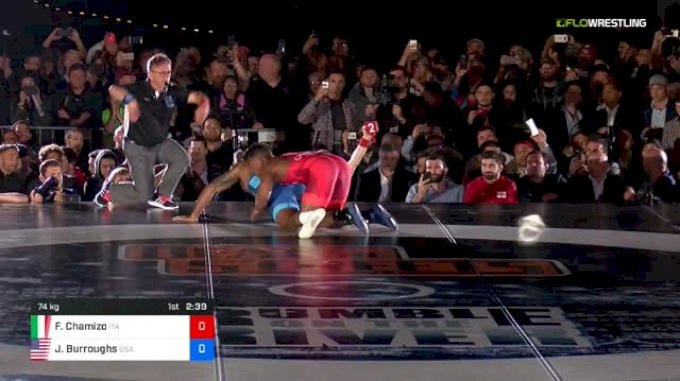 Create a free account to unlock this video!
Get Started
Already a subscriber? Log In
Kyle Dake - 2018 was the first year that United World Wrestling's new non-Olympic weight classes would be contested at the World Championships and Kyle Dake would finally be able to showcase his skills to the rest of the world. Competing at his ideal weight of 79kg, Dake stormed his way to a gold medal not giving up a single point the entire tournament and beat world medalist Akhmed Gadzhimagomedov and Olympic/world medalist Jabrayil Hasanov.
2019
Frank Chamizo - After failing to medal in 2018, Chamizo found himself back on the podium in 2019 bringing home a silver medal. Chamizo was on the opposite side of the bracket from Jordan Burroughs and defending world champion Zaurbek Sidakov and took full advantage of it cruising to the finals before falling to Sidakov who won his second straight world title.
Kyle Dake - Dake proved 2018 was no fluke as he once repeated as world champion beating Jabrayil Hasanov in the finals for the second consecutive year. While Dake did surrender a point this time, he still outscored his opponents, 27-6.
2020
Frank Chamizo - Before the wrestling world came to a halt in March due to COVID-19, Chamizo was able to win his fourth European Championship in February.
Kyle Dake - Entering what was supposed to be an Olympic year, Dake wasted no time letting everyone know he was coming back to down to 74kg in 2020. Dake also made it very clear when he crashed FRL that he planned to beat Jordan Burroughs to make his first Olympic team.
Watch Burroughs-Dake square off on FloWrestling Radio Live earlier in quarantine.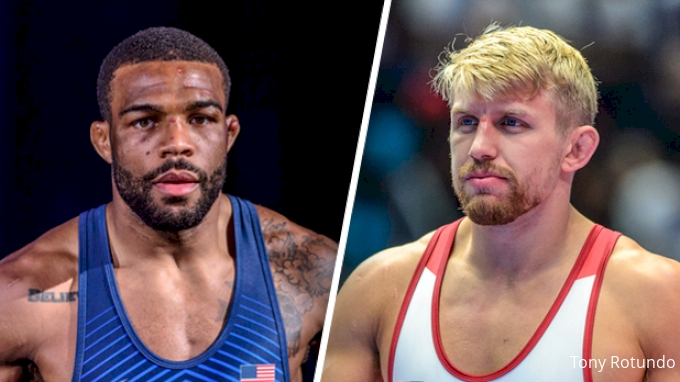 Unlock this video, live events, and more with a subscription!
Get Started
Already a subscriber? Log In
---
Two incredibly talented wrestlers, two incredibly different journeys to stardom. Who comes out on top July 25?