Unlock this article, live events, and more with a subscription!
Get Started
Already a subscriber? Log In
Since Nomad last compiled Kyle Dake's resume a year ago, Dake has remained undefeated and has added to his legacy with another world title and another handful of impressive wins.
In that time, including his two wins over Dieringer, Dake has racked up five wins over wrestlers currently ranked in the top 20 in the world and holds the #3 spot at 74kg. Before his match against #4 Frank Chamizo, re-familiarize yourself with some of Dake's ridiculous accomplishments.
Watch Flowrestling: Dake vs Chamizo LIVE on FloWrestling
Saturday, July 25, 8:00 PM EST
In college, Dake famously won four NCAA titles at four different weights. This accomplishment is unmatched, and it means that he had the opportunity to challenge himself against a fresh set of competitors each season.
As a freshman, Dake's first NCAA tournament was no walk in the park. He beat three-time All-American and three-time world team member Reece Humphrey in a rubber-match in the semis before taking out Montell Marion, a three-time AA and two-time finalist, in the finals.
In his second season, Dake bumped up to 149 where he beat Frank Molinaro for title number two. Molinaro was a four-time All-American, a 2012 NCAA Champion, and finished fifth in the 2016 Olympics at 65kg.
As a 157-pounder in his junior year, Dake beat Derek St. John, another NCAA Champion and four-time All-American, in the finals.
As if Dake's college competition hadn't been stiff enough, he moved up to 165 as a senior in order to take on the legendary David Taylor.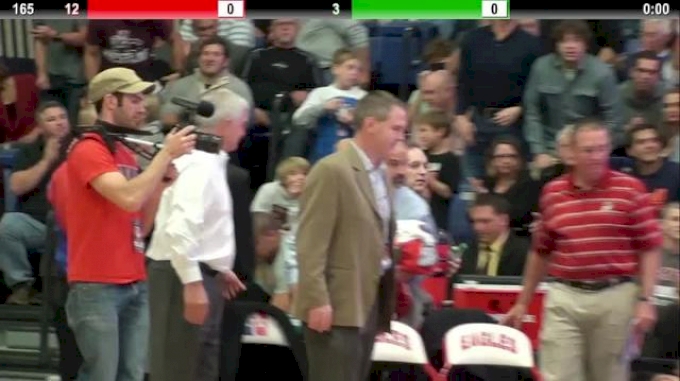 Create a free account to unlock this video!
Get Started
Already a subscriber? Log In
Taylor wasn't the only top-flight opponent in Dake's way that year. In the semis, he beat four-time All-American Tyler Caldwell before beating two-time Hodge Trophy winner David Taylor in the finals. Dake's win over Taylor completed an improbable trifecta that season since he had already bested Taylor at both the All-Star Classic and Southern Scuffle.
---
World Champs
Jordan Burroughs
David Taylor
J'den Cox
Denis Tsargush
NCAA Champs
Jordan Burroughs
David Taylor
J'den Cox
Alex Dieringer
Isaiah Martinez
Andrew Howe
Frank Molinaro
Keith Gavin
Derek St. John
Trent Paulson
Jon Reader
Matt Brown
JP O'Connor
Now let's examine his senior level career and some of the notable wins he's notched.
2011 World Team Trials
At his first senior Trials, Dake beat 2010 NCAA champ J.P. O'Connor, a fellow New Yorker who won his title as a senior when Dake was a freshman. He also registered his first of many wins over Tyler Caldwell.
2012 Olympic Trials
He twice defeated Nick Marable there, who would go on to make the world team in 2014. But the big one was of course his pin of David Taylor, his first such win over his Best Rival.
2013 World Team Trials
Dake took out NCAA champion Trent Paulson 8-1 before once again beating David Taylor 7-4. Then it was a showdown with another NCAA champ in Andrew Howe, who had come so close to unseating Jordan Burroughs in the 2012 Olympic Trials. Dake squeaked by Andrew Howe in OT and advanced to the best two-out-of-three wrestle-off with the eventual world champ Burroughs, their first of eight eventual meetings between the two.
Though he fell short of his goal of competing in the first World Championships, Dake nonetheless notched one of his most impressive wins later that year overseas when he beat three-time world champ and Olympic bronze medalist Denis Tsargush of Russia at the 2013 Golden Grand Prix in Baku, Azerbaijan.
2015 World Team Trials
Injuries kept Dake out of action for basically all of 2014, but he came roaring back in 2015. At the World Team Trials in Madison, Dake once again beat Taylor, this time by the score of 8-2. Then it was another date with Andrew Howe. Things played out similarly to 2013, as Dake would beat Howe, this time 2-1, but then lose to Burroughs in the best two-of-three wrestle-off.
2015 Senior Nationals
Dake made his domestic debut at 86kg in December of this year, and won a star-studded bracket. He started by pinning three-time All-American for Michigan (and new Missouri assistant coach) Tyrel Todd. That set up a quarterfinal win over 2007 NCAA champ and 2013 world teamer Keith Gavin, now the head coach at Pittsburgh.
In the semis, he won a tight one over current Wisconsin assistant Jon Reader, who won his 2011 national title at 174, the same year Dake won his title at 149 pounds. The tournament culminated against familiar foe David Taylor, who fell victim to Dake's trap arm in an 11-4 final.
2016 Olympic Team Trials
No stranger to changing weight classes, Dake would stay up at 86kg for the 2016 Olympic year. There he would once again fall just short of making the team, although he did rack up a few more bold-faced wins. Taylor—who also moved up a weight class—was beaten 4-3, and Richard Perry, very much a full-sized 86-kilogrammer, was felled by the score of 10-7.
Dake would take the future world and Olympic bronze medalist J'den Cox to the limit, winning one of the best two-out-of-three matches 5-3 but falling short in the series 2-1.
2017 Paris Grand Prix
Dake was with the sizable American contingent that trekked to Paris in early 2017. At the Grand Prix of Paris, Dake dispatched three-time NCAA champ Alex Dieringer for the first time, 10-0. Dake beat another NCAA champ, Matt Brown, by the same score at that tournament.
2017 U.S. Open
With Burroughs no longer sitting in the team trials finals, Dake jumped into the U.S. Open to try to earn the spot. He bested Dieringer, this time 3-0; however, Dake was foiled in the finals by Burroughs once more.
2017 World Team Trials
Another team trials brought another victory over Dieringer for Dake. Dieringer continued to close the gap with Dake but lost 2-1 nonetheless. Earlier in the tournament, Dake dispatched two-time NCAA champ and four-time finalist Isaiah Martinez of Illinois to the tune of 9-2.
Then it was another showdown with Burroughs. Dake managed to win the first bout in the best two-out-of-three wrestle-off, but Burroughs would come storming back and make seventh straight world team.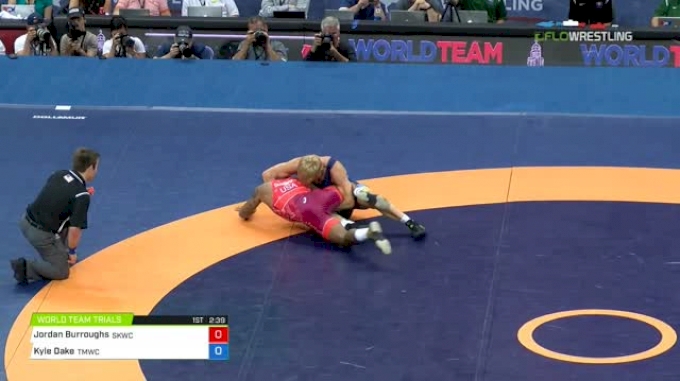 Unlock this video, live events, and more with a subscription!
Get Started
Already a subscriber? Log In
2018 World Cup
Dake was part of the World Cup-winning American squad that took home the top prize in Iowa City. At that event, Dake beat two world medalists, Sosuke Takatani of Japan, who won silver in 2014, and Jabrail Hasanov of Azerbaijan. Hasanov also took bronze at the 2010 and 2011 World Championships, before moving up to silver in 2018.
2018 U.S. Open
Dake would qualify for Final X by dint of his U.S. Open title, which he won by beating Josh Asper 10-0 and Dieringer in a 5-5 thriller.
2018 Beat the Streets
The Titan Mercury star demolished the highly credentialed Cuban Livan Lopez Azcuy at Rumble on the River, the 2018 edition of the annual Beat the Streets event. Lopez has two world bronze medals, a world silver, and an Olympic bronze to his name, all in four consecutive years from 2011 to 2014.
2018 Final X
In the first year of Final X, Dake finally made a world team. At Final X: Stage College, he took two closer than expected matches against Zahid Valencia, by that time a three-time Junior world teamer, and two-time NCAA finalist. The Arizona State star was coming off a Junior world silver in 2017 and NCAA title just a few months prior. He would go on to win another national title this year and make his second straight national team.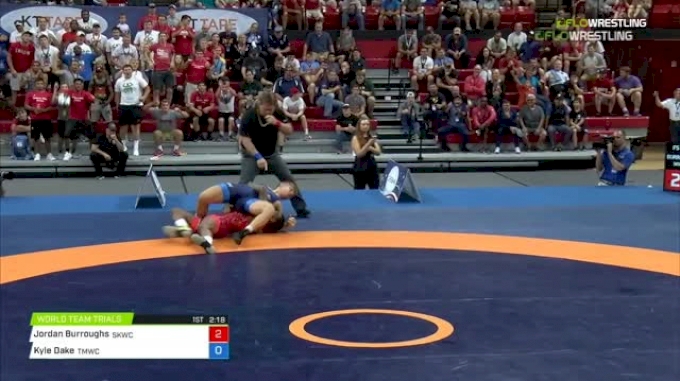 Unlock this video, live events, and more with a subscription!
Get Started
Already a subscriber? Log In
2018 World Championships
One of the most dominant performances we've ever seen at the world level. Dake did not give up a single point in four matches in Budapest, punctuated by the 13-0 shellacking he laid on Russia's Akhmed Gadzhimagomedov in the semis. The eventual world bronze had previously beaten Dake 8-2 in the Yarygin finals in January.
2019 Final X Special Wrestle-Off
Dake vs Dieringer was one of the biggest stories of the summer of 2019. Dake was the defending world champion but was also coming off an injury that left many wondering how he would fare against three-time NCAA Champion Alex Dieringer, especially since Dieringer's success that season had many considering him the second best in the world. Dake passed the Dieringer test not once, but twice, moving his record against Alex to 6-0.
2019 World Championships
During his 2019 World gold medal run, Dake once again racked up a series of impressive wins. He took out 2019 World Bronze medalist Gadzhi Nabiev of Russia in the quarterfinals before defeating Rashid Kurbanov of Uzbekistan in the semis. Kurbanov was a World Bronze medalist in 2013 and has been one match shy of winning a medal on two more occasions.
In the finals, Dake beat Jabrail Hasanov of Azerbaijan for the 3rd time. Hasanov is now a two-tme World Silver medalist and two-time Bronze Medalist.
2020 Matteo Pellicone
In early 2020, Dake wrestled at 74kg for the first time since 2017 a the Matteo Pellicone ranking series tournament. He looked solid at the weight, especially in the finals where he earned a technical superiority win over Soner Demirtas of Turkey in just 35 seconds. Demirtas is a 2017 World Bronze medalist as well as a 2016 Olympic Bronze medalist.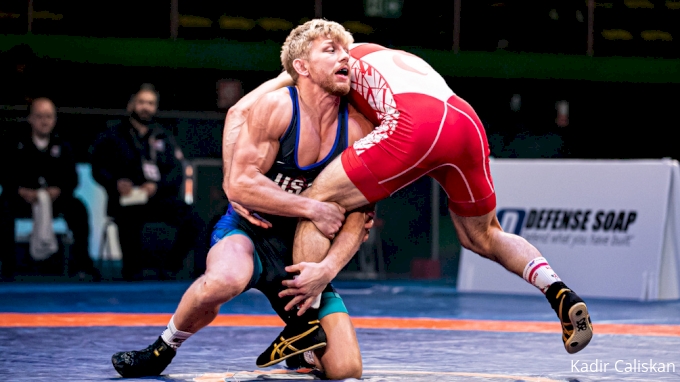 Unlock this video, live events, and more with a subscription!
Get Started
Already a subscriber? Log In
On July 25, Dake will have the opportunity to add to his hit list in a big way. His opponent, Frank Chamizo had a World Bronze medal in 2010, an Olympic Bronze medal in 2016, a World Silver medal in 2019, and World Gold medals in both 2015 and 2017. He has medals at 55kg, 65kg, 70kg, and 74kg. Now, he and Dake will meet at 79 for a battle of two-time world champs.