Unlock this article, live events, and more with a subscription!
Get Started
Already a subscriber? Log In
A top-five recruit coming out of high school, Vincenzo Joseph became another in a long line of hammers that Cael Sanderson transformed from elite high school talent to an all-time college great. Joseph was also instrumental in Penn State's continued dynasty helping guide the Nittany Lions to three straight NCAA titles from 2017-2019. Before Episode 3 of WE ARE: Cael's First Decade drops Wednesday night, take a look back at Joseph's star-studded career.
Episode 3 Premieres Wednesday, July 8, 8:00 PM EST
High School
The Pennsylvania native found the podium in Hershey all four years during his prep career at Pittsburgh Central Catholic, where he was coached by former Penn State four-time All-American Sanshrio Abe. Joseph was seventh as a freshman, third as a sophomore, and then won back-to-back state titles to close out his high school career.
Placing four times in the state of Pennsylvania is impressive enough, but doing so in the loaded brackets that Joseph did make it even more impressive. His freshman 106-pound bracket in Hershey was won by Ethan Lizak and also featured Michael Kemerer, Scotty Parker, Dom Forys, and Jake Gromacki. Joseph's sophomore year, his bracket was won by Sam Krivus, and in the first round, Joseph knocked off eventual NCAA finalist Ronnie Perry. Things didn't get easier Joseph's junior year as he beat his Young Guns teammate Michael Kemerer in the finals of a bracket that also featured Hayden Hidlay and Kaleb Young. Finally, Joseph's senior season he had to beat Young and Josh Maruca in consecutive matches to win back-to-back titles in a bracket also featured Mikey Labriola, Nino Bonaccorsi, and Ethan Smith.
Watch Joseph beat Michael Kemerer in the Pennsylvania state finals.
Joseph didn't just have success in the Keystone State, but on the national scene as well. The eventual Nittany Lion was a Fargo and Ironman finalist in 2014 and lost to Isaiah White in both matches. Joseph also wrestled in the second-ever Who's #1 where he defeated Fredy Stroker.
Watch Joseph take out Stroker at the second-ever Who's #1.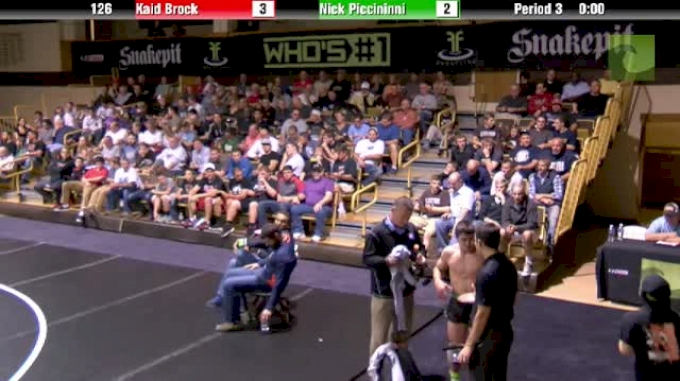 Create a free account to unlock this video!
Get Started
Already a subscriber? Log In
Joseph would finish his senior year as the third-ranked recruit in the class of 2015 only behind Zahid and Anthony Valencia.
College
Whenever you are a top-five recruit in your class, expectations of you are very high, and all Joseph did was exceed those sky-high expectations. He would redshirt his true freshman season in State College and went a perfect 10-0 while wrestling in three open tournaments.
Joseph's first season in the varsity lineup got off to a little bit of a rocky start when he lost to Keaton Subjeck in a high-scoring affair inside Rec Hall. Joseph would rebound nicely and only lost to two-time defending NCAA champion Isaiah Martinez and returning NCAA finalist Isaac Jordan the rest of the regular season. Joseph would fall again to Martinez in the Big Ten semifinals, but got revenge on three-time All-American Isaac Jordan for third place. The win over Jordan gave Joseph the number three seed at the 2017 NCAA Championships, where he would face and get revenge on Subjeck for the early season loss.
Joseph would go on to put together a three-match run as good as anyone in NCAA history. In the quarterfinals, Joseph converted an inside trip with 11 seconds to go to knock off Daniel Lewis. In the semifinals, Joseph hit another inside trip with 30 seconds to go to beat Logan Massa and earn his spot on the big stage. Joseph would save his best performance for last, though. Squaring off with Martinez for the third time that season, Joseph found himself ahead in the third period before putting an exclamation point on his season by hitting an inside trip and pinning Martinez to win his first national title.
Watch Joseph pin Martinez in the NCAA finals.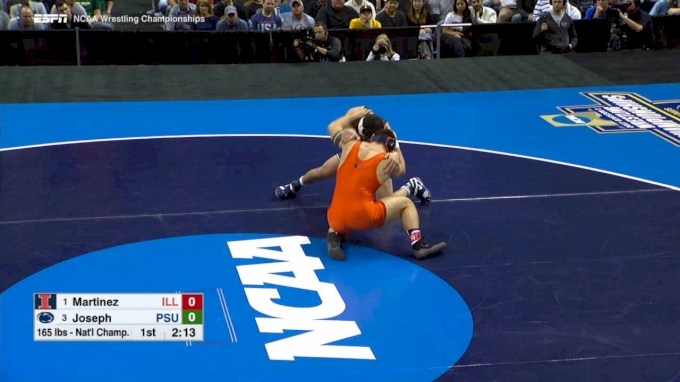 Unlock this video, live events, and more with a subscription!
Get Started
Already a subscriber? Log In
Despite having the target on his back going into his sophomore season, Joseph only got better. His bonus point wins jumped from 42% to 59% and he suffered just one setback during the regular season to Alex Marinelli who went undefeated. At The Big Ten Championships, Martinez would get revenge on Joseph to win his fourth Big Ten title. For the second straight year, Joseph would earn the three seed at the NCAA Championships and once again square off with Martinez Saturday night on the big stage. While Joseph didn't earn another fall, he reversed the result from the Big Ten finals and rolled to a 6-1 win over Martinez to win his second straight national title.
Watch Joseph beat Martinez in the NCAA finals for the second year in a row.
Unlock this video, live events, and more with a subscription!
Get Started
Already a subscriber? Log In
Joseph once again saw his bonus-point win percentage jump from 59% to 68% as a junior and he turned in the first undefeated regular season of his career. However, Joseph would again fail to win a Big Ten title when he lost to Marinelli in the finals. The Nittany Lion would bounce back at the NCAA Championship and earn his third straight NCAA finals appearance this time opposite Virginia Tech's Mekhi Lewis. Lewis, a redshirt freshman, stunned Joseph, the two-time NCAA champion, much like Joseph had done to IMAR his redshirt freshman season.
Watch Lewis and Joseph square off in the NCAA finals.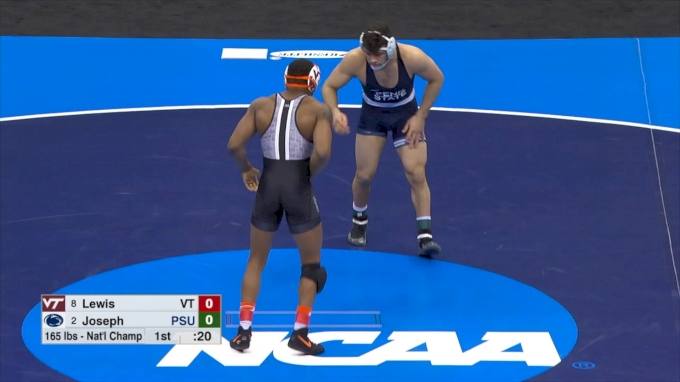 Unlock this video, live events, and more with a subscription!
Get Started
Already a subscriber? Log In
In his senior season, Joseph turned in another undefeated regular season, and once again over 60% of his wins came by bonus points. Joseph even got over the hump and finally beat Alex Marinelli in one of the best matches of the season. Despite being a two-time NCAA champion and three-time NCAA finalist, Joseph had yet to win a Big Ten title. For the second consecutive season, he would meet Marinelli in the finals and for the second straight year he would come up short. Unfortunately, due to COVID-19 and the cancelation of the 2020 NCAA Championships, we never got to see how Joseph would have fared at his final NCAA Tournament.
Watch Joseph get his first win over Alex Marinelli.
NCAA hit list
Isaiah Martinez (Illinois)
Isaac Jordan (Wisconsin)
Daniel Lewis (Missouri)
David McFadden (Virginia Tech)
Alex Marinelli (Iowa)
Josh Shields (Arizona State)
Evan Wick (Wisconsin)
Chance Marsteller (Lock Haven)
Chandler Rogers (Oklahoma State)
Chad Walsh (Rider)
Logan Massa (Michigan)
Isaiah White (Nebraska)
Bryce Steiert (UNI)
Senior Level
Since he just exhausted his NCAA eligibility this season, Joseph's Senior level career has yet to take off. Last November, Joseph took a break from the collegiate season to wrestle in his first Senior level tournament at the Bill Farrell Memorial International. Joseph got revenge on Mekhi Lewis in the quarterfinals before falling to his former teammate, Jason Nolf, in the semifinals. It was recently announced as well that Joseph will be staying in State College to train as a member of the Nittany Lion Wrestling Club and the former Penn State standout should be a factor at 74kg for the foreseeable future.
Watch Joseph get revenge on Lewis.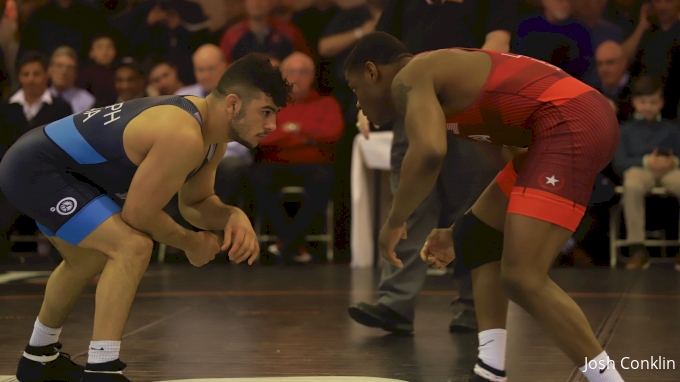 Unlock this video, live events, and more with a subscription!
Get Started
Already a subscriber? Log In