Unlock this article, live events, and more with a subscription!
Get Started
Already a subscriber? Log In
Bo Nickal is one of the most prominent stars in the Penn State constellation. From his high school achievements in Texas, to his legendary run at Penn State, to his international career and beyond, this is Bo Nickal's wrestling biography, from Lone Star to We Are.
Episode 3 Premieres Wednesday, July 8, 8:00 PM EST
High School
There is a wrestling renaissance occurring in the Lone Star state right now, and one of the vanguard members of that movement is Bo Nickal, who won three state titles at Texas powerhouse Allen High School in 2012, 2013 and 2014. Not coincidentally, Allen won four state titles during Bo's tenure.
Bo was an integral part of Penn State's #1 ranked recruiting class of 2014, a class that included Jason Nolf, Anthony Cassar, Shakur Rasheed and Seth Nevills. With seven individual titles and twelve All-American honors, it's safe to say that that class delivered on expectations.
As one of the top P4P recruits in the entire nation, Nickal received invites to both the 2014 Pittsburgh Wrestling Classic (then called the Dapper Dan) and the 2014 Dream Team Classic, representing Team USA in both events
Nickal defeated future Drexel Dragon Stephen Louiseau in Pittsburgh, which you can watch below.
You can watch Bo defeat Chip Ness, a future two-time All-American at North Carolina, below, in another vintage Nickal match.
---
College
Given all the winning he did in high school, expectations were sky-high for Nickal when he arrived in Happy Valley, but even the more optimistic Nittany Lions fans were likely surprised by just how dominant Nickal was in a Penn State singlet.
Bo would have a solid if not ground-breaking true freshman season, wrestling unattached and winning a couple mid-level opens. Bo halted competition for the season after a loss in tiebreakers in the round of 16 of the 2015 Southern Scuffle.
There would be no stopping Bo at the 2016 Southern Scuffle, however. In fact, few wrestlers would stop Bo for the remainder of his career. A january dual meet loss to Indiana's Nate Jackson and a famous (or infamous, depending on your perspective) loss to Ohio State's Myles Martin in the NCAA finals were all that kept Bo from an unblemished championship redshirt freshman season.
Fueled by that finals loss, and up one weight class from 174 to 184, Bo would rampage through his sophomore season. A win over future NCAA champ Drew Foster in the 2017 Southern Scuffle finals would be one of his many signature wins of his career.
Although Nickal would suffer defeat at the hands of Myles Martin in the Big Ten Championship semifinals, Nickal would have the last laugh in March, defeating two-time NCAA champ, Gabe Dean of Cornell, in his second straight trip to the finals.
MyMar was, incidentally, the only wrestler to defeat Nickal more than once in his NCAA career, although Nickal still held 7-2 career collegiate record against him.
Nickal was back at 184 in 2018, where he won his second NCAA title in dominant fashion. Bo went undefeated on the year, amassing a 74% bonus rate in the process. This season would be defined by one of the gutsiest counters ever seen in collegiate history, one that Bo pulled off in the first period of the 2018 finals against familiar foe, Myles Martin.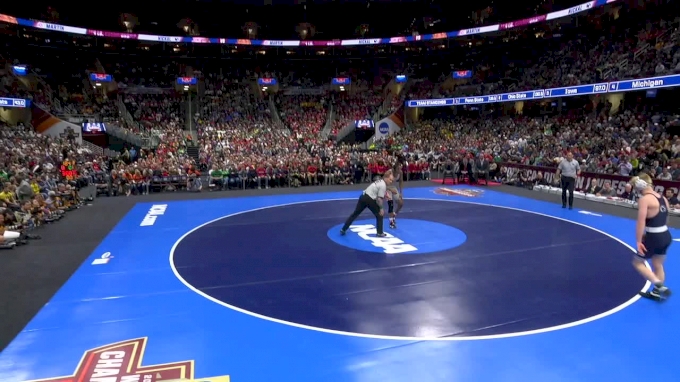 Unlock this video, live events, and more with a subscription!
Get Started
Already a subscriber? Log In
What to do for an encore? After three straight finals appearances, two titles, and one dramatic bit of prime time revenge, Nickal decided his next and final collegiate challenge would come at 197 pounds.
However, challenges to Bo at this new weight class would be few and far between. The 2018-19 season would be another undefeated one for Bo, and this time, his bonus rate would be an eye-watering 90%. In 30 matches Nickal would be held to a regular decision just three times, once by Nebraska's Eric Schultz, and twice by Ohio State Kollin Moore.
Bo pinned every opponent at the 2019 Southern Scuffle. He later capped off the season by winning the 2019 Hodge Trophy. Not bad!
And if you've got the time, we've compiled about two hours of pins from both Nickal and his classmate Jason Nolf, for you to enjoy (Skip to the 0:48:50 mark to get to the action!)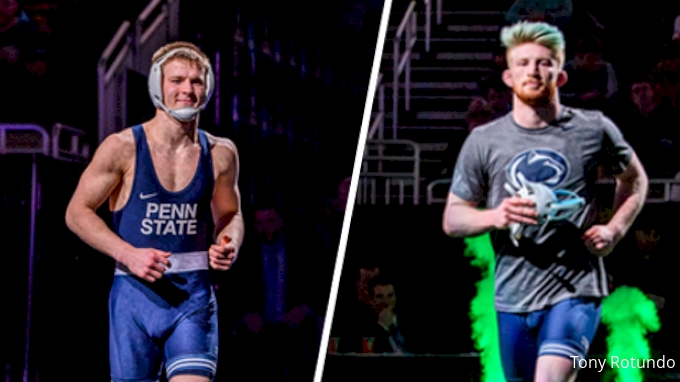 Unlock this video, live events, and more with a subscription!
Get Started
Already a subscriber? Log In
Another fun fact about Bo's college career is that during his four year of varsity, Penn State never lost a dual meet and never failed to win an NCAA team title. Suffice it to say, Bo did a lot of winning in a blue and white singlet.
---
International & MMA
Nickal stayed in Happy Valley after graduating, signing on with the Nittany Lion Wrestling Club. The first international tournament Nickal entered since the 2013 Cadet Worlds (where Bo placed 5th) was the 2019 U23 World Championships, which Bo won, at 92kg. The gold medal came over Russian Batyrbek Tcakulov, who was also Russia's rep at the 2018 Senior World Championships, at which Tcakulov placed 7th.
Before that international match, however, Nickal enjoyed some domestic success. Bo won the US Open, pinning or teching every opponent he face. Bo then beat Mike Macchiavello, two times to none, in the World Team Trials Challenge Tournament finals.
Later, J'den Cox would defeat Bo at Final X - Rutgers on his way to his second straight world gold medal at 92kg.
In 2020, Nickal entered the Matteo Pellicone Ranking Series tournament at 97kg. He would lose to Iran's Mohammad Mohammadian, winner of a 2014 World bronze and 2015 Asian gold, in the second round, but would be pulled back in the repechage after Mohammadian upset Kyle Snyder in the quarterfinals on the way to a gold medal.
Bo would win this entertaining bout against two-time Asian bronze medalist Alisher Yergali of Kazakhstan...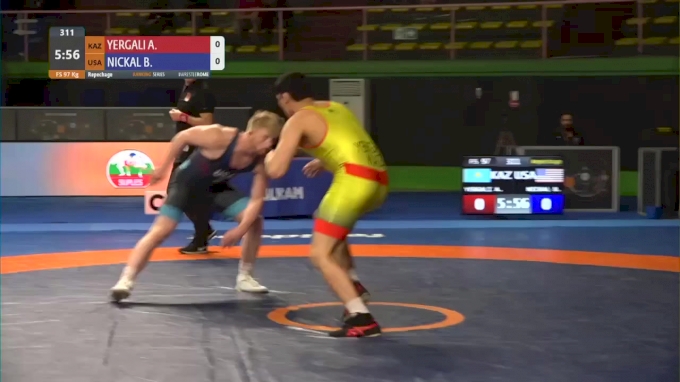 Unlock this video, live events, and more with a subscription!
Get Started
Already a subscriber? Log In
...before forfeiting to his Nittany Lion Wrestling Club teammate Kyle Syder, who would eventually earn a bronze medal at the Italian tournament.
In between those tournaments, Nickal also snuck in a hybrid rules grappling match against ADCC Champ Gordon Ryan, wildly considered to be the best pound-for-pound No-Gi BJJ combatant in the world.
Nickal is expected to make a run at the 2020 (now 2021) Tokyo Olympics and then start fighting MMA, which is what Bo literally told ESPN he would do.
Though a transition to MMA would likely mean the end of Bo's wrestling career, we will always have his many, many wrestling matches to watch and will also be able to look forward to being entertained by his future MMA career, if you're into that kind of thing.