Unlock this article, live events, and more with a subscription!
Get Started
Already a subscriber? Log In
After Penn State won it's fourth straight title in 2014, the team dropped to 6th the following year and was looking for someone to fill the impossibly big shoes of Ed Ruth and David Taylor. Zain did that alongside Jason Nolf and Bo Nickal as the trio led the Nittany Lions to 4 more titles in a row.
Episode 3 Premieres Wednesday, July 8, 8:00 PM EST
High School Career
Retherford's high school career was bookended by PIAA titles his freshman and senior years and had just 3 scholastic losses along the way. In between those titles, he won just about everything a high school wrestler could hope to win including Fargo and Super 32.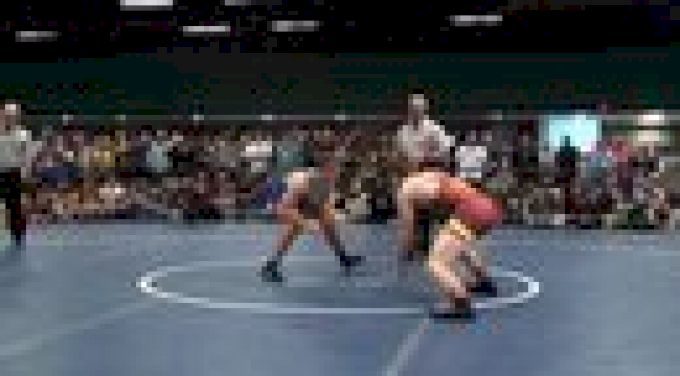 Create a free account to unlock this video!
Get Started
Already a subscriber? Log In
Zain's most impressive high school accomplishment was his 2012 Cadet World Championship at 63kg. By the time his high school career was over, Zain was one of the top recruits in the country and helped earn Cael Sanderson's squad the #6 recruiting class in 2013.
Penn State Career
Retherford is undeniably one of the top 5 Penn State wrestlers of all time, and the's the only one of those top 5 to start as a true freshman. His first big test came in December of his freshman year against then two-time NCAA Champion Logan Stieber. Retherford passed that test with a surprising overtime upset of #1 Stieber. He then cruised into the Big Ten Championships with an undefeated record.
He dropped matches to Stieber at both the Big Ten and NCAA Championships and also lost to Mitchel Port to finish 4th in the country. These would be the only three losses of Retherford's career.
Zain redshirted during the 2014-2015 season, but he stayed very active in freestyle registering results at both the Junior and Senior levels that established him as a very real contender for world level success.
As a sophomore, Zain made a massive jump, not just because he was an undefeated NCAA Champion but also because his bonus rate jumped to 88.57%, a huge improvement over the 39.47% mark he put up as a freshman. At NCAA's, he put up three falls and a tech en route to the finals where he majored Brandon Sorensen 10-1.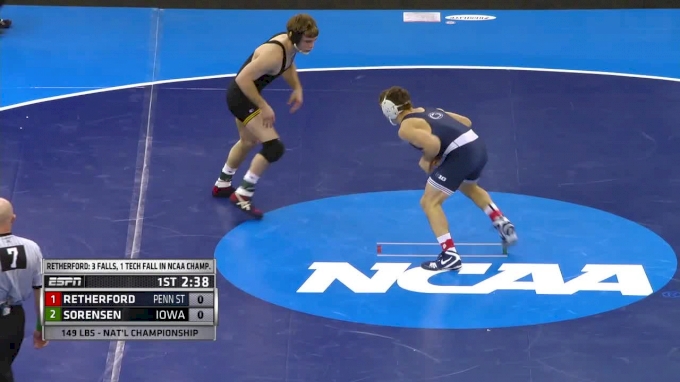 Unlock this video, live events, and more with a subscription!
Get Started
Already a subscriber? Log In
In his junior year, Zain picked up where he had left off. He was 28-0 with another NCAA title and an 89.29% bonus rate. He ended every match early at the NCAA tournament including a first-period pin over Brandon Sorensen in the semis and an 18-2 tech over Lavion Mayes in the finals. His brutalizing of the field all year long earned him his first Hodge Trophy.
By the time Zain was a senior, he was the front-runner by a mile. Heading into NCAA's, only Brandon Sorensen had been able to keep Zain from scoring bonus points. At nationals, Zain once again went relatively untested with two techs and a fall. He ended the year with another undefeated season, another NCAA title, and another Hodge Trophy.
Senior Level Career
Retherford's senior level career began while he was still in college. Between his junior and senior seasons, he met Frank Molinaro in a three match series at the World Team Trials in Lincoln. Retherford and Molinaro might have met before the best of three finals, as Jordan Oliver had won the US Open, but Oliver's suspension delayed that matchup til the best-of-three finals.
The two Penn State NCAA champs brawled for 18 minutes. Molinaro took match 1, but Retherford won the last two bouts to make his first senior level world team. Zain went 1-1 at the Paris World Championships, and while he didn't medal, he was part of the first United States team to win a Championship since 1995.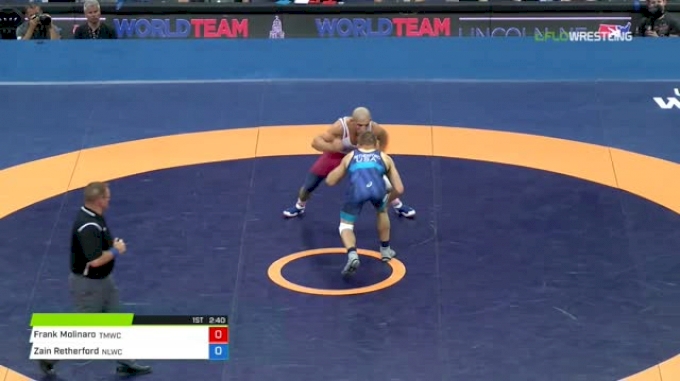 Unlock this video, live events, and more with a subscription!
Get Started
Already a subscriber? Log In
Zain did not attempt to make a senior world team in 2018 but did represent the US a year later. His road to Nur-Sultan was dramatic. The result of his win in match 2 at Final X was contested, went to arbitration, and was ultimately thrown out. This meant that Zain and Yianni had to re-wrestle that match nearly three months later. Zain won the rematch and went on to Worlds where he dropped a 9-10 first round match to Alejandro Valdes Tobier of Cuba.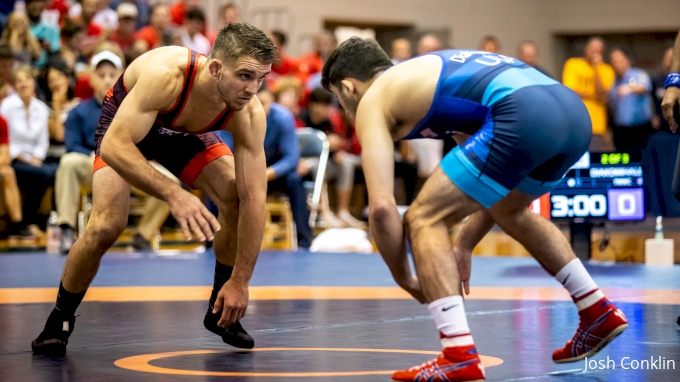 Unlock this video, live events, and more with a subscription!
Get Started
Already a subscriber? Log In
Retherford is an Olympic hopeful and one of the top contenders for the spot at 65kg, a weight that the US has yet to qualify for the Tokyo Games. He remains in State College and represents a Nittany Lion Wrestling Club that could reasonably lock up over half of the Olympic team spots in 2021.