Coach Myers Wrestling S&C: Opposing Forces To Strengthen Your Core
Coach Myers Wrestling S&C: Opposing Forces To Strengthen Your Core
Help strengthen your core in a safe way with this workout from Dustin Myers.
Jun 30, 2020
by Hunter Sharpless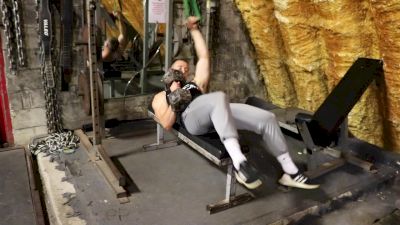 Unlock this video, live events, and more with a subscription!
Get Started
Already a subscriber? Log In
Unlock this article, live events, and more with a subscription!
Get Started
Already a subscriber? Log In
If your idea of incorporating core training into your weight routine involves sitting on a bosu ball while you do presses, then you need to rethink your core strength strategy. The main function of the core muscles is to provide strength and stability between the upper and lower body. If you take open-chain kinetic movements and now make the base unstable, your primary movers (lats, quads, etc.) are now being forced to function as stabilizers. Not a lot of benefit to the core here, but definitely an increased risk of injury.
A better way to incorporate core training into your weight routine is to force core stabilization by introducing an anti-rotation element. This can be achieved by incorporating opposing movements on the opposite side of the body but within the same plane.
The example in this video pairs a band row with a single arm DB chest press. Attach a heavy band (or multiple mini bands) to an overhead rack. Holding a DB in the opposite hand, lay back and pull the band down to your rips. Hold it in place as you perform 5-10 presses, then repeat on the opposite side. You will be amazed at how much you have to drive your feet into the floor and use your glutes and obliques to stabilize as you push. This battle of opposing forces will strengthen the entire core area and make a simple press exercise much more difficult.
---
Coach Myers is the strength coach for the Ohio Regional Training Center at The Ohio State University. With the Ohio RTC since 2012, he served as Ohio State Wrestling's primary strength coach from 2014-18, helping the Buckeyes win three Big Ten titles, their first-ever team NCAA championship, and two runner-up finishes.
A certified strength and conditioning specialist (CSCS), Coach Myers owns the Old School Gym in Pataskala, OH, and is a founding partner of top supplement company Max Effort Muscle. Follow him on Instagram and Facebook, and learn more about his strength and conditioning programs for wrestlers of all ages here.