The Bader Show
Bader Show: Eric Thompson & Nazar Kulchytskyy
Bader Show: Eric Thompson & Nazar Kulchytskyy
On this episode of The Bader Show, Bader and Bray catch up with Eric Thompson & Nazar Kulchytskyy
Jun 30, 2020
by David Bray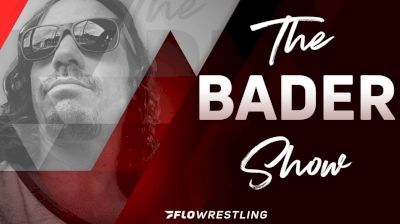 Unlock this video, live events, and more with a subscription!
Get Started
Already a subscriber? Log In
Unlock this article, live events, and more with a subscription!
Get Started
Already a subscriber? Log In
On this episode of The Bader Show, Bader and Bray catch up with Eric Thompson & Nazar Kulchytskyy
Order of Show
0:01 Eric Thompson's wrestling background
0:02 Eric's development with his cousin Tolly Thompson
0:06 When Cael left Iowa State
0:09 Getting connected at Grandview
0:14 how coach Mitchell grew the program at Grandview
0:17 How Eric developed into a senior level guy with a lot of success
0:20 How Eric got to the NLWC
0:22 How the Iowa State guys felt when Cael was leaving
0:23 How Cael has evolved as a coach
0:24 Eric's friendship with David Taylor
0:25 How Eric got involved in the M2 training center
0:28 How M2 measures the success of the club
0:30 things from Eric's childhood wrestling that now shape his coaching
0:32 You have to teach a lot of wrestling before sparring
0:34 How the coaching staff collaborates
0:35 What it's like to coach kids in the club but turn them over to the high school programs
0:36 Eric's wins & whoopins
0:42 Comparing the Iowa and Pennsylvania state tournaments
0:45 Eric asks Nazar when he knew he belonged with the best guys
0:46 Nazar asks Eric his most memorable moment from his career
0:48 Nazar talks about his decision to retire
0:51 What it felt like to compete knowing Nazar would retire
0:55 Nazar talks about growing up as a wrestler in Ukraine
1:01 Wrestling in a European bracket with Khinchegashvilli and Aliev
1:04 Comparing Dagestan and Ukraine
1:05 What type of training did Nazar experience as a kid, and how will that shape his club?
1:10 What Nazar is learning about the business of club wrestling
1:13 How Nazar knew he wanted to coach
1:14 Wins & whoopins with Nazar
1:16 Nazar's best workouts with Jordan Burroughs
1:17 some of Nazar's favorite memories from his career