Unlock this article, live events, and more with a subscription!
Get Started
Already a subscriber? Log In
What comes to mind when you think of Kyle Dake? For me, it's horsepower.
Before even considering the fact that Frank Chamizo is bumping up to 79kg to take on the two-time defending world champ, it's safe to assume there might be a strength disparity in their match on July 25. You can't watch a Dake match and not notice the power he's generating.
Watch Kyle Dake vs Frank Chamizo LIVE on Flo
Saturday, July 25 | Austin, TX
We've seen it all: the chest wraps and head pinches, the gut wrenches and trap arms, the body locks to power bombs, and the mat returns from hell. We saw the devastating effects of his brawn while in college, but now seven years out, his arsenal has become even more ferocious as he's matured and grown into the freestyle ruleset.
I wouldn't be shocked to see Dake come out firing like he did against Soner Demirtas in the Matteo Pellicone finals in January, or when he faced Livan Lopez Azcuy at Beat the Streets in 2018. We can only hope that's the case, because it means we'll either see an explosive takedown into a turn, or a high-level scramble immediately combining Chamizo's Cuban leg defense with all of the tricks he's learned during his time in Europe.
If Chamizo stops the shot, he may end up in a seatbelt whizzer position, or somewhere in 50/50 that ends with him being bodylocked. That's a position I've seen Chamizo lose more than he's won, and one that Dake frequently comes out of in the positive. See his second match with Alex Dieringer at Final X: Round Rock, or his throw of the Russian Akhmed Gadzhimagomedov in Budapest, or him dropping Isaiah Martinez at World Team Trials in 2017.
People think Chamizo is all defense and counters, but he shoots more than he's given credit for. Will he fire off leg attacks against Dake though and risk being chest wrapped? You'd have to ask Jordan Burroughs or Sosuke Takatani for how righteous a fully loaded Dake chest wrap can be.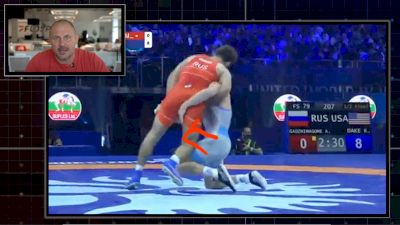 Create a free account to unlock this video!
Get Started
Already a subscriber? Log In
One of the most fascinating set of positions in their upcoming match will be rear standing and quad pod. Dake is obviously excellent from there thanks to the mat returns he developed while wrestling for Cornell and as Mike Mal points out in the video above, is particularly proficient at looking for or threatening a gut wrench off a takedown, often rolling them up in succession as he transitions from neutral to par terre.
Dake's intelligence is difficult enough to deal with as it is, but his power makes him nearly impossible to simulate in practice. Lucky enough for us, Chamizo has some of the best mat IQ and feel in the world, so there's no doubt he's going to be as prepared as possible. If you want a taste of how Chamizo is training for Dake, check out his 22-minute roll HERE.
Until then, we'll all be salivating about the biggest match of the year. Make bets with your friends, send us your predictions, and be sure to tune in on July 25.
July 25th.

Dake vs. Chamizo.

— FloWrestling (@FloWrestling) July 1, 2020