Unlock this article, live events, and more with a subscription!
Get Started
Already a subscriber? Log In
Eighty percent of Iowa's 2019-20 lineup will remain exactly how it was expected to show up at 2020 NCAAs in Minneapolis. Now, heading into next season with a potential shift between 141 and 149 to account for the loss of All-American Pat Lugo at the latter weight, what was arguably the best 1-2 punch in all of college wrestling with Spencer Lee and Austin DeSanto is expected to get much better.
In 2019-20, Max Murin and Pat Lugo held down the fort at 141 and 149 for the Hawkeyes. Murin was battling for the spot with Carter Happel at the beginning of the season as well as nursing a shoulder injury, while Lugo went on to take home his individual Big Ten title and earn the No. 1 seed for the NCAA Championship that never was.
Luckily for the Hawkeyes, their problem of an empty weight in the middle of their lineup was solved before it had the chance to pose questions. In early November 2019, three-time All-American Jaydin Eierman announced his commitment to Iowa via transfer from Missouri.
He took an Olympic redshirt last season – making that not one but two Hawkeyes who will likely be vying for a spot on the 2021 Olympic team – and dominated at Mizzou before that. He placed third in NCAAs in 2019 after placing fourth and fifth his two years prior, is a three-time MAC champion, and took home MAC Wrestler of the Year two years in a row.
With the addition of Eierman, there are a number of things that Iowa can now do between 141 and 149. The most likely lineup shift it seems will be bumping Murin up a weight and filling Eierman in at his usual 141. With an already-tough slate of 141-pounders in the Big Ten and across the nation, there's no doubt that Eierman gives Iowa its most competitive hammer at that weight.
FloWrestling's Mike Mal explains one of the tools that makes Eierman so dangerous: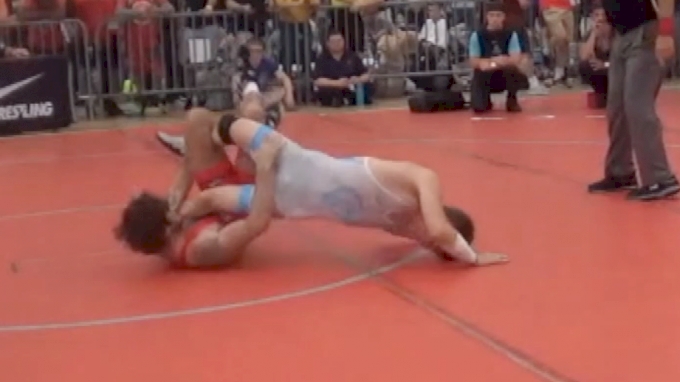 Create a free account to unlock this video!
Get Started
Already a subscriber? Log In
Cornell's Yianni Diakomihalis leads the charge in the rankings leading into next season, with Eierman filling in behind him at No. 2. At NCAAs in 2019, Eierman went 5-1 with his only loss coming to Yianni, who went on to win the title.
Penn State's Nick Lee, Iowa State's Ian Parker, and Nebraska's Chad Red all fill in through No. 5 on the list, all of whom Eierman will likely see pre-NCAAs in 2021, possibly even in a regular-season dual. There's also the possibility that new Rutgers stud Sebastian Rivera bumps up to 141, in which case the weight will be insanely competitive.
The one that stands out the most on that list, however, is Nick Lee. In 2020's dual between Iowa and Penn State that came down to heavyweight, Happel filled in for Murin and lost by a technical fall. Murin lost to Red in Iowa's dual against Nebraska.
With Luke Pletcher of Ohio State gone from last season and Lee placing second – Red finished third with Murin in fifth – Iowa has a legitimate chance to compete for both a conference individual title and an NCAA title at that weight.
And in terms of team points when it comes down to that final weekend in March, wins over anyone in a Penn State singlet are going to make a huge difference.
---
Anna attended the University of Iowa, where she covered multiple sports from volleyball to football to wrestling. She went to Pittsburgh in March 2019 for the NCAA DI Wrestling Championships and did live coverage of the entire event and Spencer Lee's second-straight NCAA title. Follow her on Twitter.