Unlock this article, live events, and more with a subscription!
Get Started
Already a subscriber? Log In
When things are close for Iowa wrestling, they're close, and it's often up to the final matches to seal the meet in the Hawkeyes' favor. In his two-year career, Jacob Warner has continuously come up big in those moments.
Before becoming Iowa's solid 197-pound go-to guy, Warner was a freshman ranked No. 11 in the country before even making a collegiate appearance.
Iowa was facing Iowa State on Dec. 3, 2018, when Warner made his debut at Carver-Hawkeye Arena in a big way. With the team down 15-9, the next three matches were must-wins for the Hawkeyes. Standing between the freshman and helping his team was No. 5 Willie Miklus, a three-time All-American.
With just over a minute left to go in the match, Miklus led 4-3. But as the clock ticked down, Warner scored a reversal in the final five seconds for the win.
As big of a moment as that was in the CyHawk rivalry, in the grand scheme of things his performance over one year later on Jan. 3, 2019 was much bigger.
With Iowa down 17-13 vs Penn State for the battle to prove who was the best in the nation, Warner found himself up again.
Ranked No. 3 two weeks earlier, Warner was upset by No. 14 Eric Shultz of Nebraska 3-1. Cash Wilcke took over the 197 spot when facing No. 1 Kollin Moore of Ohio State to follow, leaving Warner mentally fresh for No. 18 Shakur Rasheed of Penn State.
After having dropped to No. 7 in the country, Warner held his control through the entire match. He wasted no time with a takedown in the first minute of the match and through the seven-minute match racked up 1:27 of riding time for the win.
In each of his two seasons, Warner finished third at Big Tens. In 2019 he lost to Rasheed in the quarterfinals for a chance at Schultz in the semis but came back to beat Rasheed in the consolation finals.
Waner's third-place match at the 2020 Big Ten Championships: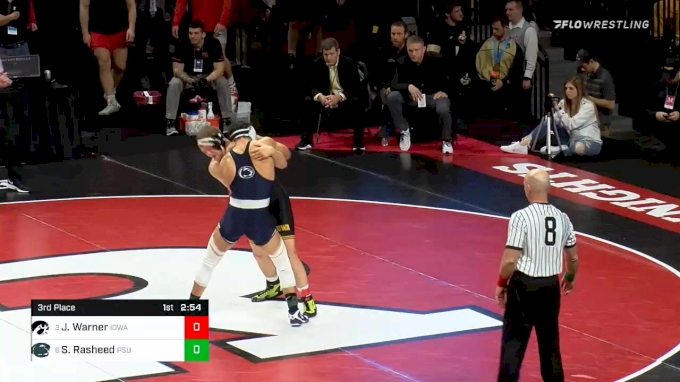 Unlock this video, live events, and more with a subscription!
Get Started
Already a subscriber? Log In
The path to a higher placement in the Big Ten for Warner, however, is likely just on the horizon. Moore, the reigning Big Ten 197-pound champion, graduated, leaving Schultz as the highest-ranked 197 conference wrestler at No. 4. Warner follows him, and Northwestern sophomore Lucas Davison follows Warner.
2020-21 could be the story of redemption for Warner. If he holds his own against the two sandwiching him in the rankings and those that follow – No. 12, freshman Michael Beard of Penn State, and No. 15, junior Chase Singletary of Ohio State – then multiple things could fall into place for Warner.
Warner's biggest adversary, however, could be himself. Head coach Tom Brands said following Warner's Penn State match that he got wrapped up during the Nebraska meet. When he keeps his head down and does his job, good things come from Warner. In order to reach the heights the Hawkeyes believe he can in 2020-21, he'll have to overcome whatever mental struggles may stand in his way.
Warner has proved that to be true — in Iowa's 2018 win vs Iowa State, in its 2020 win vs Penn State, and in his individual wins against then-No. 2 ranked wrestlers last season, Pat Brucki and Christian Brunner. Now he just has to continuously put it into action.
---
Anna attended the University of Iowa, where she covered multiple sports from volleyball to football to wrestling. She went to Pittsburgh in March 2019 for the NCAA DI Wrestling Championships and did live coverage of the entire event and Spencer Lee's second-straight NCAA title. Follow her on Twitter.