Unlock this article, live events, and more with a subscription!
Get Started
Already a subscriber? Log In
College recruiting is a fascinating industry and often it isn't so much about selling new prospects on your program but making sure the wrestlers already verbally committed actually sign their National Letter of Intent. With three wrestlers ranked in the top 31 of the class of 2021 currently verbally committed, I believe that is mainly what the Iowa Hawkeyes will be focusing on leading up to signing day.
The Last Decade In Hawkeye Recruiting
Since 2011, Iowa has signed six top-10 recruiting classes. Their average recruiting class ranking over the same period is 10.2. From 2012-2018 every class the Hawkeyes signed ended up having at least one All-American in the group including their top-ranked 2012 class which had an astounding five All-Americans in Cory Clark, Thomas Gilman, Nathan Burak, Sammy Brooks, and Alex Meyer. Over the last decade, the Hawkeyes were ranked outside the top 20 three times, and all of those years they signed small classes like I believe they will do again in 2021. In 2019 Iowa inked just three wrestlers, in 2013 five wrestlers, and 2011 four wrestlers.
Lightweight (125-141)
Level of need: Nonexistent
2020 signees: #16 Jesse Ybarra (Sunnyside, AZ); #67 Cullan Schriever (Mason City, IA); Leif Schroeder (Bozeman, MT)
Current 2021 commitments: #6 Draka Ayala (Fort Dodge, IA); #18 Wyatt Henson (Waynesburg, PA)
2021 Uncommitted Targets: None
As per usual the Iowa lightweight depth chart is loaded, but they will have big shoes to fill when Spencer Lee, Austin DeSanto, and Jaydin Eierman graduate after this year. The good news is there is some serious talent on the way to Iowa City.
In the class of 2020, Jesse Ybarra or Cullan Schriever will look to be the future after DeSanto and I believe if need be Schriever has the frame to move up to 141.
Drake Ayala will have the tough task of taking over after Lee, but I believe the multiple-time Fargo champion and two-time Iowa state champion will be ready to compete nationally the moment he steps foot in Carver-Hawkeye Arena. Wyatt Henson, the son of Olympic silver medalist and long-time D1 coach Sammie Henson, was a Pennsylvania state champion last year and like Ayala I believe will be ready to go after arriving on campus. The question is will he outgrow 141?
Watch Henson beat Virginia Tech signee Sammy Hillegas in the Pennsylvania state finals.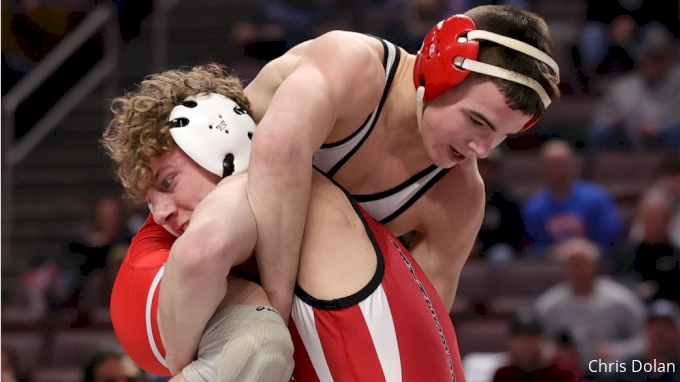 Unlock this video, live events, and more with a subscription!
Get Started
Already a subscriber? Log In
Middleweight (149-165)
Level of need: It wouldn't hurt
2020 signees: #60 Bretli Reyna (South Dade, FL); Colby Schriever (Mason City, IA)
Current 2021 commitments: #31 Caleb Rathjen (Ankeny, IA)
2021 Targets: None
Will another South Dade hammer have success at 149 for the Hawkeyes? Bretli Reyna comes to Iowa City after winning four Florida state titles and a Super 32 belt his senior year. Reyna wrestled 145 his senior year so I could see him growing out of 149, but the Hawkeyes need a 157-pounder as well after the graduation of Kaleb Young. If Reyna does outgrow 149, Wyatt Henson could be an option if he continues to get bigger.
While Caleb Rathjen won an Iowa state title at 138 in February, he recently was much bigger at the Green Country camp in Oklahoma and said he wants to get bigger. I believe over the next two years Rathjen could adequately grow into a 157-pounder.
In my opinion, the third-ranked recruit in the class of 2020, Patrick Kennedy, has outgrown 165 and will be a 174-pounder. If that is the case, I would expect to see Nelson Brands come back down to the 165 where he began his college career and was a perfect 18-0 at his redshirt year. If Kennedy is a 165-pounder, Iowa is again in good hands as I believe the Minnesota product will be a title contender the moment he gets in the lineup.
Watch Reyna beat Cornell signee Josh Saunders in the Super 32 finals.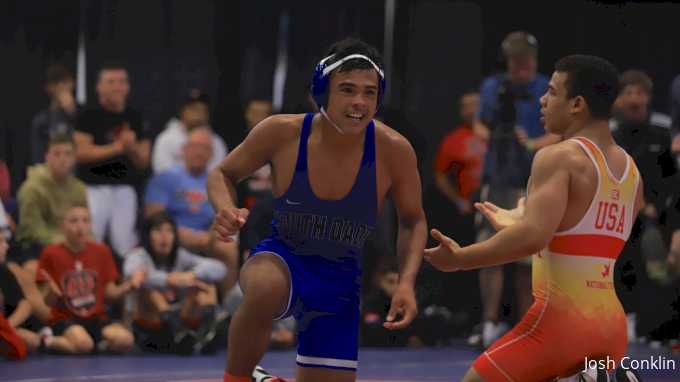 Unlock this video, live events, and more with a subscription!
Get Started
Already a subscriber? Log In
Upperweights (174-285)
2020 signees: #3 Patrick Kennedy (Kasson-Mantorville, MN); #49 Gabe Christenson (Southeast Polk, IA)
Level of need: Nah they're good
Current verbal commitments: None
2021 Targets: #5 Cael Valencia (St. John Bosco, CA): #41 Brandon Hoselton (Prairie Central, IL)
Much like the Iowa lightweights, the upperweights are loaded. Michael Kemerer is ranked #1 heading into his final season, #9 Abe Assad has three years of eligibility left, #5 Jacob Warner has two, and #3 Anthony Cassioppi has three as well. Not only are the starters extremely talented, but there's some young talent behind them as well.
As I mentioned above, I believe Kennedy will be a 174-pounder which will work out nicely after the graduation of Kemerer. If Kennedy is a 165-pounder, Nelson Brands can be the man for his final two years of eligibility at 174. Brands is 5-0 in his career at 174.
Watch Kennedy beat Penn State commit Alex Facundo at Who's #1.
Unlock this video, live events, and more with a subscription!
Get Started
Already a subscriber? Log In
Abe Assad is the future at 184 for Iowa with three seasons still to wrestle. I would expect Brands to stay at 184 this season and the Hawkeyes could in theory redshirt Assad this season, but I believe Coach Brands will go with the lineup he believes gives Iowa the best chance to win an NCAA title like he did last year when he pulled Assad out of redshirt.
Gabe Christenson provides Iowa another option at 197 post-Jacob Warner. Zach Glazier is also on the roster and just turned in a 19-2 redshirt campaign.
The only real weight where the Hawkeyes could use some depth in this range is heavyweight. Cassioppi will without a doubt be the Hawkeye big man for the next three years, but who will be his replacement? I would expect Iowa to fill that need in the class of 2022.
Finally, while Cael Valencia and Brandon Hoselton listed Iowa as one of the programs they have talked to and are interested in, I don't believe they will end up in Iowa City.
---
Keep it locked on FloWrestling all month as we continue to roll out depth chart breakdowns for the nation's top D1 programs and also take a look at the high school wrestlers they are targeting.