We're Currently In The Middle Of An Elbow Control Renaissance
We're Currently In The Middle Of An Elbow Control Renaissance
Elbow control wrestling has evolved past just hitting high crotches.
May 18, 2020
by Michael Malinconico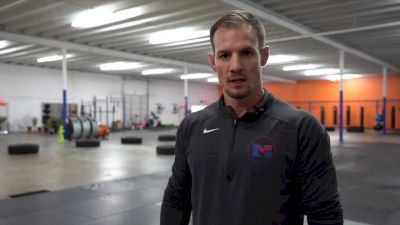 Unlock this video, live events, and more with a subscription!
Get Started
Already a subscriber? Log In
Unlock this article, live events, and more with a subscription!
Get Started
Already a subscriber? Log In
Hyperbolic? Possibly, but you're still reading, aren't you? The truth is, as a tie-up, elbow control attacks ARE actually in the midst of a renaissance as of late.
In the '90s, wrestling was split into two camps. Iowa and Oklahoma State. Technically, for the most part, most wrestling would fit into one mold or the other. Iowa and Oklahoma State style were both very reliant on leg attacks, but a lot of Iowa's attacks came from inside control. Oklahoma State, who at the time was just beginning to be coached by John Smith, was known, as Coach Smith was, for pulling elbows into a high crotch.
Now the technical lines are much more blurred, and that's a great thing for the sport of wrestling.
For a long time, the most effective and commonly used technique from elbow control was a high crotch. However, it has become far more prevalent to see not only different leg attacks coming from the tie, but also techniques like slide-bys that stays as an upper-body attack. So much so that for a small window in time there were athletes around the world that were so good at elbow control slide-bys that they won World and Olympic titles using little else to score points.
The elbow control version of a slide-by was so effective in and around the London Games that it even spawned wrestling's adaptation of the "one-hit-wonder." Bekan Goigereev won a gold medal in 2013 taking down everyone in the field with an elbow control slide-by and never made another Russian team. Check out his Goigereev's highlight below. That slide-by is NASTY.
Another name that must enter the conversation when talking about elbow control slide-bys is Togrul Asgarov. In 2012 he beat everyone in London, including Besik Kudukhov, who many considered the odds-on favorite and one of the best pound-for-pound wrestlers in the world at the time, with an elbow control slide-by. Asgarov has shown much more staying power on the world stage thanks to the fact that he used that slide-by as a means of getting to a leg attack.
When you're talking about wrestling technique, most things have been done before. That doesn't mean that you shouldn't try to innovate the sport, though. Using different combinations of ties and attacks is one way to innovate. For example, elbow control to a knee-pull-single. There might be better examples of new combinations of techniques, but this is one is the most appropriate for this article. For a long time, inside-reach-singles or knee-pull-singles were hit from inside control. Stevan Micic shakes things up by grabbing elbow control and starting a high crotch motion and then pulls it into a single leg.
This particular attack is effective because when Stevan drops his level to attack the shot looks like a high crotch, but then he switches it to a knee pull and your reaction is all wrong. Watch it here.