The Bader Show
Bader Show: Elena Pirozhkova, Robby Smith, Ben Askren, and Teague Moore
Bader Show: Elena Pirozhkova, Robby Smith, Ben Askren, and Teague Moore
On this episode of The Bader Show, Bader and Bray catch up with Elena Pirozhkova, Robby Smith, Ben Askren, and Teague Moore
May 15, 2020
by David Bray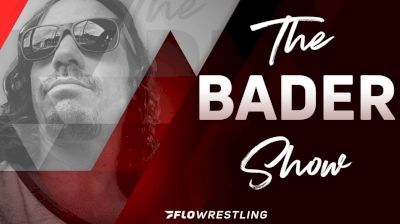 Unlock this video, live events, and more with a subscription!
Get Started
Already a subscriber? Log In
Unlock this article, live events, and more with a subscription!
Get Started
Already a subscriber? Log In
On this episode of The Bader Show, Bader and Bray catch up with Bader Elena Pirozhkova, Robby Smith, Ben Askren, and Teague Moore
Order of Show
0:01 setting up the program at NJCU
0:08 how do you prioritize recruiting in women's wrestling
0:10 impact of quarantine on Pirozhkova's program
0:12 Elena's wrestling background
0:20 How Elena got the opportunity to train at the OTC
0:24 wrestling wasn't her family's plan, but Elena loved it
0:27 winning her first world medal in Russia
0:29 Elena asks Robby Smith about his next moves
0:31 Robby's start in wrestling began with football
0:34 When Robby got serious about wrestling
0:40 When Robby committed to Greco
0:41 Growing into heavyweight
0:49 beating Dremiel Byers
0:55 wrestling Makhov in Vegas
1:06 Robby asks Askren about the fro
1:08 Askren's quarantine setup is ideal
1:10 Askren didn't think he would fight as long as he did
1:15 Askren compares his approach to MMA to his approach to wrestling
1:16 Comparing MMA promotion to wrestling promotion
1:18 the days right after the Masvidal fight
1:19 would Askren promote that fight any differently given the outcome?
1:21 The Demian Maia fight
1:23 Askren's jiu jitsu training and fight prep
1:29 Askren's hip is bad
1:30 How many times will Askren see the Masvidal clip in his life
1:31 Askren asks Teague Moore about his toughest workout with John Smith
1:34 Teague Moore's senior level matches in high school
1:35 Growing up in wrestling, Moore wasn't always good
1:37 how did Teague make a massive jump between his freshman and sophomore years?
1:39 Teague made freestyle his goal early
1:40 Developing at Oklahoma State
1:43 Sparring during Teague's international career
1:45 how sparring fits into Teague's college coaching
1:46 Bader's memory of Teague Moore wrestling at Big 8
1:48 Teague's memory from almost getting kicked out of the 1998 NCAA Championships
1:55 Oklahoma state was wild
2:01 Teague's words for wrestlers in quarantine
2:03 Teague's pitch for American University