Oklahoma State Recruit Plott Talks No. 1 Cowboys Class, Injury & More
Oklahoma State Recruit Plott Talks No. 1 Cowboys Class, Injury & More
FloWrestling caught up with incoming Oklahoma State recruit Dustin Plott to talk about the Cowboys' big recruiting class and much more.
May 8, 2020
by Seth Duckworth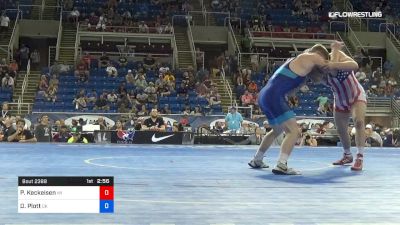 Unlock this video, live events, and more with a subscription!
Get Started
Already a subscriber? Log In
Unlock this article, live events, and more with a subscription!
Get Started
Already a subscriber? Log In
Most of the buzz surrounding the Oklahoma State wrestling program is focused on their incoming recruiting class, which ranks as the best in the country. I recently did an interview over on Pistols Firing with former #1 overall prospect AJ Ferrari. This week I decided to chat with another former #1 who will wrestle in Stillwater next year: Dustin Plott.
FloWrestling's Seth Duckworth: To start, could you give a bit of an overview on how you got into wrestling? Did your parents sign you up? Did you hear about it at school? How exactly did that come about?
Dustin Plott: Around age 4 or 5 my dad and my uncle started the little league program over in Blanchard. I wrestled at Blanchard growing up and my dad, he didn't really wrestle too long in high school, so he wanted to learn more so he could help me get better, as well as the other kids in the program. So we started going to Oklahoma Wrestling Academy in Edmond, to camps in the summer time in Stillwater, and a few other places, so that's pretty much how I got started.
So, you trained at OWA growing up? You worked with Hardell Moore?
Yes sir. I wrestled at OWA for quite a bit, probably four or five years. Hardell has definitely played a big role in me developing as a wrestler. Tyrone Lewis was another one who had a big impact on me as well.
Could you talk about that a little bit? How long you knew him? When did you start with him?
Yes, in little league the Edmond Generals were always really good, so my dad would take me and a couple of the other better kids up there one or two nights a week to work out. That's when he was running the "Generals" then he opened up OWA and we started going up there and working out. Hardell has definitely been a big part of me developing. He's a great guy.
Watch Hardell Moore mic'd up during Plott's Fargo match with Chris Foca: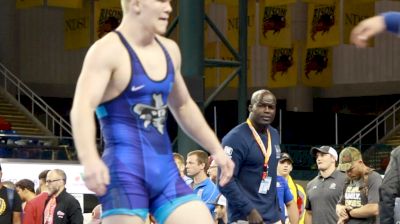 This year we haven't really seen you competing, could you talk about what was going on there? Are you still hurt?
I had an injury, it really stinks missing out on my senior year, but I didn't want to jeopardize my health any further.
Did you have to have surgery?
Yes, I had surgery.
What happened to you?
I banged up my shoulder around the start of last summer. It had sort of been ongoing and it just kept getting worse and worse. Then as I was wrestling I'd have to give up points or sacrifice position to avoid hurting myself, so I figured it was time to get it fixed before it got any worse.
So, with doing that now was it able to keep things from getting worse and get you ready for college?
Yeah, they said it definitely could have been a lot worse than it was if I kept going. I could've ended up tearing other stuff, so it was definitely the right move to go ahead and get it done now. I'm fully released now.
I assume before all this coronavirus stuff hit you were prepped and ready to go into the freestyle summer?
Yeah, it sucks. I was planning on having a pretty full freestyle season and really excited to start wrestling again — then with all this stuff going on, it's making me wait a little longer to get back into the full roll of things.
What's some of the alternative stuff you're doing right now to stay in shape and stay ready to wrestle, since you can't really access your regular practices and that sort of thing?
My buddy has a weight set and mat in his garage and I go over there a couple days a week and work out. I do a lot of road work and some dumbbell circuits at my house. Just get in what I can when I can.
Fans around Oklahoma State are really excited about the recruiting class OSU has coming in. My understanding is you all as a group are a pretty tight-knit bunch of friends. Could you talk a little bit about that? Was that something where you all came together as a group and decided to go to the same school or something?
Yeah, that's kinda what happened. We'd all been on different national teams together. On Buxton at one point it was me, the Mastros, Ferrari, Doucet, and Surber. We were all on the same team. So we had hung out and all been friends, then once the recruiting process started for us we were talking about it and all sort of made our minds up that if we all go to OSU we have a really good shot at winning an NCAA title. Growing up in Oklahoma I've always liked Oklahoma State, so it was probably a lot easier decision for me to make than some of my buddies. Pretty excited for it.
What are you thinking for your weight in college?
Probably 174-184.
You talked a little bit about being an Oklahoma State fan growing up. Does it mean a lot to you to be able to compete in your home state and in front of your family and friends?
For sure. That definitely played a role in it. Growing up in Oklahoma I didn't really want to go anywhere else. Growing up watching Oklahoma State, when you're a little kid at the dual meets and dreaming about being there one day. I've been fortunate so far and to be able to have my family and friends come watch all the time — it's definitely a dream come true.
I read this a few days ago, and I'm really impressed by this because I didn't have these types of grades, but it said you had a 4.03 GPA! Is that right?
Yeah, that's about right
I know talent helps, but you don't get to be the level of a wrestler that you are without putting in a lot of time and work. I know it has to take a lot to hold a 4.0 point GPA and also be that good of a wrestler. How do you strike that balance to be able to do that? What do you do to get there?
My dad's always been big on us getting the best education possible and getting the best grades we can. The biggest thing he's tried to instill with me and my sisters is work ethic. Whether it's working in the yard, or school work, or wrestling, it's 110 percent in doing whatever it is that you're doing. With me, I'm pretty competitive, so to me getting an "A" is like winning, so I make it a competition.
You have a job, too, right?
Yeah, I actually work for a cabinet company. I work for a place that builds cabinets and when they need them delivered, I'm basically the muscle. I load them on a truck and take them off at the location and put them in the rooms.
It's really impressive to me any kid that balances being a high-level athlete, a 4.0 student, and working a job as well. I'm sure your parents have done a lot right with you, but it's just really impressive that you manage all of that.
I definitely owe a lot to my parents and mentors for making me the way that I am.
---
Seth Duckworth is a Stillwater-based writer who covers Oklahoma State University wrestling for Pistols Firing Blog, the best OSU news and community site on the internet. Follow Seth on Twitter.