Four Former Wrestlers Set To Go In 2020 NFL Draft
Four Former Wrestlers Set To Go In 2020 NFL Draft
Take a look at four high school state wrestling champions that will be selected in the 2020 NFL Draft.
Apr 22, 2020
by Kyle Bratke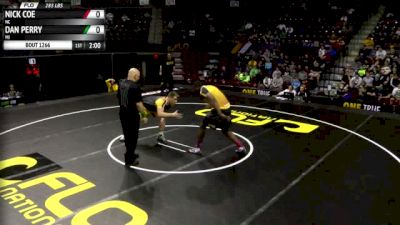 Unlock this article, live events, and more with a subscription!
Get Started
Already a subscriber? Log In
It's no secret that football coaches love wrestlers and that skills learned on the wrestling mat translate well to the gridiron, especially in the trenches.
Clemson head coach Dabo Swinney has been to four of the past five college football national championship games and won two of them, and he's gone all-in on wrestlers. This season, three offensive linemen (John Simpson, Gage Cervenka, Will Putnam) who saw time, including two full-time starters, won state wrestling championships in high school. Those linemen helped running back Travis Etienne rush for 1,600 yards, 19 touchdowns, and finish ninth in the Heisman voting.
While there are players that will be drafted this weekend who wrestled at some point in their life, every player listed below won a state title while in high school and were legit inside the circle.
Tristan Wirfs, Iowa
Drafted By: Tampa Bay Buccaneers with the 13th overall pick
Position: Offensive Tackle
Measurable's: 6' 5", 320 lbs
Tristan Wirfs didn't need to wrestle his senior year of high school. The four-star offensive tackle had already signed with the University of Iowa and had an NFL future ahead of him. After talking with Iowa Head Coach Kirk Ferentz and a couple Hawkeye football players that wrestled in high school, Wirfs decided he would regret it if he didn't step on the mat his senior year.
The only problem? Wirfs was 30 pounds over the 285-pound limit. Wirfs made the cut and all the hard work paid off as Wirfs put together a 25-3 season and won a 2A Iowa state championship.
During Wirfs high school career he actually wrestled current Iowa heavyweight Aaron Costello. Despite the hilarious height difference, Costello actually came out on top.
Happy Birthday to my man! Can't wait to be hawks! ?? pic.twitter.com/QWAj0ZtlRc

— Aaron Costello (@AaronCostello5) January 24, 2017
Wirfs went on to start 33 games for Iowa and the past season was named the Rimington-Pace Offensive Lineman of the Year in the Big Ten Conference and was a first-team All-American by almost every publication in the country.
The former Hawkeye was already projected to be a first-round pick, but after he put on a show at the NFL Combine, Wirfs shot up draft boards even more. I would be surprised if Wirfs makes it out of the top 10.
? 4.86 40-yard dash
? 36.5" vertical ? 10'1" broad jump Tristan Wirfs is EXPLOSIVE.
pic.twitter.com/TcIec7aQJb

— PFF Draft (@PFF_College) February 28, 2020
Check out Wirfs dominating on the field.
John Simpson, Clemson
Drafted By: Las Vegas Raiders with the 109th overall pick
Position: Offensive Guard
Measurable's: 6' 4", 321 lbs
John Simpson was part of the aforementioned Clemson offensive line trio that combined to win six high school state championships during their prep careers. Simpson made back-to-back South Carolina 4A state finals appearances winning the title his junior year and coming up just short his senior season.
Simpson started 29 games for the Tigers, played over 2,000 snaps, helped Clemson post a 29-1 record during his two seasons as a full-time starter, was a consensus All-America status last season, and won two national championships.
Watch Simpson, #74, fly across the screen to make a big block to keep Trevor Lawrence clean to make a big throw down the field
Clemson IOL John Simpson checks a lot of boxes. He's one of the strongest offensive lineman in this class. Dude packs a massive punch. That mean streak he has is fun to watch. Simpson is a solid player who should get more buzz.
pic.twitter.com/tK8qrdHDfV

— Nick Farabaugh (@FarabaughFB) April 10, 2020
The four-star prospect coming out of high school could go as high as the second round and worst-case scenario fall to the fourth round.
Take a look at Simpson in action on the field.
Nick Coe, Auburn
Projected Round Drafted: 4th-6th
Position: Defensive End
Measurable's: 6' 5", 280 lbs
As far as wrestling credentials go, Nick Coe is the most accomplished on the list. Coe closed out his high school career winning back to back North Carolina high school state titles, but he also had impressive success on the national level. Coe won Sophomore and Junior NHSCA High School National titles and added a FloNationals title in 2015 as well.
Watch Coe beat Michigan commit Dan Perry in the FloNationals finals.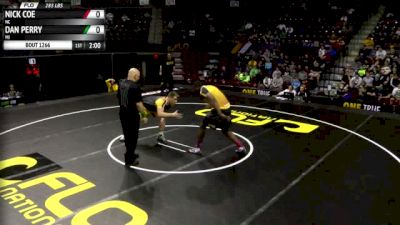 While on The Plains, Coe played on a loaded defensive line with Derrick Brown and Marlon Davidson, who will go in the first two rounds, and still managed to put up good numbers. Coe racked up 71 total tackles, 21 for a loss, and nine sacks.
Take a look at Coe's biggest plays from the 2018 season.
Check out a cool draft profile Auburn did on the freak athlete.
"It shows how versatile I am and how my athletic ability can be used in many ways. I feel like I can be used at any position."

Looking closer at NFL Draft prospect, @NIckCoe_34.

— Auburn Football (@AuburnFootball) April 19, 2020
It looks like zero fun to be sacked by Coe.
Draft Profile: Nick Coe

+ Great speed for his size (6'5, 291)
+ Great hit power
+ Good pass-rushing skills

NFL comparison: Danielle Hunter

Best fit: Jacksonville Jaguars (if Yannick Ngakoue is not re-signed) pic.twitter.com/DRTGA6bvqB

— Dylan Lowe (@DylanLoweYT) February 25, 2020
Gage Cervenka, Clemson
Projected Round Drafted: 7th
Position: Offensive Guard
Measurable's: 6' 3", 325 lbs
Gage Cervenka is the member of the Clemson offensive line trio with the most state titles (four) and probably the best wrestler in the history of South Carolina. During his prep career Cervenka was 199-1 and won four straight South Carolina state championships and his lone loss came early in his freshman campaign.
The three-star recruit coming out of high school chose football in college and it's safe to say it has paid off. During his time at Clemson he played over 1,700 snaps and like Simpson was 29-1 in his two years as a starter while helping the Tigers win two national championships.
Check out Cervenka, the right guard #59, pick up a huge block in the college football semifinal against Notre Dame.
Couple things here:

1) Gage Cervenka killed a guy
2) Travis don't give a damn about your defenders angles. Speed kills. pic.twitter.com/DvpYrKdaKE

— Tiger Commenter (@TigerCommenter) December 30, 2018
Cervenka was also known as being one of the strongest players in Clemson football history. Check out Dabo Swinney praising Cervenka for his wrestling ability and his prowess in the weight room.
Dabo moments ago on the weight-lifting exploits of Gage Cervenka, strongest player on the team. No.1 #Clemson going for program-record 18th straight win at Syracuse Sat. night! #ALLIN
FULL ? PLUS MORE GAME WEEK COVERAGE HERE: https://t.co/VxLmXH5BlF pic.twitter.com/uC3xOpPHw3

— CUTigers.com (@CUTigers_com) September 11, 2019
---
If you won't be following the draft, no worries. I'll update this article after the weekend with which teams selected these studs. Also, if you would like some pre-draft content check out myself and FloFootball's Kolby Paxton on Bootleg breaking down the first round of the 2020 NFL Draft.