Are There Holes In Your Baseline Defense?
Are There Holes In Your Baseline Defense?
Having a solid defensive foundation can win you a lot of wrestling matches. Mike Mal runs you through some of the most important aspects of basic defense.
Apr 13, 2020
by Michael Malinconico
Unlock this article, live events, and more with a subscription!
Get Started
Already a subscriber? Log In
Baseline D is back, and it's back in a big way. If you believe in drawing lines through history as I do, then stay with me for a minute.
When Ben Askren hit the scene and won his first NCAA title the wrestling world changed. In the following years, you saw a lot of guys abandon conventional defenses because they all wanted to let their opponent get in on a leg so they could dive over the top and start scrambling like Ben. Then guys started to get better at exposing poor scrambling. Combine that with the danger rule and you've got a recipe for a resurgence of head/hands, heavy hips, and great re-attacks.
Let's run through the different levels of defense, shall we? As always, feedback is welcome; hit me up at @MikeMalinconico on Instagram.
Head/Hands
Either your head or your hands should be your first line of defense. Which one, though? The highest level coaches in this country can't seem to agree on some of the particulars and the order in which these are presented, let alone implemented. If you ask me (and no one has), your absolute first line of defense would depend on your style of wrestling. If you have a lower stance like a Jordan Burroughs the first line of D is probably going to be your head. If your stance is a bit more up-right you probably stop people with your hands first.
Don't Forget Those Elbows
Using your elbows or forearms in helping you defend leg attacks is great because it's one step past your first line of defense but also you still have the use of your hands to redirect and grab things. If you're putting together a training regimen keep in mind that it takes a long time and a ton of reps for athletes to make the concept of down-blocking a natural reaction, so make sure that it is in your daily list of drills.
Short Offense
Anyone know the most successful scoring position in NCAA wrestling? Single? Double? Hi-C? Nope. Over the last few years the numbers point to short offense. What you do once you get someone under you into short O is up to you; some coaches like to go to a front headlock more from this position, and some like to teach athletes to keep their elbows back and find a way to get to a leg as quickly as possible. Both have their pros and cons. It really depends on the type of wrestler using the technique and the specific situation of the match that you're in.
If you held a gun to my head and asked who has the best re-attacks in the world I would probably have to say Yuki Takahashi — you may know him as the guy that beat Thomas Gilman in the gold medal match in 2017. Having speed getting to an angle from short offense is one thing, but what makes Takahashi's re-attacks so deadly is the precision. He can snag an ankle while moving at incredible speeds like very few.
Watch the full match below.
In case you need a little how-to on getting to a leg from short offense, check out this video that Jordan Oliver did duplicating another Japanese wrestler's re-attack (Otoguro).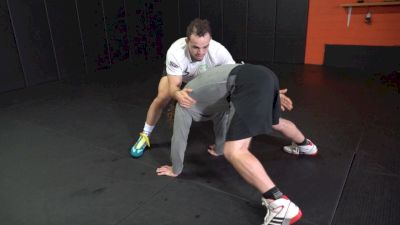 Unlock this video, live events, and more with a subscription!
Get Started
Already a subscriber? Log In
Heavy Hip
If someone gets past your head/hand, then your elbows/forearms and they get a lock on your leg they still have to deal with your hips. Keeping perfect body position is key to keeping your hips heavy when countering. One of the best teams in the NCAA at keeping it basic on defense is North Carolina State. I was lucky enough to keep have The Skipper himself run me through his full leg attack defense series the last time that I was in Raleigh. This is a must-watch.