The Oklahoma State To MMA Pipeline Runs Right Through San Jose
The Oklahoma State To MMA Pipeline Runs Right Through San Jose
UFC world champion and Oklahoma State great Daniel Cormier talks about Nick Piccininni and Jacobe Smith moving to San Jose to train MMA with AKA.
Apr 11, 2020
by Michael Malinconico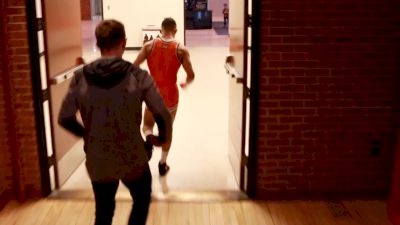 Unlock this video, live events, and more with a subscription!
Get Started
Already a subscriber? Log In
Unlock this article, live events, and more with a subscription!
Get Started
Already a subscriber? Log In
Oklahoma State All-Americans Jacobe Smith and Nick Piccininni are headed to the ring. Former Cowboy great and UFC world champion Daniel Cormier sent out an Instagram post last night saying that Smith and Piccininni have signed with Zinkin Sports Management and will be heading out west to pursue a career in Mix Martial Arts.
Piccininni and Smith will be training at American Kickboxing Academy in San Jose. The gym now boasts some of the most proven MMA fighters in the world like UFC champions Daniel Cormier and Khabib Nurmagomedov. There's no shortage of up-and-coming talent on the AKA mats either Deron Winn and Kyle Crutchmer train in San Jose as well.
"As I continue my training whether I'll start amateur or pro will be discussed with my management team," Piccininni said about next steps. "Right now I'm focused on learning the sport and getting as good as possible."
While there are no firm dates in place for his first fight Jacobe Smith did say, "If I had to guess it'll be sometime in mid-2021. No amateurs for me. I'll be going straight to either Bellator or XFN. I'm ready to go pro."
Cormier also sent this to FloWrestling as a statement on behalf of himself, Zinkin Sports Management and AKA fight team:
"We are very excited that Nick Piccinini and Jacobe Smith are joining the AKA fight team and Zinkin Entertainment Management. These young men are winners. Both have won at every level in wrestling and I expect that to continue into MMA. They are great athletes, but even better than that, they are great young men. Moving to California to pursue this dream is a risk and these guys are ready to take on the challenge.
"We preach quality over quantity at Zinkin Entertainment. Dewayne and Bob are very excited about Nick and Jacobe joining us. The plan is for the guys to come out as soon as things go back to normal.
"In addition to fight training, Nick and Jacobe will also be joining the coaching staff at Gilroy High School. We all love wrestling and being in a wrestling room is where we want to be. I know they are excited to join a nationally ranked team. We're very lucky that they are joining the fight to bring a State Championship to Gilroy. Nick and Jacobe share our philosophy and they definitely fit right in. "