Doubles Are Worth The Trouble. Which One Is Best For You?
Doubles Are Worth The Trouble. Which One Is Best For You?
Doubles can be the most impactful takedown in wrestling, but having a great double comes with a cost. Are you willing to pay it?
Apr 5, 2020
by Michael Malinconico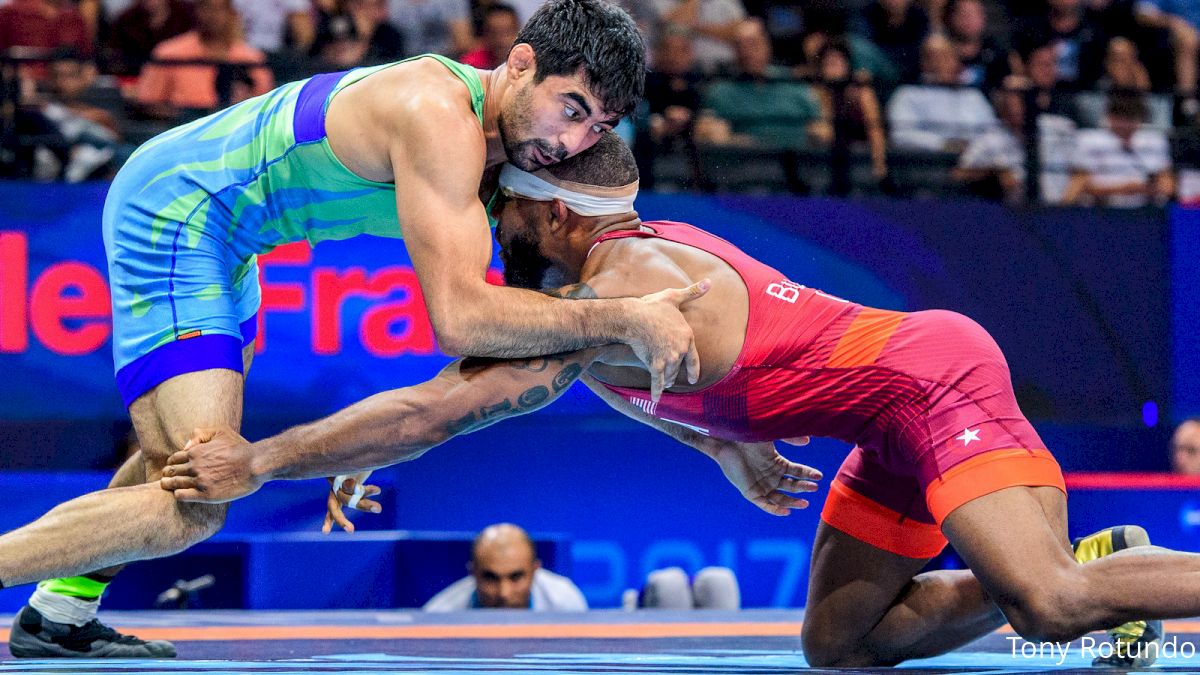 Unlock this article, live events, and more with a subscription!
Get Started
Already a subscriber? Log In
Is it important to have a good double leg? Yes and No.
If you grew up in the United States there is a high probability that you learned some semblance of a double leg on your first day on a wrestling mat. So that makes this an imperative technique to have in your arsenal, right? Maybe — but there is a real cost.
I look at double leg this way:
The skillset that it takes to be able to perform a double leg is imperative. I.e., foot speed, hand fighting, perfect penetration step, great position after making contact with the legs, and a few different ways to finish.
If you do choose to get good at the double leg a lot of good things will happen.
We'll revisit and touch on the things above throughout the course of this article, but as always if you have other ideas on this subject please feel free to DM me on Instagram @MikeMalinconico.
Before we do any of that, though, let's figure the characteristics of the different types of double legs and, more importantly, what type is best for you.
Straight Double
This is the traditional double leg that we all know and love. I probably don't need to go over it step by step, but in the interest of prudence, a basic penetration step and wrapping your arms around both of their legs are the main ingredients. There are a couple of things that I want everyone to pay very close attention to, though.
First, simply hitting a penetration step from 10 feet away from your opponent won't get the job done for a good double leg. The rule that I was always taught was that on a double leg that you need to be close enough to touch him. Whether you want to use your arm as a measuring stick or not is really irrelevant; the fact is that when you hit your penetration step the knee should wind up somewhere behind your opponent's feet.
The other part of the technique that we need to focus on is your position when you actually get to the legs. In the case of a good straight double, your back must be completely straight and your hips must be right under. Take a look at this picture of Coleman Scott hitting a double. His knee is behind the feet of his opponent; his back is straight and his hips are in making it easier to support his opponent's weight.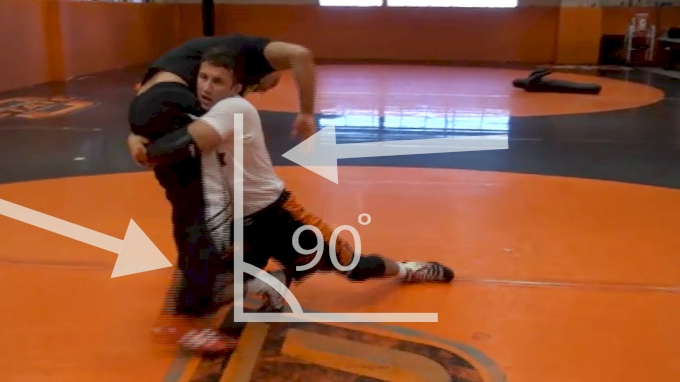 Here's the full video — don't worry about his setup, just focus on his position.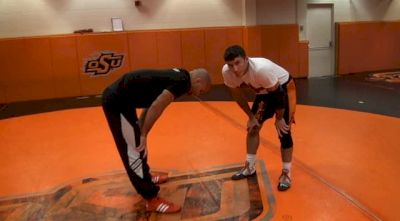 Unlock this video, live events, and more with a subscription!
Get Started
Already a subscriber? Log In
Pros - If you can get to the point that all those finer details are just about perfect it's pretty hard not to score a takedown.
Cons - The amount of time and energy that it costs to get good at all of those things is significant. Think about it. Getting the motion of the penetration step down takes some work, then you have to get good at holding the position with weight on you. As if that weren't enough, you need to start doing it in realistic situations so that you can find a point of entry for the attack, that takes a ton of time to develop. You're not done yet, you probably need about three different finishing options off that one attack once you actually get to the legs.
Blast Double
Ahhh, the move that put Jordan Burroughs on the map. The difference between this double and the straight double above is that (ideally) the head or shoulder and two hands form a triangle upon contact. Another main difference is that you can hit this form a little bit further away. When you make contact with your opponent you should already be on the way up.
Don't take my word for it — watch to the greatest to ever do it.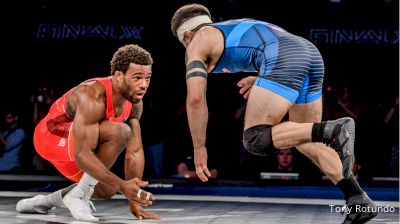 Unlock this video, live events, and more with a subscription!
Get Started
Already a subscriber? Log In
Pros - Blast doubles are lethal. They can change the dynamics of a match in one motion. Hit well, they're good for two points every time. Hit perfectly, they're good for four.
Cons - Obviously it sucks to be on the receiving end of a blast double, but the truth is that they're not much fun for the offensive wrestler either. If you want to be successful at the highest levels of our sport you're going to have to be willing to plow through your opponent's head, hands, elbows, chest plate, and sometimes hip bones….with your face.
I try my best to always think of things in terms of number of reps. If we all agree that it takes 10,000 reps to achieve mastery of a skill then how many good, solid reps do you think that you're willing to commit to blast doubles every practice? 10? 25? 25 reps of anything sounds very doable until you actually have to do them. Especially blast doubles.
Low Double
If you can time his feet perfectly, get your shoulder to make contact at the knee cap or just below there's a good chance that the only defense for your opponent is to turn down and mitigate loss. Logan Stieber has one of the best low doubles that I can remember. Check that out below.
Pros - One of the biggest upsides as far as I'm concerned when you're talking about low doubles isn't actually the takedown at all; it's more about what happens right after the ref throws up two fingers. Low doubles are great for freestyle because they can transition to a lace so easily. Jordan Burroughs runs through the particulars of that here.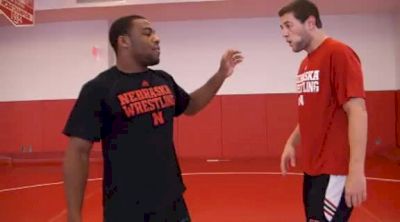 Unlock this video, live events, and more with a subscription!
Get Started
Already a subscriber? Log In
Cons - The biggest drawback for low doubles is that if the timing isn't just right you can put yourself in a pretty poor position and it'll take some doing to get yourself out of it.
Heres the short and skinny of it…. no one walks away from this sport prettier than they walked into it, but if you're shooting doubles like JB you're probably not getting a modeling contract.