Xtreme Pro Apparel Shifts Focus From Wrestling to COVID-19
Xtreme Pro Apparel Shifts Focus From Wrestling to COVID-19
COVID-19 has shut down wrestling. XPA has found a way to help.
Mar 28, 2020
by David Bray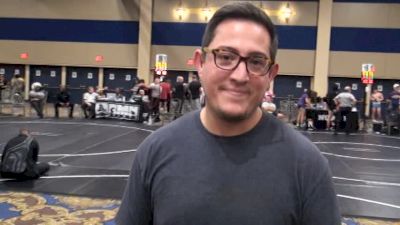 Unlock this video, live events, and more with a subscription!
Get Started
Already a subscriber? Log In
Two weeks ago, Jordon Gutierrez was set up to sell gear at Rocky Mountain Nationals, the flagship wrestling tournament for RMN Events. Today, his gear company is focused on manufacturing masks and gowns for medical personnel fighting COVID-19.
Rocky Mountain Nationals was the first tournament hosted by RMN Events, and as the organization has grown, it remains the crown jewel. It was scheduled to take place on March 13-15, but it, like most recent sporting events, was canceled due to concerns about COVID-19.
Jordon Gutierrez runs Xtreme Pro Apparel which sells custom team gear to athletes of all sports but is especially prevalent at the RMN Events that are run by his father and brothers. Needless to say, his business was significantly impacted by the recent cancelation of most sports.
Most people in Gutierrez's case would go into survival mode, asking how they could escape this financial crisis. Gutierrez admits that he briefly felt that way, but he quickly realized that he was uniquely positioned to help healthcare workers during this COVID-19 crisis.
The Xtreme Pro Apparel's manufacturing arm is not only good for creating custom team wear and wrestling gear, it has the equipment to mass-produce masks and gowns that could help fill the shortage experienced by many healthcare workers.
On top of that, XPA is used to creating wrestling singlets made from anti-microbial fabric which comes in handy for medical-grade masks and gowns.
Gutierrez explained that his shift from sports apparel to medical equipment happened quickly after the news of COVID-19 became prevalent. "Every day you see the amount of people being effected by this," Gutierrez said. "We have the resources to Help."
Every day you see the amount of people being effected by this. We have the resources to Help.
These days, Jordon Gutierrez is focused on distributing masks and gowns to medical workers, but he and his team have encountered some obstacles. For example, XPA has had difficulty posting ads on Facebook as the social media giant has blocked many ads due to recent COVID-19 related scams.
Despite these hurdles, Xtreme Pro Apparel has been producing both masks and gowns and has patterns ready to fill orders for medial professionals in need. Interested parties can contact Xtreme Pro Apparel on their website at xpagear.com.