Unlock this article, live events, and more with a subscription!
Get Started
Already a subscriber? Log In
Warmups are a key component of wrestling's aesthetics. It's what you wear when you stand atop the podium — a moment that will be forever immortalized through the cameras of wrestling photographers and parents alike.
Given that immortality, a bad warmup can turn into an unfortunate focal point, an average warmup may go unnoticed, but a great warmup will always enhance that moment captured on film.
We decided to take a look at those great warmups and rank them. Below are the top 25 college wrestling warmups of all time. We wanted to cover all eras and styles, so it's clearly form over function in the rankings, as some fabrics and cuts are impractical by today's standard.
#25: Wisconsin [1986]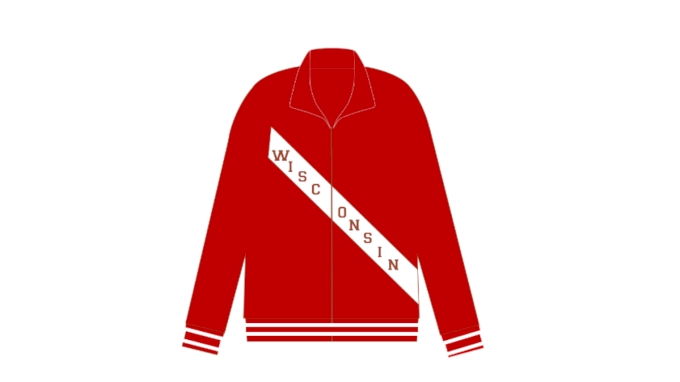 The University of Wisconsin's wrestling team has worn some great warmups, and some less-than-great warmups (see 1980). This "sash stripe" version worn in the mid-'80s is one of their better warmups. It's unique, clean, and overall a good look. Had it been a bit closer in execution to Peru's national futbol kits, it may have been ranked higher.
#24: Purdue [1960]
If you asked the average American to describe the quintessential school-supplied athletic gear style, you would probably get this. It generates nostalgia even in those that never wore this type of sweatshirt in school. That's why it's on the list.
#23: Minnesota [2019]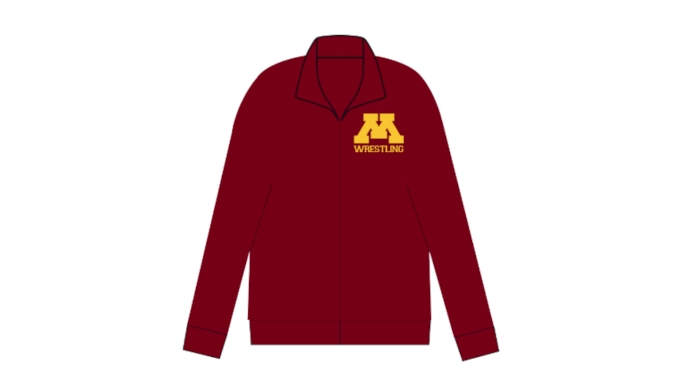 When you find a good look, stick with it. Over the last two decades Minnesota has shown us that a big, gold "M" looks good on an all maroon jacket, regardless of the basic jacket construction. However, what put them on this list is the decision to keep the collar on their jacket. While other Nike schools went collarless last season, Minnesota stayed collars-up. To see the difference this makes, look at the 141lbs podium and compare Mitch McKee collar-up to the no-collar versions to his left.
#22: Slippery Rock [1974]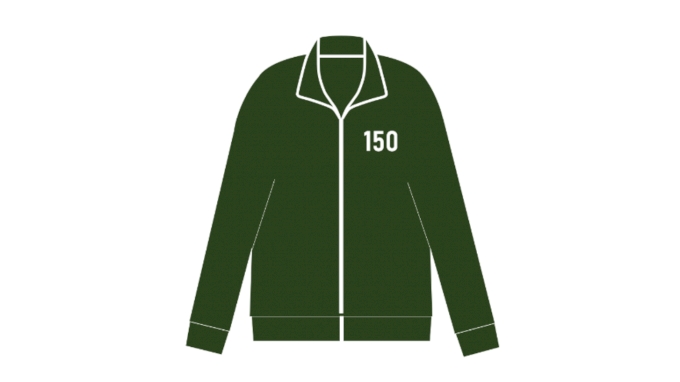 What's more important, that your warmup identifies your school or identifies your weight class? In 1974, Slippery Rock went with the weight class. At first it might seem a strange decision, but it's kind of a genius way to identify a warmup as a wrestling warmup. This is no basketball team hand-me-down. It's for a wrestler, and not just any wrestler, it's for one that weighs 150 pounds or less on match day. Does this look make anyone else want to start stitching their weight class on their gear?
#21: Michigan [1988]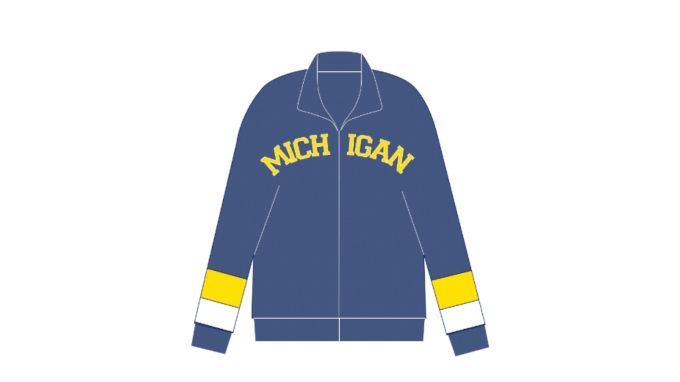 Michigan has one of the best gear games in wrestling, so it's no surprise the Wolverines have three warmups on the list. The unique triple-cuff might not appeal to everyone, but in a sport where winners get their hands raised, it's a nice touch. Accentuate the moment. I wasn't yet following wrestling at this time, but I hope Michigan tied the cuffs to a "raise the maize" theme that season.
#20: Central Michigan [1999]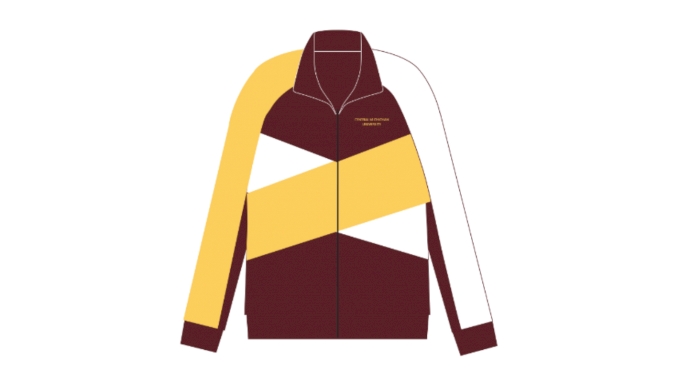 Large, loud windbreakers were everywhere in the late '90s, including the NCAA podium. While these windbreakers won't go down as one of the better warmup styles, they did earn a spot on the list. Central Michigan was the best of the bunch. Was it large? Yes — middleweights wore jackets that looked like they would be too big for the heavyweight. Was it loud? Yes — it had different-color sleeves and thick crossing chest stripes. Did it avoid the common faults of bad jackets designs from the era, going patchwork-y or forcing in non-school colors? Yes — it was symmetrical and only maroon, gold, and white. To see patchwork-y and extra colors, compare what current Penn State coaches Casey Cunningham and Cale Sanderson wore on the podium in 1999.
#19: Iowa State [1981]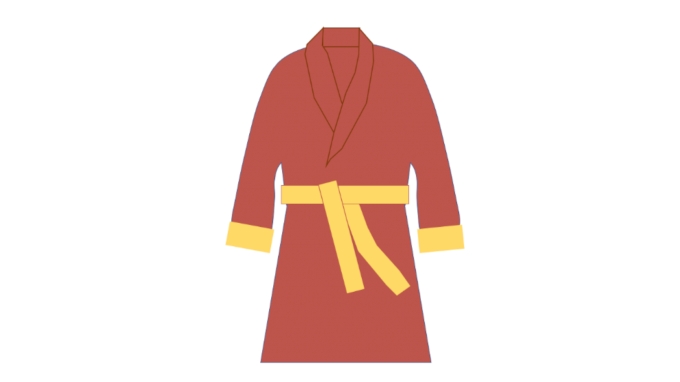 Close your eyes and think of a wrestling robe. Do you see gold and cardinal? Iowa State's robe has been present at many key events in the history of our sport . . . and is definitely the best of the robe style. A clean, bold-colored front. School name on the back. While it is a nice warmup and made the top 25, I am not signing any petitions to bring back robes. They are best to stay in our history, not our present. However, if you find yourself wearing one to a match, I suggest following Nate Carr's lead and pairing with a pom beanie. Killer look.
#18: Michigan State [1954]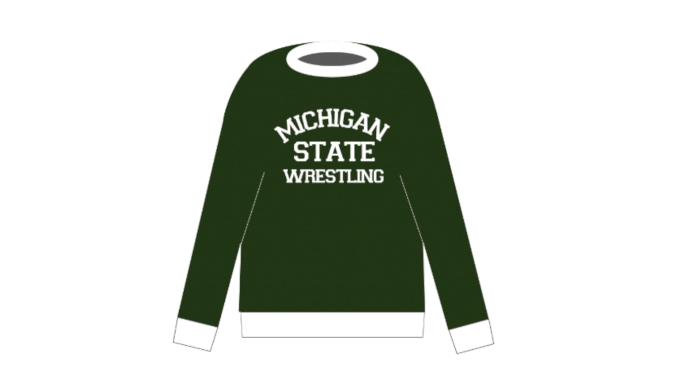 If the fashion photography book "Take Ivy" was instead "Take Big Ten Wrestling," this warmup might have been on the cover. It's the perfect intersection of preppy and athletic, making it ageless. You could see this mat-side today . . . or in a trendy coffee shop. I wish I owned a reproduction of this.
#17: Michigan [1979]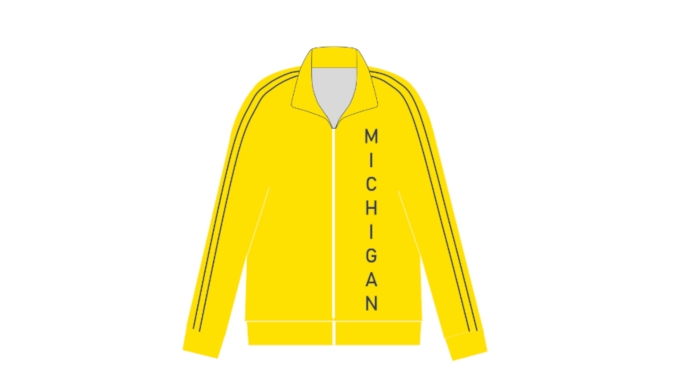 This is the archetype of a track jacket. Full-zip, two colors, vertical sleeve stripes. There were (and still are) many similar versions of this style on the podium. What puts this on the list is (a) the decision to leave the cuffs and waistband solid and (b) the vertical lettering helps capture the era of the jacket. It's also one of the few maize-forward pieces of wrestling gear from Michigan, so the rarity helps.
#16: Cornell [2011]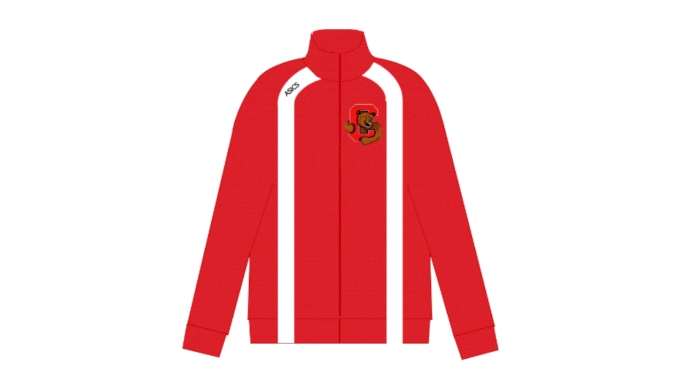 From Dake to Yianni, this warmup has spent a lot of time on the podium. The thick double waterfall stripes are unique and became distinctively Cornell over the last decade. I wanted to put these higher on the list, but their ranking was limited by the fact the stripes never aligned to the stripes on the pants, especially when the jacket was tucked into the pants. Now Cornell is back to solid red, which helps the nostalgia grow for these warmups.
#15: Penn State [2013]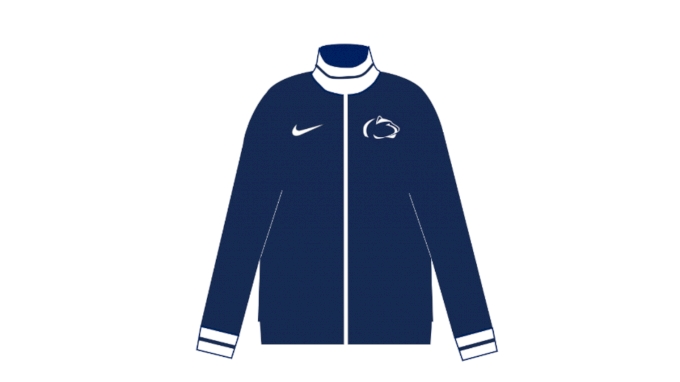 Schools with white as a primary school color could be disadvantaged in gear design. Not Penn State. The white sharply caps the all navy jacket at the cuff and neck. No further color needed, outside of white Nittany Lion and Nike logos. It's also best worn with the collar fully zipped up, as the collar looks a little wobbly if not. I would have liked to see a few more seasons out of this warmup, rather than switching to the grey sleeves the following two seasons.
#14: Oklahoma [1983]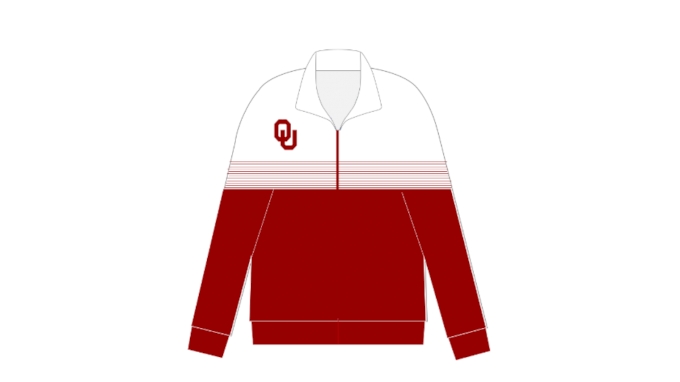 Oklahoma was one of the last schools to remain loyal to robes, so their catalog of more modern warmup styles is limited, albeit mostly good. Last season Oklahoma had a great warmup with a thick horizontal stripe across their chest. However, their best version is this version, with several thin horizontal lines across the chest. It is neither too busy nor too simple and it sticks to their crimson and cream colors. I hope to see more horizontal stripe styles from the Sooners in the future.
#13: Wyoming [2018]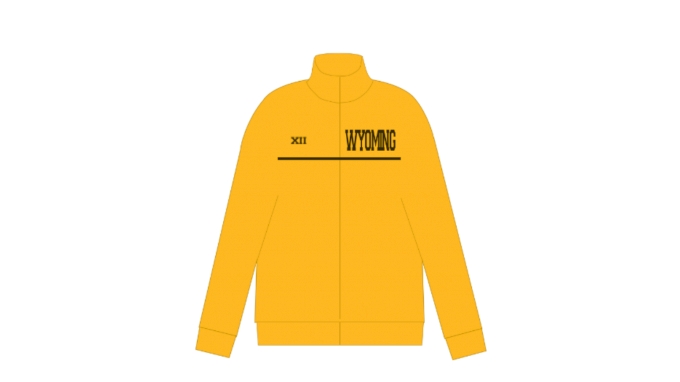 Whoever has been designing Wyoming's gear over the past few seasons has been crushing it. This warmup is understated but awesome. They stay true to brown and gold. All the elements are simple. It was also a great decision to pair the jacket so well with the brown pants, so as not to be an overwhelming amount of gold. Well done, Wyoming.
#12: Cal State - Bakersfield [1980]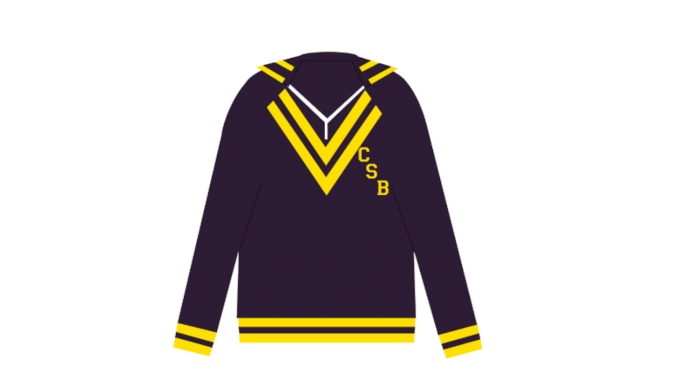 This is a great pullover. While the striped V may trend a little on the Oklahoma State style, it has a more academic appearance. The style embodies the student-athlete look. The Roadrunners could (and maybe should) sport these warmups again, though maybe in a full-zip, with no striping on the collar, and in Pantone 661 blue instead of navy.
#11: Iowa State [2009]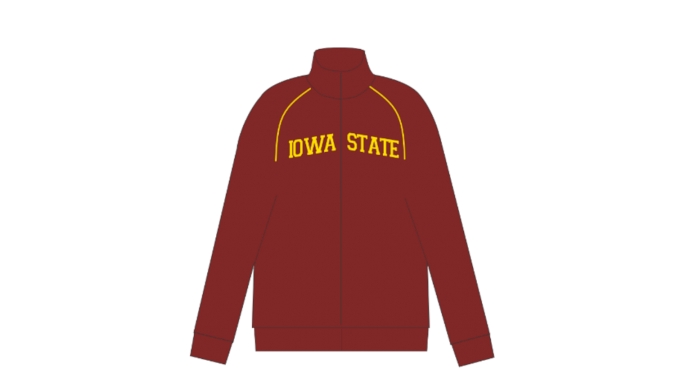 Deltoid stripes were very popular on warmups in the late 2000s. Thick or thin, straight or round, many schools had a version. Iowa State had two versions alone. Their second version was by far the best of the deltoid stripes era. Solid cardinal with a thin rounded gold deltoid stripe and matching thin gold lettering. It's a tough, confident look worn proudly collar up by tough, confident guys like Jake Varner and Jon Reader.
#10: Iowa [1984]
In 1984, Iowa added gold-striped cuffs, waistband, and collar. Iowa's traditional look pulled in a little of the current trends and the result was great. Definitely not their best warmup, but when you think about Iowa's dominance in the late '70s and '80s, this definitely looks like an era-appropriate warmup for the Hawkeyes.
#9: Pittsburgh [1954]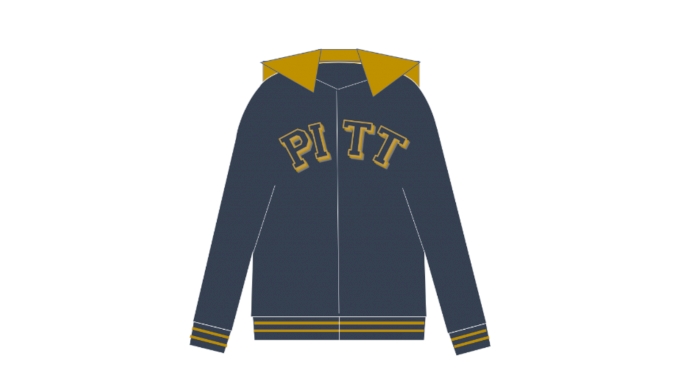 Usually collars are superior to hoods because they avoid doubling if a wrestler chooses to layer with a hoodie underneath a warmup jacket. However, that rule does not apply if the hood unzips into a mini-cape. This style was popular in the '50s and really personifies "All-American." There was not too much variation across schools during the time, but Pitt made the right small choices to get on this list. The Panther version had 3D lettering, subtle striping on the cuffs and band, and no contrast-color pockets. Well done, Pitt. Note, I have only seen this in black and white photos, but assume the lighter color was the vintage old gold popular on letterman jackets during the era.
#8: Wisconsin [1976]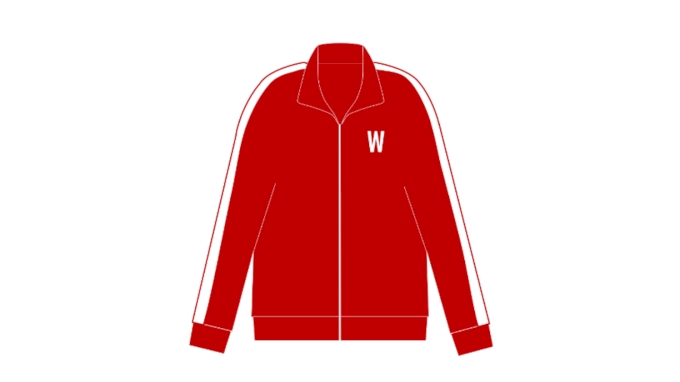 While the maize Michigan version may have been the archetype, this Wisconsin version is the best '70s style track jacket. It's athletic, it's minimalist, it's excellent. Fortunately, it's also the jacket the Badgers wore during a season when they had three wrestlers atop the podium.
#7: Lehigh [1978]
Short-sleeve warmups made a return to the podium in 2019 and I wasn't a fan. Thus, I thought there was no way there would be a short-sleeved warmup in the ranking. However, there are two, starting with this Lehigh version. Two colors, triple striped edging, and big, radially arched lettering. Like the Michigan State sweatshirt, this vintage look can go from the mat to the coffee shop, but also the softball field and really anywhere. It doesn't exactly put the "warm" in warmup, but this is a form over function ranking. Though Lehigh has good warmups today, I hope they bring back this look soon.
#6: Clemson [1980]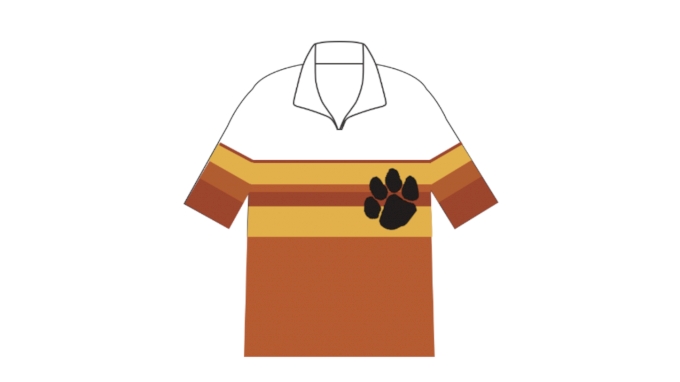 Every lost wrestling program stings. The loss of Clemson's program stings a little more because it cost us the opportunity of seeing this warmup again. Yes, it's a direct variant of the Houston Astros' polarizing rainbow uniforms — down to the dark logo on the left side — but it's still awesome. The main critique is that it is geography-dependent. Doesn't really fit for a northern program to wear something like this to a dual in January. That keeps it out of the top five, even though it scored near the top in an unscientific survey of non-wrestling fans.
#5: North Carolina [1995]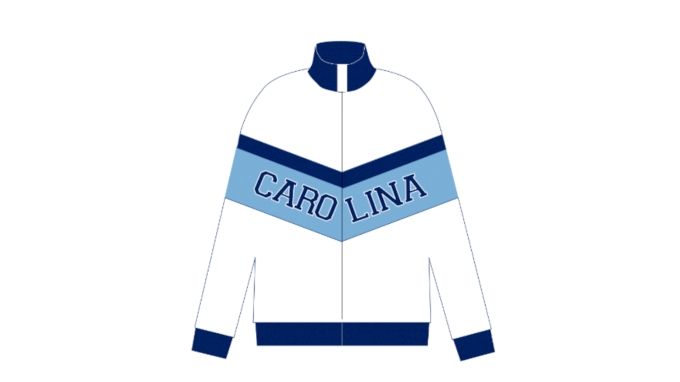 The M stripe was very popular in the mid-'90s. Many schools had a variant . . . including Iowa! Of all schools that wore the M stripe, North Carolina definitely had the best. It was a great decision to alternate the color pattern on the pants and jacket, avoiding white pants and having Carolina blue as part of the color scheme helps, too. This warmup also gets a bump because it is what TJ Jaworksy wore the season he won the first-ever Hodge trophy. The warmup creates a nice visual time capsule for the start of the Hodge trophy.
#4: Michigan [Current]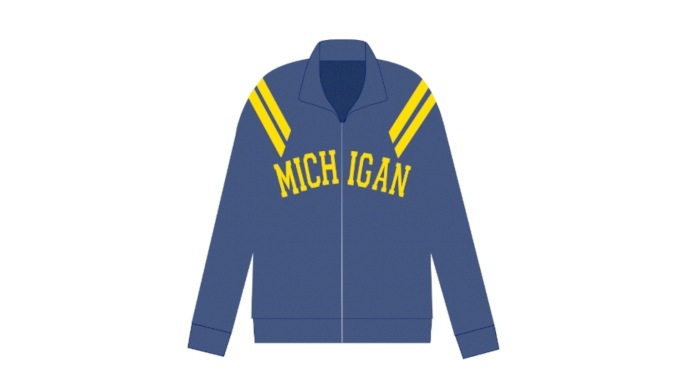 The "UCLA stripe" is the most athletic of all stripes — and I am a huge fan. Several schools have worn UCLA stripes over the years, notably in the legacy Big 8 schools with Nebraska, Missouri, and Oklahoma. While all are good, Michigan's current warmup is the best. It looks slightly retro, slightly fresh. No white edging or outlines, just maize and blue. And this warmup looks great collar up or collar down. Hopefully Michigan keeps it for a few more seasons.
#3: Penn State [1995]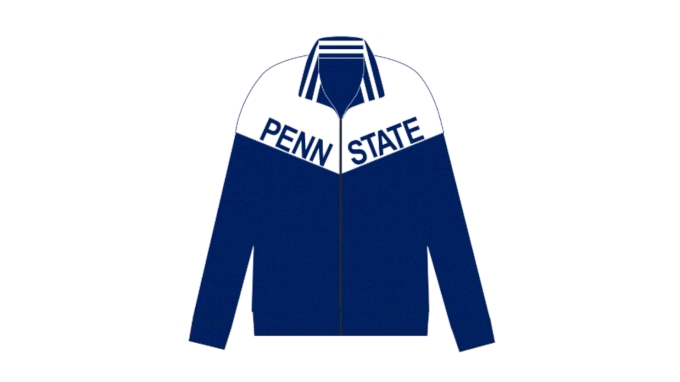 When I went to my first Penn State dual in the late '90s, Penn State's warmups were all navy with "Penn State" radially arched across the chest. I assumed that the wrestling program, like the football program and the Blue Band, kept a very minimalist style. Then I saw a photo of John Hughes atop the podium in 1995. The Penn State warmups he wore weren't minimalist, they were spectacular. All the elements of a great warmup: clearly athletic gear, only school colors in the palette, great collar, and just the right amount of era-appropriate vintage. This warmup is the best the Nittany Lions have ever worn and one of the best of any program.
#2: Iowa [2019]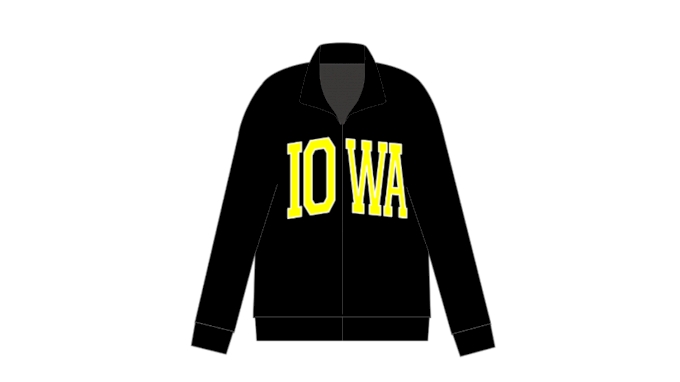 "Iowa style" is a common phrase in the NCAA wrestling lexicon, but it is more about the way Hawkeyes wrestle than the way they dress. However, there is a clear Iowa style to the Hawkeye's gear — almost all black with four gold letters. The no-frills look is based on tradition and perfect for the program. When you are expected to be on the podium every year, it is less of a spectacle, less of a reason to dress up. The 2019 version specifically made the list because it has a better collar than the first iteration of this style in the late '70s and early '80s and less white around the letters than used in the past decade.
#1: Oklahoma State [Always?]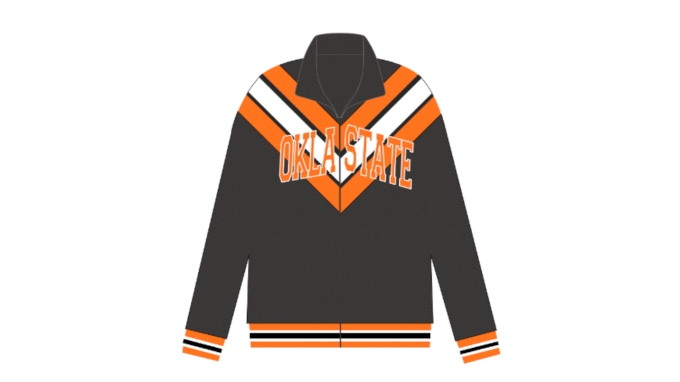 Of course Oklahoma State is #1. The radially arched "O K L A S T A T E" over the orange and white striped V is definitely the most iconic warmup in college wrestling. Much praise to the Cowboy program. Perfection is hard to reach and hard to keep. While new style fads have come and gone and fabrics have evolved, this warmup has changed very little — just a few tweaks to the stripes. I am not sure what is harder to imagine: Oklahoma State changing their warmups or another school supplanting Oklahoma State in the #1 spot.
Special thanks to the National Wrestling Hall of Fame for sharing their photo archives to enable the research for this article.