Pac-12 Hardware For Griffith & Norfleet Punctuates Impressive Seasons
Pac-12 Hardware For Griffith & Norfleet Punctuates Impressive Seasons
Stanford's Shane Griffith and Arizona State's Kordell Norfleet earned hardware at the Pac-12 tournament that exemplified their impressive seasons.
Mar 23, 2020
by Nick Zeller-Singh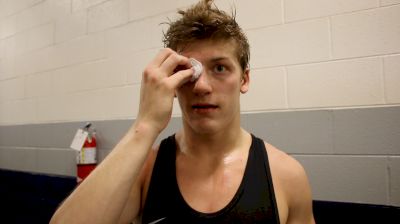 Unlock this video, live events, and more with a subscription!
Get Started
Already a subscriber? Log In
Unlock this article, live events, and more with a subscription!
Get Started
Already a subscriber? Log In
After the cancellation of NCAAs, the postponement of Olympic qualifiers, and the rest of the coronavirus fallout, the tight-knit wrestling community is hurting right now. With no possibility for seniors to engrave their final legacy (unless there is eligibility relief), freshmen embarking a new journey, and wrestlers and teams making surprising turns every round, one of the best things to do right now is take a look back at the conference tournaments.
Although the Big Ten was planning to headline several significant matchups, the Pac-12 had two wrestlers to throw out as well. A few weeks ago, Stanford hosted the Pac-12 tournament. Despite losing the tournament to Arizona State, the Cardinal freshman Shane Griffith co-headlined the competition.
He and Arizona State's Kordell Norfleet won the Co-Outstanding Wrestler award at the Pac-12 tournament.
Griffith began the tournament as the top seed over the Devils' Josh Shields. Although having a tougher weight class, Griffith walked through pretty easily to the finals. Coming into the finals, he had to face Shields after sneaking a sudden victory over him in Tempe. However, Griffith has the confidence that pushed him into this match.
"I put so much time into this sport that I really do think I can do anything and beat anyone presented in front of me," Griffith said.
His hard work paid off as he won by decision over Shields and continued the impressive freshman season. His commitment didn't end as he heard his name announced one final time for the award.
Griffith's gratitude showcased when he heard his name as he accepted the award he was not expecting.
"I thought they might give it to Real or Kordell. But it was awesome to get recognized for some accomplishments," Griffith said. "It was awesome seeing all the hard work being paid off and getting recognized for what I have done especially in the Pac-12."
Despite being grateful for the award, he knew this was one small step in his vision.
"Being 20-0 and winning PAC-12s and being Outstanding Wrestler is all great, but I thought I would be here," Griffith said.
Griffith's year included this gritty finals win at the Southern Scuffle: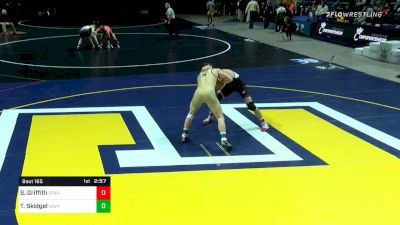 Unlock this video, live events, and more with a subscription!
Get Started
Already a subscriber? Log In
With his dad there and a home crowd supporting him and his team, Griffith's freshman season ended in the best way possible.
Looking in the other direction, Norfleet's powerful presence proved he peaked at the right moment. Norfleet came into Pac-12s as the one seed as well. His first match came in style with picks and powerful doubles.
However, going into the finals, he had a tough challenge of taking on Stanford's ranked Nathan Traxler. Looking back at the duals, Norfleet and Traxler roller-coaster match ended with Norfleet escaping with a win.
Yet, coming into a hostile environment, Norfleet had another idea in mind.
"Believe it or not, I don't know how, and I didn't say it in a literal sense, but I told my teammate Jacori that I was going to pin him," Norfleet said.
The pin silenced the crowd and hyped the Sun Devil squad. Although he pulled off an unlikely finish, he had no idea he would win the award.
Norfleet gave top-ranked Kollin Moore of Ohio State a run for his money earlier this season: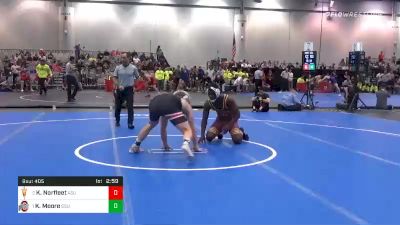 Unlock this video, live events, and more with a subscription!
Get Started
Already a subscriber? Log In
"If I'm being honest, I did not expect it," Norfleet said. "I thought Real Woods was going to get it because we were at Stanford and I knew that there was no way I was getting that, especially after beating a Stanford kid."
However, when the PA announcer said Norfleet's name, a smile ran across his face. He felt reassured that after injuries and doubts have roamed around him for over a year.
"It was dope. It was like a cherry on top," Norfleet said.
Unfortunately, the cherry on top turned sour for Norfleet and Griffith. The freshman campaign and comeback season ended abruptly, but the Co-Outstanding wrestlers have a few positives.
Although NCAAs are out of the picture, both wrestlers earning this Co-Outstanding wrestler means people can place them in a debate for winning the NCAA title next season.
---
Nick Zeller-Singh is a student at Arizona State studying Sports Journalism. In addition to writing for FloWrestling, he appears on his college radio station, does play-by-play, and covers a variety of sports as a beat writer. Follow him on Twitter.