Unlock this article, live events, and more with a subscription!
Get Started
Already a subscriber? Log In
Jordan Burroughs has been one of the best wrestlers in the world since 2011. He's also been one of the best wrestlers in the world at beat Russians since 2011. So, unless you hate America, please enjoy these 11 matches of Jordan Ernest Burroughs beating some of Russia's best wrestlers.
2011 Beat the Streets vs Aniuar Geduev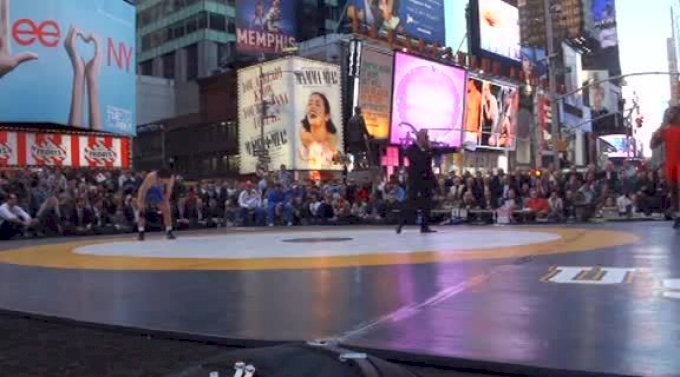 Everyone remembers Burroughs' 2016 loss to Geduev in the Olympics, but people forget that Burroughs actually has a winning record against him, including this win at Beat the Streets in 2011. This was Burroughs' first senior-level match against a Russian. JB was fresh off of winning his second NCAA championship and first US Open title.
2011 World Championships vs Denis Tsargush
Denis Tsargush: another Russian that would hand Burroughs a heartbreaking loss on the World/Olympic stage, but Burroughs got the best of first. This time it occurred in the second round of Burroughs' first trip the World Championships.
2012 World Cup vs Akhmed Gadzhimagomedov

This was Burroughs' first time on the World Cup Team, and at the time Gadzhi was still relatively unknown. After winning his first four matches of the World Cup, Burroughs helped Team USA earn bronze with a winner here.
2012 Beat the Streets vs Kamal Malikov
Burroughs makes it two-for-two in Beat the Streets appearances while going vintage blast double Burroughs in the process.
2013 United 4 Wrestling vs Saba Khubetzhy
Another BTS, another Russian victim. This time around it was Saba Khubetzhy in Los Angeles.
2013 Stepan Sargsyan vs Atsamaz Sanakoev
This match is the final of the Stepan Sargsyan International in Vanadzor, Armenia. It occurred in between the 2013 World Team Trials and the 2013 World Championships.
2014 Beat the Streets vs Atsamaz Sanakoev
Burroughs loves beating Russians at Beat the Streets events, and I love watching.
2015 World Cup vs Iakubali Shikhdzhamalov
Burroughs tech falling a Russian on American soil? Yes, please!
2015 World Championships vs Aniuar Geduev
Burroughs improves to 2-0 in his career against Geduev in the World semis.
2017 World Cup vs Atsamaz Sanakoev
Burroughs makes World Cup record 21-0 and Atsamaz Sanakoev record 3-0.
2017 World Championships vs Khetik Tsabolov
This win over 2014 World champion Tsabolov was crucial in helping the US defeat Russia by one point for the 2017 team title.