Yes, Wrestling: How The Hildebrandt Family Navigated The Coronavirus
Yes, Wrestling: How The Hildebrandt Family Navigated The Coronavirus
One family, one sport: how Drew and Sarah Hildebrandt navigated the coronavirus in very different situations.
Mar 19, 2020
by Mark Spezia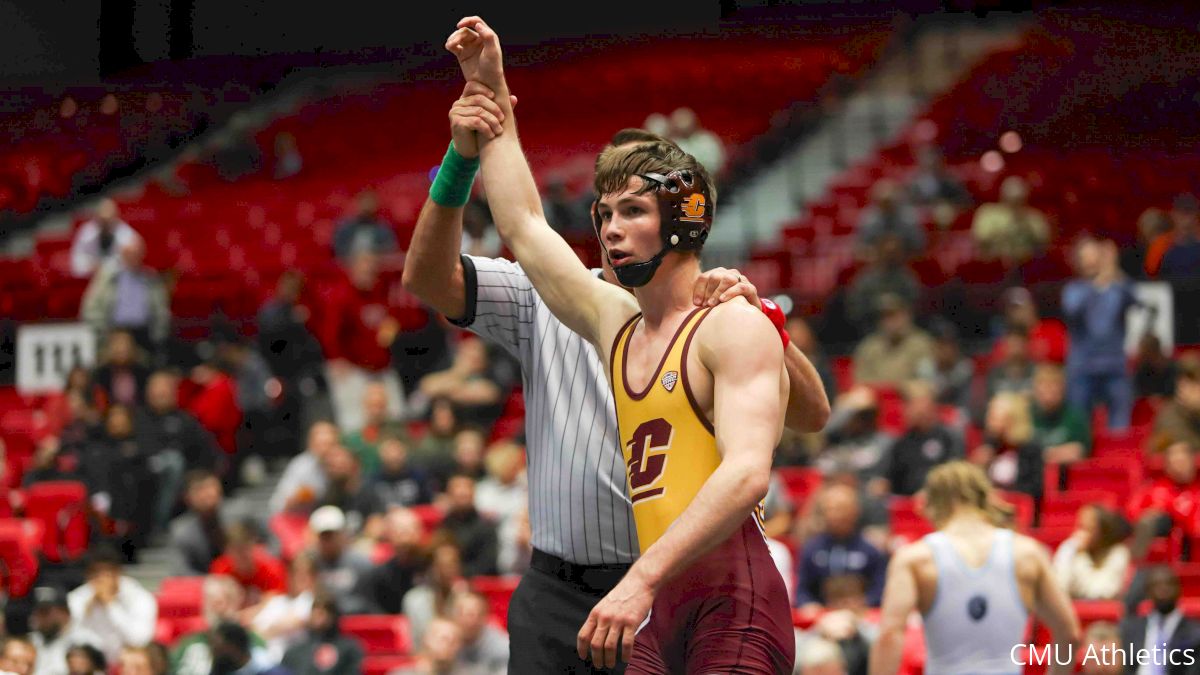 Unlock this article, live events, and more with a subscription!
Get Started
Already a subscriber? Log In
Zion National Park's breathtaking vistas, deep gorges, towering multi-colored sandstone formations, and picturesque valleys cut by the powerful Virgin River have a way of providing a welcome respite from the pressures of life.
That's especially true in these times of coronavirus chaos.
The iconic, 148,000-acre southern Utah destination is where Central Michigan wrestler Drew Hildebrandt, accompanied by his girlfriend, has taken refuge this week.
He arrived last weekend following a dizzying turn of events which saw the junior go from the excitement of winning the 125-pound Mid-American Conference title and preparing for the NCAA Championships as an All-American favorite to dealing with the season's shocking, sudden end.
"We probably got in a good 15 miles of hiking today -- the perfect way to keep my mind off all the bad news lately," Hildebrandt said on Monday evening while unwinding from his trek. "When you are getting outside, exercising in a gorgeous place like this, that moment is all you are focusing on -- not some virus or anything else stressful."
As coronavirus spread throughout the nation last week, whispers about the fate of the NCAA Championships began. On Wednesday, it was announced that all NCAA postseason events would be held without spectators.
"At that point, we all thought, 'Hey, at least we are still wrestling, right?'" Hildebrandt said. "That gave us some hope."
That hope was very short-lived.
With the cancellation of major college basketball conference tournaments and the NBA, NHL, and Major League Baseball seasons being put on hold, an air of uncertainty filled the room as CMU began practice Thursday afternoon.
"We were doing some of our favorite drills, having a great practice because we all felt so good about how our team was peaking at right time," Hildebrandt said. "We were preparing to make some noise at the NCAA Championships. There were rumors, of course, as things were getting canceled, but you plan on it happening until told otherwise."
Then, Hildebrandt and his teammates broke for water only to return to some devastating news. The NCAA had canceled all winter national championships and spring sports.
"The room went dead silent and most of us were too shocked to say anything," Hildebrandt recalled. "I can only describe it as a funeral-like atmosphere. We were all crushed because were so excited about the group we were taking to the national championships."
Indeed. CMU, which had three NCAA qualifiers last season, doubled that to six, including No. 5 seed Matt Stencel (285). Hildebrandt, unseeded a year ago, was No. 6 after going 31-3 this season, riding a 12-match winning streak and knocking off six of the nation's top 23 wrestlers in his weight class.
Hildebrandt continued his steady rise from an 18-18 record as a freshman to 21-10 last season, including placing second in the MAC Tournament and going 1-2 in his first NCAA Championships appearance.
"I changed my mindset this season after reaching the NCAA Championship last year and kind of just feeling happy to be there," he said. "This year, I had an I-can-beat-anybody, national- championship mentality. A new assistant coach, Tim Lambert, really helped me improve as well."
Lambert, a Grand Rapids, Michigan native, was a four-time NCAA qualifier at Nebraska.
Among Hildebrandt's victims this season were 13th-ranked Trey Chalifoux (Army), No. 14 Gage Curry (American), No. 16 Jack Medley (Michigan), No. 21 Luke Werner (Lock Haven), and No. 23 Justin Cardani (Illinois). He owned a 9-2 record against fellow NCAA qualifiers.
Hildebrandt decisioned No. 15 Killian Cardinale (Old Dominion), 2-0, for the MAC title. He escaped for a 1-0 lead after choosing down to begin the second period. He then rode out Cardinale for the entire third period to notch a riding-time point.
Hildebrant has won 14 straight MAC matches.
"I don't know why people keep taking bottom on (Hildebrandt) but we're all for it," Chippewas coach Tom Borrelli said on the team's website. "They keep taking bottom, we're going to keep riding him and maybe turning them."
Ironically, Hildebrandt is not the first member of his family to seek solace at one of Utah's national parks while coping with a wrestling setback.
Older sister Sarah, who has competed in three World Championships for Team USA, embarked on a solo hike around Arches National Park while recovering from an elbow injury that knocked her out of the 2017 World Team Trials after one match.
She returned, made some needed training and lifestyle changes, and won a silver medal at the 2018 World Championships. Hildebrandt also competed at the event in 2016 and last year.
Sarah was among the first to message Hildebrandt as news of NCAA Championships' demise spread.
"We have always been so supportive of each other and communicate at least once a week," Drew said. "Sarah wanted to express how bad she felt for me. I appreciated that, but I was like, 'Don't worry about me, just concentrate on wrestling'."
Yes, wrestling.
While the rest of the sports world was shutting down, Sarah and Team USA were competing at the Pan-Am Olympic Qualifier in Canada's capital of Ottawa.
Hildebrandt qualified the 50-kilogram weight class at the Olympics for the United States by placing second. She reached the final with an 11-0 trouncing of Canada's Jessica McDonald, a three-time World Championships medalist. She also clinched a place in the finals of the now-postponed Olympic Trials.
Like America's other three finalists, Hildebrandt withdrew from final so as not to risk injury.
Watching online was Drew as he prepared to leave for Utah.
"Sarah looked great, just dominant which helped make the news I had received a little easier to take," he said. "I don't know if even she realizes how well she is wrestling right now. I know 50 kilograms is a tough weight with (two-time World Championships medalist) Alyssa Lampe and (five-time World Team member) Whitney Conder, but there is no reason Sarah can't make it to the Olympics."
All four Hildebrandt siblings, who grew up in Granger, Indiana, have been involved in wrestling.
Drew was a four-time state qualifier and state champion as a senior at Penn High School while Sarah was the first girl ever to reach the semifinals of the Indiana State Tournament. She later won two national titles at King University and four Pan-Am gold medals in addition to the World Championships berths.
Oldest sibling Cory placed as high as third in the state before wrestling at NCAA Division III Lakeland College in Plymouth, Wisconsin. Amy Hildebrandt was recently named head coach of the new women's team at D3 Trine University in Angola, Indiana.
It's a major understatement to say the four were competitive growing up. Parents Chris and Nancy watched nervously as the family home's open floor plan sometimes served as a venue for that competitiveness.
"We are actually too super-competitive to even play miniature golf together anymore," Drew said. "That usually ended up in a wrestling match."
However, the siblings have always taken great pride in each other's success.
"I'm crying so hard right now he works so hard, everyone!!!! 2016 STATE CHAMP!!," Sarah tweeted after Drew capped his high school career with a state championship.
He will return to Mount Pleasant, Michigan, the home of CMU, this weekend to resume regular workouts and continue his education online, another fallout of coronavirus.
"I'm ready to start working towards the goals of winning a national championship and helping the team win a MAC title and place in the top 15 at the NCAA Championships," Drew said. "It's tough that the season feels so incomplete, but I'm not going to dwell on it. I have learned how much of a privilege it is just to compete in this sport."
---
Mark Spezia is a freelance writer based in Lapeer, Michigan. He has written for ESPNW, Flohockey, Flint, Michigan-based My City Magazine, the Detroit Free Press, Hour Detroit Magazine and Troy, Michigan-based Oakland Press. He previously worked for the Flint Journal, Lapeer (Michigan) County Press and Daily Mining Gazette in Houghton, Michigan.