'Passion For The Process' Defines Wrestling Superfan Sam Herring
'Passion For The Process' Defines Wrestling Superfan Sam Herring
FloWrestling caught up with superfan Sam Herring to talk about everything from his favorite wrestlers to advice for parents and kids getting into the sport.
Mar 9, 2020
by Hunter Sharpless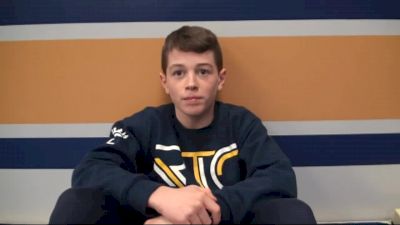 Unlock this video, live events, and more with a subscription!
Get Started
Already a subscriber? Log In
Unlock this article, live events, and more with a subscription!
Get Started
Already a subscriber? Log In
Sam Herring may just be in junior high, but the 13-year-old from Memphis, Tennessee, is one of the best personalities in wrestling already. A wrestler himself, Sam has also co-founded a wrestling media organization called Home Mat Advantage. HMA runs articles, a regular podcast, and much more. Additionally, Sam helped FloWrestling call the Southern Scuffle this year.
FloWrestling: Give us the nuts and bolts of how you got into wrestling. Did you come from a wrestling family? Did you always want to wrestle?
Sam Herring: I wouldn't say I am from a wrestling family; however, my dad did wrestle for the Air Force Academy in college. I am the sixth of seven children, and while my older siblings did set a sports precedent for my brother and me, it wasn't in wrestling. They all loved soccer and were pretty successful with it, so I think the original plan was for me to play soccer.
When I was 6, some friends of ours told my dad about a great wrestling program in Memphis. He took us to our first practice midseason (December), and I was immediately hooked. The fact that I was only 6 kept me from fully understanding what it was I loved about it so much, but as I matured, my understanding and passion grew.
It wasn't long before I couldn't get enough of wrestling, and practice just wasn't enough. I started looking for ways to learn more, which led me to FloWrestling. My daily visits to the site consisted mainly of technique research and watching film on my 50-pound opponents. After spending so many hours on the site looking for ways to improve my wrestling, I eventually started reading articles and listening to breakdowns of upcoming events at the higher levels. And again, I was hooked — a diehard wrestling fan.
What's your relationship like with FloWrestling in particular? What are some of the ways you've collaborated with Flo in the past?
First of all, I am one lucky guy. My relationship mainly stems from FRL where I was first recognized as a unique fan because of my understanding of the sport in spite of my age. I posted questions on Twitter for them to answer on the show, and they picked up on the fact that I was only 12 at the time. I just wanted to hear them talk about the things I was interested in. They joked about me being the official junior high wrestler of FRL, which I still claim! Since then, they have really been awesome to me. I have had the opportunity to commentate matches at the Southern Scuffle and Who's Number One, interview wrestlers at Final X, and recently, I was a guest host with Christian Pyles on a special episode of FRL.
Favorites time: Who are your some of your favorite wrestlers right now and why?
Man, this is a tough one. Over the years, my favorites have been Zain Retherford for his wrestling wizardry, Kyle Snyder for being an example of Christian character, Yianni Diakomihalis for his unique style, Spencer Lee for being a role model for his work ethic, and Beau Bartlett for his skill and personality. I love Seth Gross. He's so smart. I've loved watching him adapt and improve. But also through my experiences with FloWrestling and my podcast, I've had the chance to be personally encouraged by some amazing wrestlers like Sean Russell and Johnni DiJulius. I can't tell you how much I love the wrestling community. There's nothing like it.
You're extremely involved in wrestling both from a media perspective but also, of course, as a competitor. What advice would you give to young wrestlers who want to get into the sport and sharpen their skills?
Talk your parents into a FloWrestling subscription! Seriously, I have had the benefit of great coaches, but I can't overstate the impact studying technique has had on me as a wrestler. Be sure to develop a passion for the process. A lot of young wrestlers don't truly have a passion for wrestling, but they do have a passion for competition and winning. If you can learn to develop a true passion for the dirty, hard workouts when no one is watching, you will eventually find success. One book that has really helped me with this is Chop Wood Carry Water by Joshua Medcalf (per Lee Roper).
What advice would you give to parents who have kids who want to wrestle?
There's no doubt that I bought into the sport as a whole once I started learning about the wrestlers and events in college and beyond. My recommendation to parents is to take the time to help your wrestler get to know the sport as a whole. Become fans of college and international wrestling as a family. Find your favorites and help your wrestler find his or hers.
I also can't emphasize enough the importance of what you prioritize as parents. If your priority is winning, you will stifle your wrestler's ability to develop a passion for the grind. Wrestling is a brutal sport that requires more from its competitors than virtually any other sport. As kids are becoming more and more competitive at a younger age, the ability to stay at this for the long haul has to include a love of practice, a love of hard work, a love of the little improvements. If winning is the goal, if trophies and medals are what parents prioritize, I don't believe most of us can hang in there. Help your wrestler by prioritizing work ethic and character at home. My favorite thing to hear from my parents is, "I love to watch you wrestle and demonstrate your passion," not "Congratulations on winning."
Again, a passion for the process is much more important than a passion for winning.
What are some of your goals in wrestling this year and beyond?
To be completely honest, I struggle with the concept of goals in the typical sense. I don't really give myself materialistic goals. I don't look at certain tournaments differently, and I surely don't think that any particular event should be the motivation behind the effort I put forth in preparation. I try to have consistent motivation for every single one of my workouts. I am training with the purpose of exercising the gift and opportunity that God has given me in this passion.
When I train, it is not with the motivation of anything materialistic; it is with the motivation of being the best possible athlete I can be. Don't get me wrong — I do value accomplishing certain achievements, I evaluate each of my matches and set specific goals for myself to improve on those performances, and I'm going to train as hard as I can to accomplish those things, but winning tournaments is not going to be my main motivation, at least not right now. Kyle Synder said it perfectly:
"Wins or losses don't define me. I mean, I love wrestling, it's a big part of my life, but I'm not defined by the sport. I'm defined by my faith in Jesus. So no matter what happens to me on the mat, nothing really changes. Whether I win or whether I lose, there's not a big change in my life, the way that I view myself, the way that I view other people"
What are you most looking forward to the rest of the year (with the rest of the collegiate season and the Olympics) in wrestling?
I am so excited for the rest of this year in wrestling. At 13 years old, my relationship with wrestling is still so new. I don't have the history that so many of you guys do, and so I think this is the most exciting year in wrestling I've experienced.
I will be attending NCAAs and the Olympic Team Trials, both for the first time this year, so naturally, I am ecstatic about those two events. I'm really looking forward to the atmosphere. The energy in the building has to be electric with so many of wrestling's greats walking around.
I said earlier that I love the wrestling community. There can't be any finer display of what it means to be a part of this community than the experience at the NCAAs and the Olympic Team Trials. At least this is what I imagine it to be. This is what I am most excited about.
Thanks to Sam for talking with FloWrestling, and we're as excited as you are about the rest of the year.