Unlock this article, live events, and more with a subscription!
Get Started
Already a subscriber? Log In
By Alex Strum
The New England Championships will take place this weekend at Methuen High School, near the Massachusetts/New Hampshire border. The end of the season for the region where D1 commits clash with rising studs, New Englands is not only fun to watch, but, for lack of a better expression, very weird.
First, there is a plus-four-pound weigh-in on day one, followed by no day two weigh-ins. The result is the potential for the 106 lbs finals to be wrestled between a pair of 120 pounders. Then there's the team race: with this being the fourth weekend of postseason competition for some teams, most squads have been salted away to where only three or four placers are needed to win a title. Teams that didn't have the depth to win their own state tournament suddenly can find themselves in the mix at New Englands. The strangest dynamic, however, is the seeding formula: rather than trying to seed champions from six different states (a number of whom are still undefeated) the bracket is set by a rotating chart that randomly separates all champions, but gives no weight to credentials or the quality of the weight class in any given state. The result is that every year, some of the best matches one would expect to find in the finals take place as early as the quarterfinals. The ignominy of potential champs falling so early and having to claw their way back into placement gives a fun wrinkle of tension on day one. That's why along with giving a glimpse of the favorites at each weight class below, you'll find the best quarterfinal to watch late Saturday afternoon.
106: Massachusetts and Connecticut look to be the deepest states at a weight where we could see all six placers come from the Nutmeg State or the Commonwealth. In Mass, Burlington's Zack Soda, who placed sixth here last year, avenged a Lowell Holidays loss to Monty Tech's Isaic Paulino at the Massachusetts All-States last week. His path to the finals is formidable - he could see New Milford's (CT) Evan Lindner, Maine champion Caden Frost, and either Michael Longo of Trumbull, CT, Adam Schaueblin of St. John's Prep, MA, or Jacob Joyce of Ponaganset, RI in the semifinals.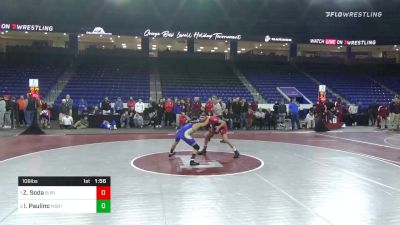 Unlock this video, live events, and more with a subscription!
Get Started
Already a subscriber? Log In
Best Quarterfinal: Josh Brault (Joel Barlow, CT) vs. Sam Wagner (Concord, NH)
Brault, who placed at Eastern States and was fourth in Connecticut last year, could emerge as the favorite on the bottom of the bracket if he can get past Wagner, a senior who has reached the finals of New Hampshire's All-States three times but is yet to find success at New Englands.
113: The top of this bracket is particularly loaded. Michael Rapuano (Xavier, CT) is a returning placer and NHSCA All-American who placed third at Eastern States. Cam Soda (Burlington, MA) was third in Massachusetts in 2019, fourth at Eastern States this year, and is a Lowell Holidays Champion. Brady Gillis (Cumberland, RI) took fourth at junior nationals and sixth at New Englands last year. Konrad Parker (Timberlane, NH) is a two-time New Hampshire champ. All of them will hit on the topside.
Best Quarterfinal: Kai O'Dell (Danbury, CT) vs Evan Kinney (Chelmsford, MA)
Despite all the aforementioned talent in the top of the bracket, the best quarter may come from the bottom where O'Dell, who took 5th at 106 last year for powerhouse Danbury, should meet Massachusetts champ Kinney, who took 4th in 2019. O'Dell will be challenged to reach Kinney first by Coventry freshman Hayden Myers. O'Dell previously defeated Myers in the finals of the Danbury Holiday Tournament.
120: All eyes here will be on the semi-final round, where Hunter Adrian (Melrose, MA) should face Coventry, RI's Joziah Fry. Adrian, a Brown-commit, is looking for his third New England title, the first of which came at Fry's expense in 2018. Fry, who is headed to Campbell after winning Junior nationals and placing at Super 32 last fall, captured a title of his own last year at 106. The two most recently met the first weekend of this season in the finals of the Ashland Tournament, where Adrian won 5-1 in TB2.
Best Quarterfinal: Hunter Adrian (Melrose, MA) vs Doug Currier (Hall, CT)
One round before Adrian can face Fry, however, he'll encounter Connecticut champ Currier. The two met in the finals of Lowell this season, where Adrian won a competitive 5-2 bout.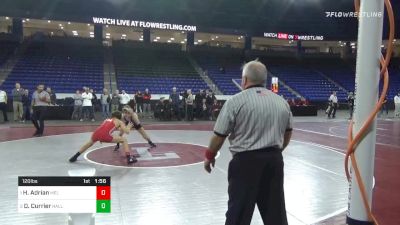 Unlock this video, live events, and more with a subscription!
Get Started
Already a subscriber? Log In
126: Every state brings something to the table here, which makes it one of the deepest weights in the tournament. Clarion-bound Hunter Verge (St. Johnsbury, VT) just won his fourth Vermont state title, while Middletown, CT's Kalil Shabazz upset Danbury's Tyler Johnson, who is headed to George Mason to wrestle for Frank Beasley, in the CT finals. Johnson now finds himself up against Salem, NH's Matt Adams, a returning placer, in his quarterfinal, while Shabazz was done no favors being handed a path that includes early bouts with Ponaganset, RI's Mike Joyce (3rd at Sophomore nationals) and Bonny Eagle, ME's Colby Frost, a two-time Maine champ who lost to Adams in the blood round last year. Massachusetts and Connecticut add depth here as well, setting up the potential for some early upsets.
Best Quarterfinal: Maximilian Leete (Danvers, MA) vs. Andrew Fallon (Bishop Hendricken, RI)
This is exactly what we talk about when we talk about the "real" finals being on day one. These two wrestled for the 120 lbs belt last year, with Fallon, who is committed to wrestle at American, winning in overtime. Since then, Leete has done nothing but win his third state title and become an NHSCA and Fargo All-American.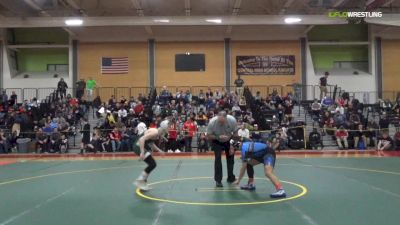 Unlock this video, live events, and more with a subscription!
Get Started
Already a subscriber? Log In
132: Remember what we said about depth at 126? Strike that. 132 is deep. Like Bill and Ted's history class presentation deep. The highest returning placer is Columbia-bound Mason Clarke from Coventry, RI, but he is no shoo-in for the title. He's on the same side as former New England placers Josh Cote (Noble, ME) and Ty Finn (Simsbury, CT). Finn in particular has put together an impressive campaign. He won both the Lowell Holidays and Sam Cali Battle for the Belt. Hingham's Kaya Bogle emerged from a crowded Massachusetts field to claim the All-State title last week.
Best Quarterfinal: Codey Wild (Timberlane, NH) vs. Calvin Curtis (West Springfield, MA)
Last year, Wild was the most recent in a long line of heralded freshmen for Timberlane, a program that in recent years has produced prospects for Lehigh, Buffalo, and Chattanooga. He reached the Lowell finals this year at 138 before dropping to 132 for the postseason. Curtis, meanwhile, spent most of the season ranked at the top of Massachusetts after taking fifth at New Englands as a junior. He'll have a tough opening match against the Connecticut runner up, Gilbert, CT's Devin Matthews, however.
138: The expectation here is that this will be a coronation more than a competition. Danbury's Ryan Jack, currently 14th on the Senior Big Board, will vie for his third New England title after coming in second as a freshman. Trying to stop him in the finals will likely be either Mikey Glynn (Central Catholic, MA), a third-place finisher last year who won Massachusetts, or Keegan Coon, the two-time placer from Vermont juggernaut Mt. Anthony. There are some fun young wrestlers here to watch try and sneak on the podium as well - Rawson Iwanicki (St. John's Prep, MA) and Khalil Bourjeili (New Milford, CT), both freshmen who placed third at middle school NHSCA's last year. Rhode Island also offers up three tough entries at this weight.
Best Quarterfinal: Ryan Jack (Danbury, CT) vs. Nick Pallaria (Timberlane, NH)
NC State fans should tune in to watch the future Wolfpack grappler take on a game Nick Pallaria, who won New Hampshire at one of its toughest weights ahead of Salem's George Boudreau, and Newport's Joel Sharron, who placed fifth last year.
145: Unlike 138, 145 feels wide-open in a bracket where as many as ten or eleven wrestlers could maneuver into placement. The contenders start with another Campbell commit for Cary Kolat, Connecticut champ James Lunt from Xavier. He'll be tested by Chariho, RI's Kyle Merritt and Noble, ME's Sam Martel, both of whom are making their fourth trip to New Englands, but are yet to place, as well as Massachusetts Champion Mahari Miller, who took sixth at Eastern States and will play football for Columbia in the fall. Miller lost to Merritt in the Lowell finals in December, and could have his hands full in the quarters with sophomore Will Ebert from Fairfield Warde, CT. Ebert fell to Lunt in the finals last week, but he took third here last season as a freshman.
Best Quarterfinal: James Lunt (Xavier, CT) vs. Jake Nicolosi/Logan Kovacs/Sam Martel
Lunt will face an early test from one of these competitors. Nicolosi, from Haverhill, MA, was undefeated until Divisionals, and he'll open with Kovacs, the younger brother of Iona Prep star and NC State commit, AJ. The winner gets Martel, who won Maine titles the past two years before defaulting in the finals last week. Whoever can survive will see Lunt on Saturday afternoon.
152: This weight is stacked with strength and intrigue. Tyler Sung (New Canaan, CT), a Lehigh-bound defending champ, is the presumed favorite, but won't be without his challengers. Cumberland's Aidan Faria, a junior, is the Rhode Island champion, and took third here at 145 last year. His quarterfinal will be against either another placer, Cole Shaughnessy of Fairfield Warde, CT, or Canton, MA's Eddie Marinilli. Marinilli missed last postseason with an injury, but won All-States as a sophomore, and has a number of nice wins this year, including one over last year's Rhode Island champ, Devin Bonanno of Chariho. Maine offers a couple of interesting names as well, as freshman Colby Isabelle (Marshwood) unseated defending champion Mark Ward of Mount View at their qualifier. Chelmsford, MA's Evan Goodall was 6th as a freshman in 2017, and could sneak into the semis where he'd face the survivor of Faria/Marinilli/Shaughnessy.
Best Quarterfinal: Sean Herbert (Melrose, MA) vs. Tyler Sung (New Canaan, CT)
Herbert is the mystery man in this bracket. He missed the tournament last year and was out with an injury for Lowell's this year, but he's vicious and a master of winning close matches. He avenged a loss to Marinilli in the 2018 All-State Finals last Saturday by a margin of 7-2. We'll start to find out how he measures up in this match with the reigning champ.
160: As luck would have it, this is one weight where the two favorites were done the service of being separated by the bracket formula. At the top is the Rhode Island champion, Bishop Hendricken's Nick Fine. Fine, who placed 4th here last year and was 6th at NHSCAs as a sophomore, has a win over Alaskan state champ and Wyoming commit Hayden Lieb to his credit. Opposite him is Brevin Cassella, the two-time Massachusetts champ from Nashoba Regional. Cassella, who is a recent commit for Binghamton, has wins over #16 Luke Nichter from PA and New York state champ Tyler Albis on his resume to go along with a pair of New England placings. His only loss this season is in the Eastern States finals. He'd likely meet returning placer Noah Hernandez of Massabesic, ME in the semifinal round.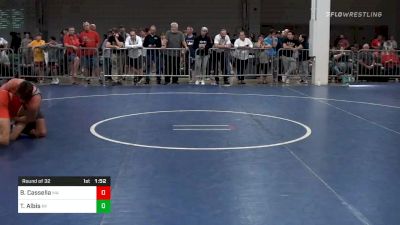 Unlock this video, live events, and more with a subscription!
Get Started
Already a subscriber? Log In
Best Quarterfinal: Adam Frost (Mt. Anthony, VT) vs. George Tsiranides (Fairfield Prep, CT)
The Vermont Champion, Frost, announced his presence earlier this season with a title at Lowell. If he can survive a rematch with Dom Sackley (Franklin, MA) who he defeated in that final, he should face Tsiranides, who won Connecticut this year after missing the Opens last year. The winner will place at New Englands for the first time, and Mt. Anthony will need that to stay in the team title hunt.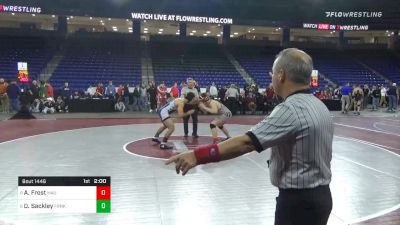 Unlock this video, live events, and more with a subscription!
Get Started
Already a subscriber? Log In
170: Talent is spread evenly throughout this bracket. Mansfield, MA will be trying to repeat their production of a champion at this weight, this time with CJ Glarapoulos. A two-time MA finalist, he went 3-2 at New Englands last year, including a win over possible quarterfinal opponent, Ryan Powers of Lyman Memorial/Windham Tech, CT. Another quarterfinal down below could pit three-time CT placer Tommy Mazur of Westhill against Ben Laurence of Mt. Ararat/Brunswick, ME. Mazur was fourth at New Englands last year, while Laurence was OW of the Maine NE Qualifier last week. The third quarterfinal could also produce a potential champion when Vermont title holder Seth Carney of Essex takes on the top dog from Rhode Island in Chariho's James Dougherty. Carney outplaced Daugherty at Lowells this year, where he beat fellow Vermont contender Wilder Hudson of St. Johnsbury for third.
Best Quarterfinal: Josh Cordio (Nashoba, MA) vs. Kyle Gora (Alvirne, NH)
It's the last quarterfinal, however, that is the most intriguing, pitting past prodigy versus present. Gora, the New Hampshire winner, is a former middle school national champion who took 7th at Sophomore Nationals last year. Cordio, meanwhile, was an NHSCA Finalist in the middle school division last year and took fifth at Super 32.
182: 182 boasts a few guys with impressive credentials, starting with Mt. Hope, RI junior Cory Grifka. Grifka lost in the finals here last year as a sophomore, and is undefeated on the season. Another contender is Pinkerton, NH's Sterling McLaughlin, a three-time New Hampshire state champion who took 6th at New Englands in 2019. Meanwhile, Woburn, MA's David Langlois is a dark horse - despite taking fourth in Massachusetts, he has a win over McLaughlin from the Lowell semifinals and outplaced would-be second-round opponent CT champ Billy Carr of Southington at the same tournament.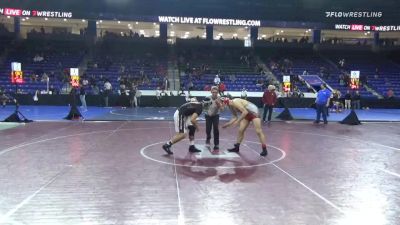 Unlock this video, live events, and more with a subscription!
Get Started
Already a subscriber? Log In
Best Quarterfinal: Russell Canova (Danvers, MA) vs. James Danis (Essex, VT)
This is a rematch of the other Lowell semifinal, where the two were separated by one point until Danis got the pin in the third. Canova has not lost since, and Danis, a three-time winner in Vermont who is yet to place at New Englands, would enter this match with exactly 200 career victories.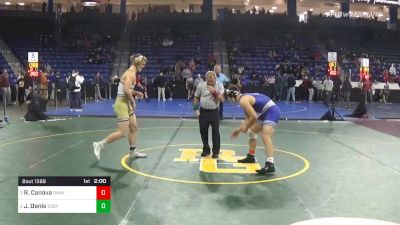 Unlock this video, live events, and more with a subscription!
Get Started
Already a subscriber? Log In
195: Perhaps the deepest of the upper weights, 195 touts a number of contenders. The highest returning placer on the bottom of the bracket is Pelham, NH's Conor Maslanek. Maslanek took third at this tournament as a sophomore last year before placing fifth at NHSCAs a few weeks later. To reach the final, he'll have to navigate a field that includes Taconic, MA's Dylan Burke, who rattled off five straight wins last week to take third in MA after an opening-round loss, and Chariho, RI's Nick Marchione, whose only loss came in the Lowell semis to someone we'll get to in a minute. The top half of the bracket is even tougher, with MA champ Darby McLaughlin of Springfield Central angling to avenge one of his only losses of the season in the semifinals.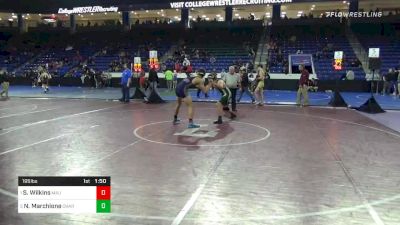 Unlock this video, live events, and more with a subscription!
Get Started
Already a subscriber? Log In
Best Quarterfinal: Carson LiCastri (Joel Barlow, CT) vs. Sampson Wilkins (Mt. Anthony, VT)
This is the only quarterfinal where you will find two past New England Champions squaring off. LiCastri, a Long Island University commit, won the 182 bracket last season, and defeated McLaughlin in the finals of the Eastern States earlier this year. Wilkins, who took first at this weight in 2018 before placing sixth last year, is one of only eleven four-time Vermont state champs (along with 126 pounder Verge) and placed at Junior NHSCAs last spring. He defeated McLaughlin 1-0 in the Lowell finals, one round after he majored Marchione.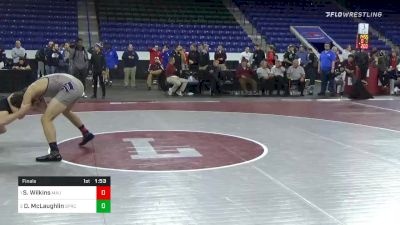 Unlock this video, live events, and more with a subscription!
Get Started
Already a subscriber? Log In
220: Most of the contenders at 220 lack the accolades of some other weights. Only two wrestlers return with paper at this level: Salem, NH's Beau Dillon, the defending champion who is headed to Edinboro next year, and Jeffrey Worster (Oxford Hills, ME), a two-time All-American who finished fifth here in 2019. The tandem is placed on polar ends of the bracket. One interesting wrinkle here could be the role Vermont plays. With only 22 total programs in the state, Vermont is not often regarded for its depth, but VT3 Zeb Winot of St. Johnsbury was a Lowell finalist who has a win over CT3 Jacob Vecchio of Southington. Placing multiple wrestlers at a weight doesn't often happen for Vermont, but it is definitely on the table here.
Best Quarterfinal: Beau Dillon (Salem, NH) vs. Dan Donovan (Danbury, CT)
Dillon will be the heavy favorite in this match, but Donovan's ability to place at this weight would go a long way towards Danbury's effort to repeat as team champions. If he manages to pull the upset, it could be all but sealed.
285: Heavyweight has a lot to offer this year. Massachusetts was deep to the point that Springfield Central's Greg Harris, who took 4th at Eastern States and won the Sam Cali Tournament, finished 7th in Mass, taking the final qualifying spot. Also in that Sam Cali bracket were Rhode Island's top two contenders, Hope's Edison Guarcas and Bishop Hendricken's Adolfo Betancur. Betancur, a freshman All-American last spring, reversed the third-place match result from New Jersey when he defeated Guarcas in the Rhode Island finals last week. Guarcas shouldn't be counted out, however, as he holds wins over the Massachusetts champ, Agawam's Antonio Ramos, the MA4 Dylan Chandler of Tewksbury, and New Hampshire champ, Salem's Josh Ozoria. If Guarcas can beat a formidable Jordan Agosto of Danbury in his opening match, he'll have a rematch with Ramos next.
Best Quarterfinal: Adolfo Betancur (Bishop Hendricken, RI) vs. Tristan Kemp (Quabbin, MA)
This battle between All-Americans - Kemp took 7th in the sophomore bracket last year - could not only send one wrestler on a path towards the finals this year but be a preview of next year's final as well, as both wrestlers are underclassmen.
Team Race
If you look at trends from the past two years, the team title has gone to whoever can crack 80 points. In both the cases of Danbury last year and Ponaganset, RI in 2018, they received major contributions from four wrestlers with at least one champion. Danbury had one champion in Jack, then a runner-up, a fifth-place finisher, and a sixth-place finisher. 2018 Ponaganset only placed three, but two were champions, the other was a third, and they had another finish one match shy of placement. Using that Four Horsemen trend, here's who could be in the mix this year:
Danbury, CT - The defending champion Hatters are sending nine qualifiers, which is tied for the most with Timberlane. Ryan Jack winning 138 is as close to a sure thing one can have in this tournament, and 113 Kai O'Dell and 126 Tyler Johnson should find their way into placing. That means they'll need a deep run from one of their upper weights - 170 Jaylen Hawkins, 182 Tyrell Jones, 220 DJ Donovan, or 285 Jordan Agosto - or some combination of the four to hit the mark.
Timberlane, NH - Also boasting nine qualifiers, the Owls have a lot of bullets in the chamber, but no one is a lock to place. It doesn't help that perhaps their best wrestler, 138 Nick Pallaria, will encounter Jack in the quarters.
Mt. Anthony, VT - No strangers to the team race, the Patriots last won in 2015. To return to the podium, first 138 Keegan Coon and 195 Sam Wilkins need to meet their lofty expectations. 160 Adam Frost won two matches last year, so it's reasonable to expect more, but after that, they'll need someone like 120 Landon Davis, 145 freshman Aaron Johnson, or 285 Hayden Gaudette to step up in a big way to be a threat.
Salem, NH - Now we're getting into some sneaky threats. Despite finishing 77 points behind Timberlane last week, Salem has something the Owls do not - a bonafide title contender in Beau Dillon at 220. They also have 126 pounder Matt Adams, who finished 6th last year. That means they'll need two from the trio of 106 Ryan O'Rourke, 138 George Boudreau, and 285 Josh Ozoria to contribute big-time points to enter the fray.
Springfield Central, MA - The western Mass power can rely on 145 Mahari Miller and 195 Darby McLaughlin to be competing into the second day, but will look for a deep run from someone like 160 Darien Stewart to go along with a solid tournament from 285 Greg Harris to be in the top five.
Fairfield Warde, CT - Warde is under the radar after claiming zero individual titles at the CT Opens. But they do have two returning NE placers in 145 Will Ebert and 152 Cole Shaughnessy. They also have seven qualifiers, which is more than all but three teams. They only need a couple to light it up.
Chariho, RI - The Chargers have a clear cut top four in 145 Kyle Merritt, 152 Dominic Bonanno, 170 James Daugherty, and 195 Nick Marchione. All are capable of placing, however, none have achieved it yet. Asking all four to break through in the same tournament might be asking too much.
Coventry, RI - Their mascot is the Oaker. Their singlets (which are awesome) have a furious elephant on the back. It's unclear what these have to do with one another, but 120 Joziah Fry's floor appears to be third, and 132 Mason Clarke is a top contender. They'll need 113-pound freshman Hayden Myers and 138 Jacob Remolina to put together solid tourneys.
Bishop Hendricken, RI - This would be fun. The 2016 New England Champions only qualified four wrestlers (the fewest of any team on this list). But all four were state champions, and two placed here last year. Can they win behind only a quartet of qualifiers? Danbury and Ponaganset received points from outside their top four, but Hendricken won't have that luxury. It will be fun to watch them try to overcome other squads' strength in numbers.
Prediction: Danbury's depth is too much for others to handle as they repeat, with the three Rhode Island teams joining them near the top of the standings. Springfield Central and Fairfield Warde slug it out for the final spot in the top five.