Unlock this article, live events, and more with a subscription!
Get Started
Already a subscriber? Log In
The postseason rush is almost here, and seedings are on the line as the Pac-12 Championships roll around the corner.
Looking toward the tournament, the Arizona State Sun Devils sit atop as the favorites. This remains true even though Zahid Valencia, the Hodge favorite for most of the year and one of the most dominant wrestlers in college this season, was suspended. While there has been no final word on whether the defending national champion will wrestle in the conference tournament, the assumption right now is that he will not. If that changes, we'll adjust the rankings accordingly, and the Pac-12 would have its most dynamic talent back on the mat.
However, Stanford won the tournament last season and brought back crucial components for another run for a Pac-12 title. Besides the two top-25 teams, the picture changes slightly this season.
Little Rock enters the playing field for the first time in Pac-12 history. Although they are on the rock bottom, their team points are crucial. They have the possibility of ruining other Pac-12 teams in earning more points.
With the championship coming March 7, how will each wrestler do in their weight class?
125
Brandon Courtney – ASU
Brandon Kaylor – Oregon State
Jackson Disario – Stanford
Alejandro Hernandez-Figueroa – Cal State Bakersfield
Although Brandon Courtney was known for freestyle wrestling, the lone ranked wrestler in the class is a heavy favorite. Despite sweeping the Pac-12 in the duals, his ability to scramble and create offense is deadly.
Courtney has dominated with multiple major decisions after setting up an ankle pick for nearly every match. Besides his offense, his change of pace is better than the rest of the competition.
Kaylor slips ahead of Disario after a recent decision win. However, Disario stays ahead of the rest of the pack with his set of skills beside him. Although he lacks quick reaction time and his hips struggle in chain wrestling, his strength makes up for his weaknesses.
His powerful doubles and armbars set up beautiful attacks, pinning combinations, and tire out his opponents.
Alejandro Hernandez-Figueroa slides into the top four after a win over Cal Poly's Ben Martinez. Figueroa stays ahead of Martinez due to his long and lanky body. Despite being 5-foot-5, Figueroa's arms allow him to create an offense through passbys, swing singles, and ankle picks.
The reason why he falls behind is the lack of strength, though. His strength gets him caught up in the bottom and neutral positions.
Overall, it should be a one-sided performance for Courtney, and the rest racing for silver.
133
Devan Turner – Oregon State
Gabe Townsell – Stanford
Chance Rich – Cal State Bakersfield
Josh Kramer – ASU
Pac-12 boasts one kid in the top 25 for the 133-pound class: Oregon State's Devan Turner. Turner will earn gold through the production of a speedy counter wrestler.
His ability to react to his opponent's offense and score off of their mistake makes him dangerous. Plus, he has the rare desire to earn points in the final seconds. In fact, he traveled to Tempe, Arizona, and defeated Josh Kramer within the final seconds of the dual match.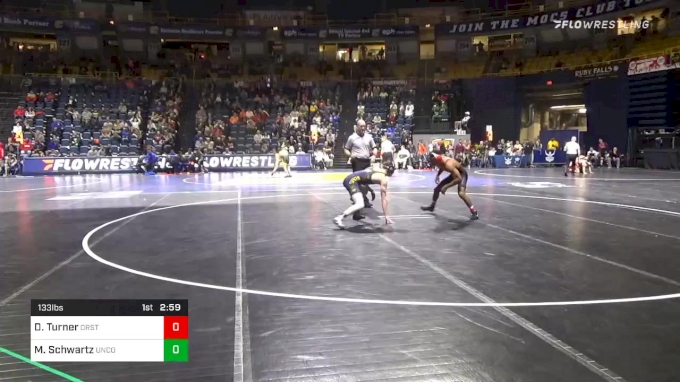 Unlock this video, live events, and more with a subscription!
Get Started
Already a subscriber? Log In
Gabe Townsell flew out of nowhere but has reached a near peak by being placed second. His grinding mentality has eliminated his opponents with willpower.
Chance Rich stays ahead of Kramer, but only slightly. The Roadrunner shows that his continuous pressure and attack makes him dominant in the neutral position. He has a great set of feints and a wide variety of tricks, but his top and bottom games are questionable.
Rich lacks the hand and base control that he needs to either keep his opponent from escaping or for him to escape as well.
Kramer finishes the rankings due to what we have seen at the beginning of the season. Although the diet problems have cut into his productivity, Kramer has a high IQ. He has the capability to utilize his speed against a more strength wrestler or his strength against a quicker wrestler.
This class is up for grabs. A prime Kramer can steal the show, an unknown Townsell can jump the ranks, or Turner can finish the season on top.
141
Real Woods – Stanford
Grant Willits – Oregon State
Angelo Martinoni – Cal State Bakersfield
Conner Ward – Little Rock
Real Woods is not a glamorous wrestler. However, his awareness of the mat and his opponent is flawless. He is able to switch up collar ties and utilize head movement and control to set his shots.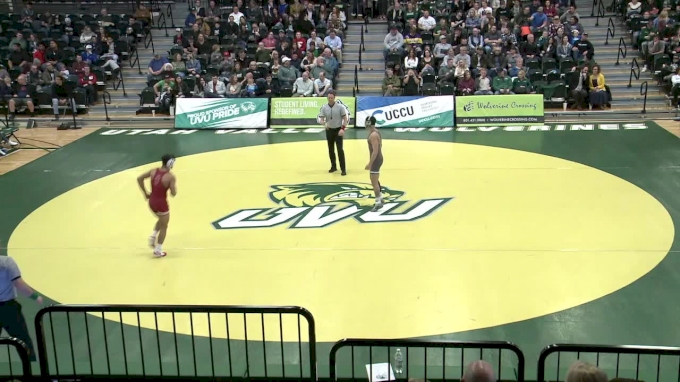 The match moves slower for him since he is able to analyze his opponent and create moves to earn points. In multiple matches, he has used armbar tilts to throw off an opponent's base and earn near fall points.
In a weight class that provides speed, flexibility, power, and offense, Grant Willits changes the perspective. He is a defensive wrestler who parries his opponent's moves. Whenever he scores from the neutral position, it usually comes from a reshot. In referee's position, he does what is required, control the opponent or escape.
Angelo Martinoni sits third after falling 12-2 this season to Willits and 9-1 to Woods. Martinoni provides a strong wide base while in a neutral and bottom position. Even though it's not an attacking stance, he derives power from his hips and creates offense.
Ward shows the inexperience as a freshman in the college wrestling scene. His lack of awareness seems to cost him points in various scenarios. However, he sits at fourth after defeating the two competitors below him.
149
Requir van der Merwe – Stanford
Russell Rohlfing – Cal State Bakersfield
Lane Stigall – Oregon State
Josh Maruca – ASU
The 149-pound class lacks a single ranked wrestler. However, Requir van der Merwe seeks gold after not wrestling most of the Pac-12 duals.
Merwe requires a ton of effort because his spiral riding from up top is deadly. He is able to force his pressure on his opponent and not allow any room to breathe. Plus, his attack is perfectly planned.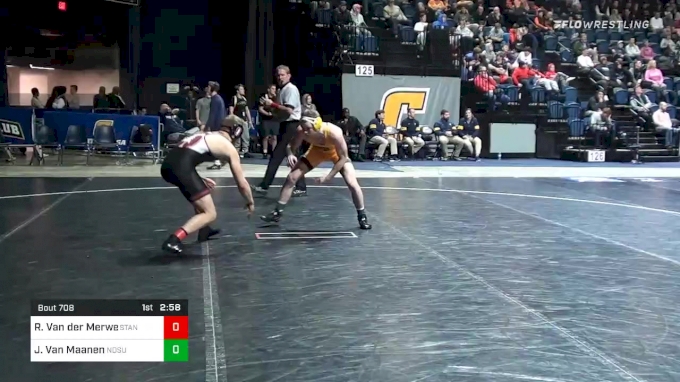 Unlock this video, live events, and more with a subscription!
Get Started
Already a subscriber? Log In
He is capable of setting two to three shots up in one collar tie. In addition, his change of level speed forces opponents out of position.
Rohlfing follows up after dominating everyone he faced in the Pac-12 this season. His high motor aids his high attack rate and finishing capability. The motor continues as his standup from bottom is hard to defend.
Lane Stigall and Josh Maruca are a toss-up for third and fourth. Both wrestlers are slower wrestlers who can contort their body. Stigall's switches and Maruca's legs cause dysfunctionality for whoever they wrestle.
Overall, all four wrestlers have experience in the Pac-12 and they have competed in the NCAAs. This weight class defines the Pac-12: anybody can beat anybody.
157
Jacori Teemer – ASU
Tyler Eischens – Stanford
Brawley Lamer – Cal Poly
Wyatt Gerl – Cal State Bakersfield
Jacori Teemer sits alone with one of the best change of paces in the country. He has the ability to switch from a defensive tie to a blast double in the blink of an eye. Teemer's top game is fairly weak, but the scrambler creates excitement from bottom. He can use granby rolls, switches, and many other freestyle moves that cause havoc.
Unlock this video, live events, and more with a subscription!
Get Started
Already a subscriber? Log In
Tyler Eischens is a homerun hitter. Forty percent of his wins this season have come from pins or tech falls. The points start racking in neutral with an above-average lateral movement to set up his shots. It comes crashing down when Eischens takes control up top. His tilt game is magnificent and will earn him and Stanford points.
Lamer currently has the edge over Gerl. His underhooks can lead to heavy-hitting takedowns and much more. Despite dropping a one-point decision to Gerl, he can bounce back with the extra power and wits he has.
Overall, Teemer will sweep the show and Eischens will look to earn team points any way necessary.
165
Shane Griffith – Stanford
Josh Shields – ASU
Bernie Truax – Cal Poly
Jacob Thalin – Cal State Bakersfield
Although the rankings show 1 and 2, Shane Griffith and Josh Shields are more like 1a and 1b. Although All-American Shields has postseason experience and success, both fighters resemble each other.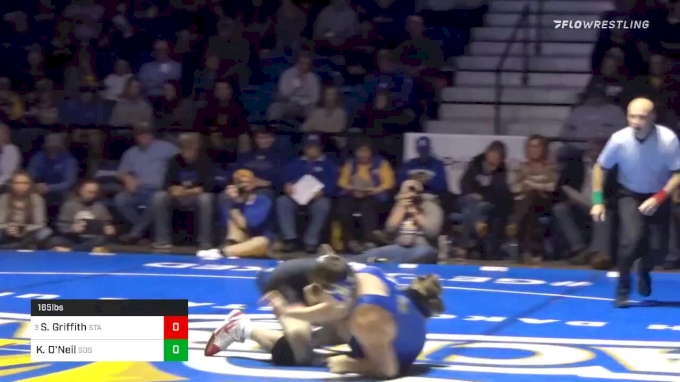 Unlock this video, live events, and more with a subscription!
Get Started
Already a subscriber? Log In
Griffith and Shields both contain the hardest working motors in the Pac-12. Their grind-it-out matches all come from powerful hips and thighs. That power is used in their attacks, standups, and spiral rides.
Bernie Truax is a seasoned veteran from up top. His cradle game is matched by very few. He is able to handle the bottom's tactics with Iowas, armbars, etc. Yet, all of that sets up pinning combinations and team points for Cal Poly.
Thalin is an upper-body freak. He can win ties and keep his opponents from starting their offense because of his upper body strength. In this class it is useful, and will help him secure fourth. However, he can drop if he isn't careful about his footwork.
Overall, it's a two-man race for first between Griffith and Shields. After the gold and silver are decided, it is up to who has the momentum that night.
174
Anthony Valencia – ASU
Foster Karmon – Stanford
Albert Urias – Cal State Bakersfield
Jackson McKinney – Oregon State
Anthony Valencia is in contention for the wrestler with the most momentum coming into March. With nine straight wins and as the only ranked wrestler, Valencia is looking for the gold and bonus points.
The freestyle wrestler knows how to work his tilts to pick up a variety of points. If he is upset though, it will come from Valencia trapped underneath. Valencia's bottom game is far below average as he struggles against any tier of competition to escape.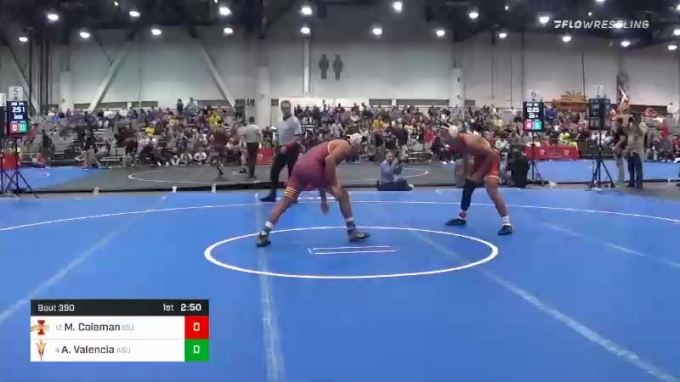 Unlock this video, live events, and more with a subscription!
Get Started
Already a subscriber? Log In
The rest of the 174-pound class shows glimpses of the future of this weight in the conference. Stanford's sophomore Foster Karmon swept the Pac-12 (wrestled Josh Nummer instead of Valencia). Karmon seems to almost never be in bad position.
Whenever he is caught in a bad tie, he either drags the elbow, pushes on the hips, or frees himself into an open stance. Plus, his strength can help him either utilize his front headlock game or double legs if he goes more offensive.
Urias is a stronger yet smaller wrestler in the 174-pound class. He originally was a 165-pounder but moved up this season. His strength equals out with the rest of the competition, but his stature makes him tougher to wrestle.
Jackson McKinney defeated the two other Pac-12 wrestlers. However, he falls fourth for a few reasons. The main problem is he struggles to balance his weight during a match. This leads to him easily being taken down as well as losing many ties.
In conclusion, it should be Valencia vs the field here. However, keep your eyes on Karmon for an upset and a deep run in NCAAs.
184
Josh Loomer – Cal State Bakersfield
Colt Doyle – Oregon State
Trent Tracy – Cal Poly
Austin Clayton/Cade Belshay – ASU
Josh Loomer is a defensive grinder. His attacking style is to sit back and counter his opponent. If it works, he sits perfectly. If not, his bottom game is subpar and his ability to wrestle back from a deficit is not great.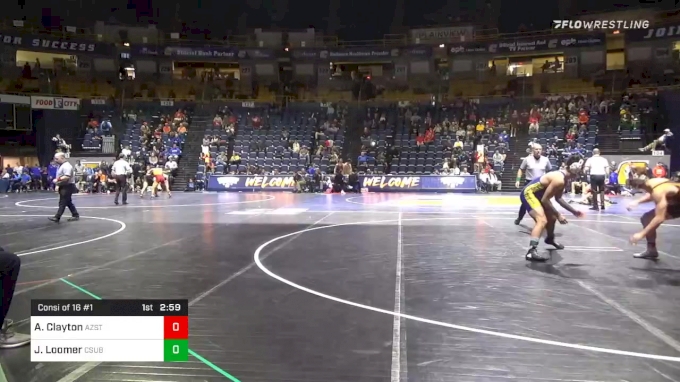 Unlock this video, live events, and more with a subscription!
Get Started
Already a subscriber? Log In
Colt Doyle is an amazing shot taker. His feints and level changes keep opponents wary. However, when he is tied up, he struggles to perform.
Trent Tracy rounds the top four in the 184-pound class. He does not stand the power and intelligence topping this class. Although he lacks the top-tier skills, he has the capability to beat up the lower competition.
Arizona State's questions loom over Austin Clayton and Cade Belshay. The young two have shared time and neither fare well enough to place. A huge loss for the Sun Devils as they will look to pick up any point any way they can in this class.
With Zahid Valencia out, the 184-pound lacks firepower. With the top three wrestlers having different styles, it all comes down to who can perform their game plan the best.
197
Kordell Norfleet – ASU
Nathan Traxler – Stanford
Thomas Lane – Cal Poly
Dom Ducharme – Cal State Bakersfield
Coming off an injury-prone season, Arizona State's Kordell Norfleet sits ninth in the country. Two of three of his losses come from two-point losses to #1 Kollin Moore. Norfleet's size and power confuse wrestlers. Instead of blast doubles and massive throws, he disturbs his opponent's balance with ankle picks. Plus, his cradle game is fairly solid due to him proving he is one of the strongest wrestlers in the Pac-12.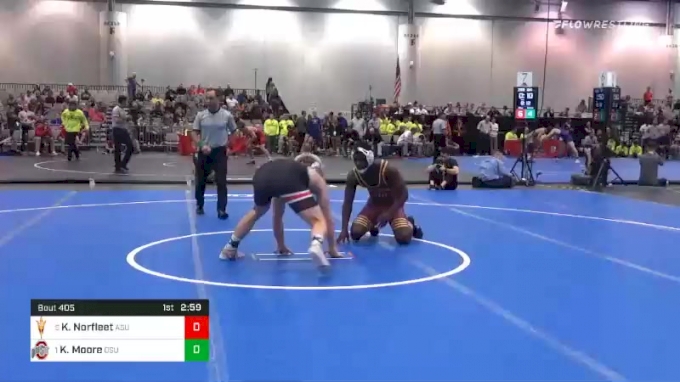 Unlock this video, live events, and more with a subscription!
Get Started
Already a subscriber? Log In
Nathan Traxler and Thomas Lane will find a way to compete against each other once again. For 197, Traxler is the fastest in the Pac-12. His strength does not travel well but he can move well and set the pace for matches. Therefore, he has the slight lead over the more traditional Lane.
Ducharme cleans up the standings because of the level he wrestles. Most 197-pound wrestlers prefer to wrestle up high. However, Ducharme has the tendency to wrestle lower and force his opponents to change their levels throughout the match. His control of the match is crucial if he wants to jump higher.
Overall, do not expect too many upsets in this class. Nonetheless, Ducharme's lack of Pac-12 play this season can either help or hinder his placement in Pac-12.
285
Tanner Hall – ASU
Jarrod Snyder – Cal State Bakersfield
David Showunmi – Stanford
Jamarcus Grant – Oregon State
Tanner Hall claims the throne after an undefeated performance in Pac-12 duals. He stays up top because of his style. Although he is on the lighter end of the heavyweights, Hall outshines most competition because of his speed.
Hall's wrestling is similar to a 220-pounder in high school wrestling up in the heavyweight division. He is quicker, has better technique, and is more versatile. Therefore, his offense comes with shots and his top/bottom game requires movement.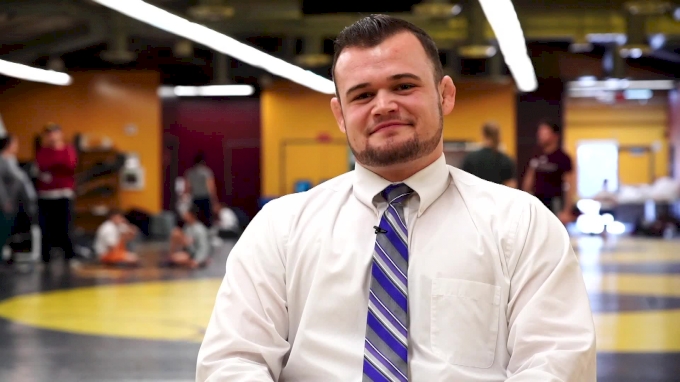 Unlock this video, live events, and more with a subscription!
Get Started
Already a subscriber? Log In
Jarrod Snyder falls behind Hall, but he is second after defeating the rest of the Pac-12. He has his ups and downs, yet his under hooks are the difference. He limits his opponent's attack and forces them into rough scenarios.
Snyder is not strong up top, but his standup and built makes him difficult to handle from up top.
David Showunmi split the Pac-12 duals. He currently finishes with a bronze because of his struggles. Although he is debatably the strongest heavyweight in the Pac-12, he rarely changes his level.
His lack of level changes affect him to defend attacks in neutral. He seems to struggle with a game plan up top. He tends to break down his opponent but drape over and fail to earn points.
Jamarcus Grant is the smallest of the four. His lack of size limits him from competing for a gold medal. Yet, his experience in the Pac-12 provides some support.
Overall, Hall will pick up the final weight class. Snyder and Showunmi are battling for a second and third.
Team
Stanford
ASU
Cal State Bakersfield
Oregon State
Cal Poly
Little Rock
This season is a two-team race between Arizona State and Stanford. The two will battle through every whistle in each weight class. With Zahid Valencia out, the difference might come town to head-to-head matches and bonus points. Valencia is too big of a loss though, and I am predicting something of an upset and believe Stanford will win the Pac-12 for the second straight year.
Bakersfield relies on Rohlfing and a few other wrestlers. Despite not earning medals in every class, they fill a more reliable team than Oregon State.
The Beavers rebuild season drops them to fourth. Cal Poly does not handle Pac-12 play. Their struggles continue, but not as bad as Little Rock.
The Trojans fail to impress in their first Pac-12 play. The lack of medalists and success will keep them in the single digits.
---
Nick Zeller-Singh is a student at Arizona State studying Sports Journalism. In addition to writing for FloWrestling, he appears on his college radio station, does play-by-play, and covers a variety of sports as a beat writer. Follow him on Twitter.