Unlock this article, live events, and more with a subscription!
Get Started
Already a subscriber? Log In
By John Foster
Day one of National Preps at Stabler Arena was filled with historic firsts, crazy drama, LOUD crowds and so much great wrestling that your head could explode. Going in we knew that we had the potential for a sizzling team race and that has quickly become a reality. Wyoming Seminary created some separation headed into the semi-finals, but the battle for second between Blair and Malvern Prep is down to single digits. For the young upstarts to catch the most successful program in Preps history, they are going to need to turn as many of these semi-final participants into champions that they can manage.
Watch the 2020 National Prep Championships LIVE on Flo
February 22 | 9:00 AM Eastern
Some quick notes before we get into the match by match preview: A HUGE CONGRATULATIONS to all of the young women that were victorious in the inaugural Prep Women's Championship! It was incredible watching the first ever winners crowned in each weight class and you should all be very proud of your accomplishment.
Check out full results, brackets, team scores and more inside FloArena
Not quite as proud, but certainly a huge part of the day were the vocal supporters. If you are watching at home, let me assure you that there is nothing quite like announcing a match in Stabler with everyone both packed in behind you, and virtually seated just a few feet above your head as they drape over the railings. Even in the final matches of the bloodround, as the weight classes dwindled, there was hurricane force cheering (along with friendly advice for the officials) raining down from the stands. That intensity will only magnify as we kick off the semis tomorrow morning.
One last note on the team race before I jump in. The lineup for Blair obviously differs from what would have been expected even just two weeks ago. They are scoring points in a variety of ways as they have refashioned their squad, and should they hold on to 2nd, much less close the gap on 1st, it will have been one of the more impressive tournament coaching jobs I have witnessed. Which weaves in nicely as we start off with their lead off hitter.
106: #1 Marc-Anthony McGowan (Blair Academy) vs Coleman Nogle (Mount Saint Joseph)
The Coleman Nogle that was in the Ironman bracket that McGowan won to kick off the year has been replaced with a wrestler that has an edge and a devastating top game. Early in the season he only beat Kade Davidheiser by a point, whereas he dominated him 11-0 in the quarterfinal. Does he have enough at this stage in his development to challenge McGowan? After that quarter, it is suddenly an interesting question. McGowan has been pinning all of his opponents in the first period with relative ease, and the first period of this one should be very telling as to whether of not Nogle can keep this close.
106: Tommy Link (Malvern Prep) vs Daniel Sheen (Wyoming Seminary)
Tommy Link is another kid who just gets better each and every week. Early in the season Sheen was able to best him 7-3, but it was quite another story last weekend in the final of the qualifier where Sheen scraped by 6-5. With increased familiarity this could be a cagey affair, and both kids (and teams) will be desperate to get to the finals. I don't think these kids can help themselves as far as being active so points will fly up on the board, but it could be razor close from start to finish.
113: #12 Brennen Cernus (Wyoming Seminary) vs Brady Pruett (Archbishop Spalding)
Both wrestlers have managed quick falls and close contests already this tournament, so it will be interesting to see if this is a tactical battle or if it opens up quickly. Cernus is making the most of his return to the Sem lineup and will be eyeballing Erik Roggie on the other side, who he split with at Ironman, beating him in SV the second time they met, but he should be careful to not overlook Pruett who is tough and feisty.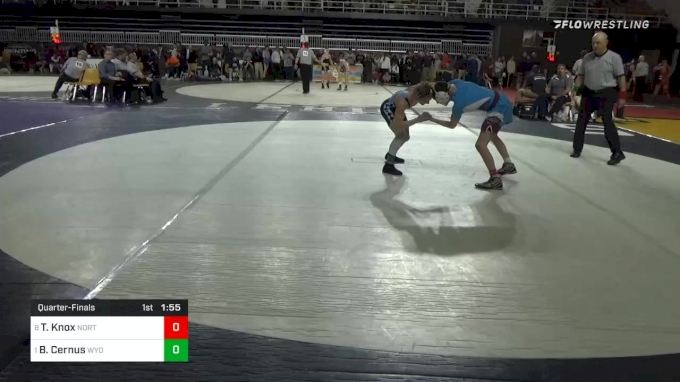 Unlock this video, live events, and more with a subscription!
Get Started
Already a subscriber? Log In
113: #16 Erik Roggie (St. Christopher's) vs Luke Kowalski (St. John's College)
I have been lucky enough to see a ton of both of these kids over their high school careers and neither of them ever disappoint. Roggie brings a bit of length and an unorthodox style to the weight that I love, especially as he can disrupt even the best gameplan with it. Kowalski is the consummate lightweight who is solid in all respects but just works and grinds and scrambles over every inch of the mat. Roggie is a difficult puzzle to solve, and Kowalski will have to work overtime on this one. Kowalski has also only recently dropped back down to 113 for the postseason after holding down 120 for the majority of the year, so it will be worth eyeballing both kids when they first hit the center of the circle.
120: #5 Cooper Flynn (McDonogh School) vs Gregor McNeil (Wyoming Seminary)
Just stop everything you are doing and plan on watching both of these 120 semis on a loop for weeks. They have that much potential to be awesome. The expectation is that Flynn and Ryan Miller will continue their rivalry in the final, but don't rule Gregor McNeil out just yet. There was no bigger moment in day one than McNeil's quarterfinal win over Dayton Delviscio and he will be riding high into the semi. For Flynn's part he has taken care of business and always has that air of determination with him that is good for a few points each match on it's own.
120: #6 Ryan Miller (Blair Academy) vs #18 Nico Provo (Green Farms Academy)
On the bottom side Ryan Miller has kinda been perfectly working up to this moment, going fall-tech-major. Provo on the other hand was tested in his quarter with Chris Kim. These two have a feel for one another and we can expect a tight one akin to the 4-3 decision Miller won at Germantown earlier this year.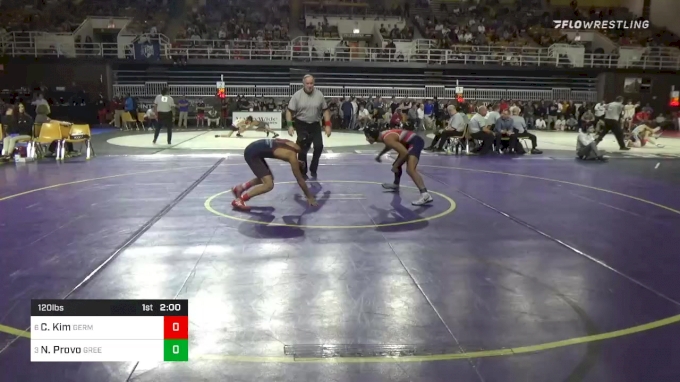 Unlock this video, live events, and more with a subscription!
Get Started
Already a subscriber? Log In
126: #1 Nic Bouzakis (Wyoming Seminary) vs Kelvin Griffin (The Hill School)
The Nick Bouzakis steamroller that day one ordered arrived in perfect working order. First period falls across the board. I really like Kelvin Griffin and he had a massive win over Danny Wask in the quarter, so he should form a bigger barrier of resistance, but Bouzakis feels like he is on a mission here.
126: #19 Meyer Shapiro (Bullis School) vs Jimmy Harrington (Belmont Hill)
I have been telling anyone that will listen that freshman Meyer Shapiro has looked incredible this season. After his third at Powerade and his pin of Chris Barnabae last week at Maryland Independent States I haven't had to. The cat is officially out of the bag! The kid likes to pin and that is all that he has been doing so far in this tournament. We were expecting a rematch with Barnabae, but Harrington had the crazy upset where it looked like Barnabae was going to pin him, then slid himself into an upside down position and ended up pinning himself. Harrington will be rubbing that lucky rabbits foot all night in hopes for more of the same.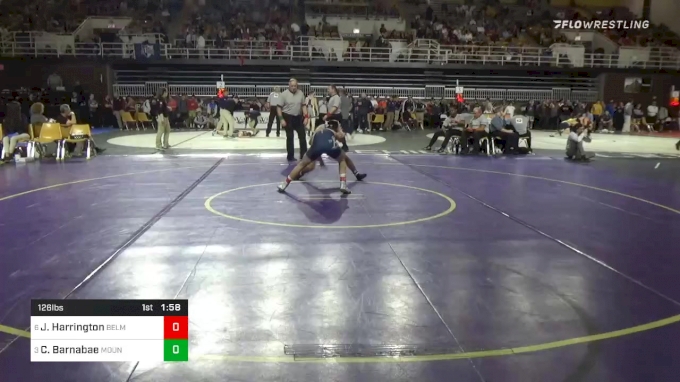 Unlock this video, live events, and more with a subscription!
Get Started
Already a subscriber? Log In
132: #1 Shayne Van Ness (Blair Academy) vs Tyler Morris (Phillips Exeter Academy)
Shayne Van Ness has looked very much like the elite athlete that he is, displaying a well rounded game on his way to falls in every match. Morris managed to beat a tough Nate Porter in his quarterfinal with a reversal of a reversal in the third. Morris can get after it but Van Ness is a tough assignment.
132: #9 Drew Munch (Wyoming Seminary) vs Christian Colman (Germantown Academy)
Drew Munch was a champ here as a freshman and certainly knows how to win, outpacing a game Clayton Gabrielson in his quarter. He was expecting Skylar Smith to be waiting for him, as Smith was a finalist last year, but Colman caught Smith awkwardly on a restart and stuck him, and will be hoping that another such opportunity comes his way.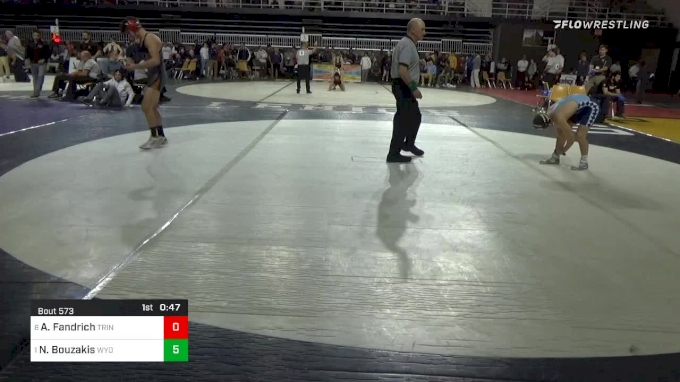 Unlock this video, live events, and more with a subscription!
Get Started
Already a subscriber? Log In
138: #1 Beau Bartlett (Wyoming Seminary) vs Clement Woods (Mount Saint Joseph)
Beau Bartlett continues his journey through the field as he seeks his fourth Prep title, hoping to join some exalted ranks. With all first period falls he has not been wasting any energy and will be ready to explode on Saturday. Woods has been having a solid season and has steadily improved each year. He has been doling out some pins of his own, including one of archrival Joe Fisk in the first minute of his quarter. Woods can be emotional and loose, so while Bartlett feels like he is on a path of destiny, there could be some fireworks along the way.
138: #7 Cody Chittum (Blair Academy) vs Luca Errico (Brunswick)
Cody Chittum turned the heads of everyone in the country when he won Beast (and in the manner in which he won it) and has not looked back. It is hard to remember that he is still a freshman. Letting his quarter with Damon McGee tighten up late was a quick reminder. His reaching the final here would be huge for Blair in the team race. Errico took things even further and waited until the final 20 seconds to score a takedown and beat Matthew Ryan in his. This one could come down to who makes the least mistakes in the end.
145: #3 Manzona Bryant IV (Western Reserve Academy) vs Chris Perry (Brunswick)
Manzona Bryant is looking to make a statement here at Lehigh, giving the fans a glimpse of the future. Lorenzo Norman frustrated him for large portions of his quarter and he will be itching to open it up a little more here. Chris Perry brings us back to back Brunswick kids and grabbed a reversal midway through the second for the only points of his quarter. Perry will do his best to keep the lid on this one for as long as he can.
145: #1 Lachlan McNeil (Wyoming Seminary) vs Dominic Rossetti (Loomis Chaffee)
McNeil has just been all world this season. No other way to look at it. Unconcerned about the seeding he defaulted to Bryant at the qualifier and has been pinning his way through the bottom of the bracket. The surprising Rossetti has been grinding out decisions and might be running into a Canadian buzzsaw here.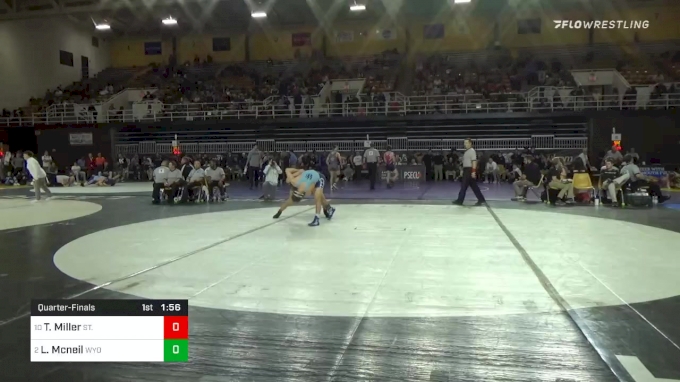 Unlock this video, live events, and more with a subscription!
Get Started
Already a subscriber? Log In
152: #11 Dalton Harkins (Malvern Prep) vs Zane Cox (Benedictine Prep)
All day long, and for that matter, all season long, it just feels like Dalton Harkins can slap on a cross-wrist tilt whenever he so desires. His top game has become both efficient and brutal. Harkins polished off each opponent with a fall around the minute mark, and only seems to have eyes for the final. Cox on the other hand has been putting up stacks of points in each match deploying similar tactics, while yet to give up a point along the way. A tech and two majors catch your eye and it will be interesting to see if he can give Harkins a taste of his own medicine, or at least knowingly fend off the attacks.
152: Connor Kievman (Wyoming Seminary) vs Kevin Schork (St. Christopher's)
Kevin Schork was busy displaying some top game of his own to reach the semi and he will need all of that and more as Kievman has just blitzed the field so far, showing off his power and determination.
160: #9 Gabe Arnold (Wyoming Seminary) vs Aurelius Dunbar (Mercersburg Academy)
This will be the third meeting between Arnold and Dunbar this season, with the most recent being a 3-1 decision in the final for the qualifier. Arnold has been a takedown machine so far, including a spectacular mat return into a fall to close his quarter. Dunbar will be feeling battle tested, once again beating Jack Wehmeyer in his quarter, which sounds an awful lot like their paths last weekend as well.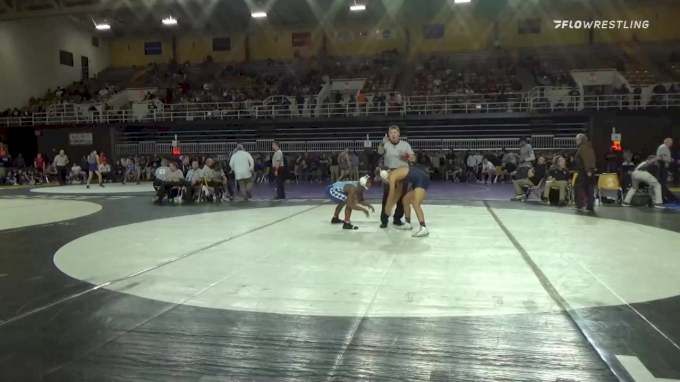 Unlock this video, live events, and more with a subscription!
Get Started
Already a subscriber? Log In
160: Connor Strong (Mount Saint Joseph) vs Harrison Trahan (McDonogh School)
Connor Strong and Harrison Trahan might not be household names but their rivalry this season has ignited Maryland wrestling circles. Strong was all over Trahan back at Beast, and then, after a lot of local debate, they did not hit at MIAA, as Trahan got caught in the semi. Come MIS Trahan was out for revenge and he more than got it putting it on Strong in the final. Now the two have a HUGE rubber match with a spot in the finals on the line. Add in the rivalry between Mount St. Joe and McDonogh and this semi suddenly has everything you need.
170: Andrew Donahue (Wyoming Seminary) vs Ryan Tremain (Benedictine Prep)
Following the qualifiers this bracket was a big question mark. Could Andrew Donahue grab a hold of it? Wonder no further as he has looked fantastic on day one and will enter his semi full of confidence as he appears to be firing on all cylinders. Tremain has had to grind it out a little more finding himself in a closer than hoped for quarter with Tony Zancan.
170: Aiden Hanning (Northfield Mt. Hermon) vs Caden Rogers (Malvern Prep)
I had this one circled in the preview and it only looks better after day one. Rogers edged Hanning 2-1 earlier in the year, and Rogers has been showing off a pretty spectacular mega mullet, so he gets bonus points there. Both have been putting it to their opponents with power and confidence and feel like they are on an inevitable collision course that is about to finally be resolved.
182: #7 Rylan Rogers (Blair Academy) vs Andrew Connolly (Malvern Prep)
Rylan Rogers has been his usual dynamic self leading up to the semi, entertaining in each victory. Andrew Connolly has been really grinding them out, going 2-0 in the round of 16 and 1-0 in his quarter that hinged on an escape and an awful lot of blood time. Connolly's points in this bracket are crucial to the team race, but Rogers looks next level and then some.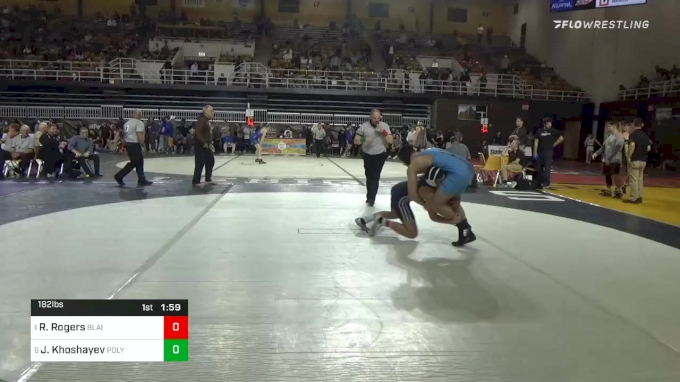 Unlock this video, live events, and more with a subscription!
Get Started
Already a subscriber? Log In
182: #18 Dominic Solis (McDonogh School) vs Cole Rees (Wyoming Seminary)
These two have some history here and this semi is guaranteed to be a good one. Rees held off Solis 4-3 last year and I expect a return to a tight and insanely tense rematch. Both guys have looked more than ready for action so far.
195: #7 Nicholas Feldman (Malvern Prep) vs Parker Warner (Mount Saint Joseph)
I spent a lot of day one trying to slip in the nickname Wolverine to Nick Feldman's matches. As soon as I started doing that though I noticed he was decked out like Captain America all day. So I called him The American Wolverine. Not sure that feels like a keeper. I was doing that in part because Feldman used day one almost like practice. The big man buried guys in takedowns, piling up the points right and left. Parker Warner looks solid down at 195 this year and he spent a few years with a hulk trying to throw him all over the room, so he will have to draw on those experiences probably more often than he would like here. Warner earned his spot beating rival Dustin Radford 2-0 in the quarter.
195: #8 Peyton Craft (Blair Academy) vs Jack Wimmer (McDonogh School)
Jack Wimmer really turned it up in his quarter and looks inspired following his first ever MIS title back in Maryland last weekend. He is going to need it against a poised Peyton Craft who has had his number earlier in the year. Craft hasn't been challenged yet and I expect Wimmer to go right after him, but Craft is a steady customer and will be looking to move along to a rematch with Feldman.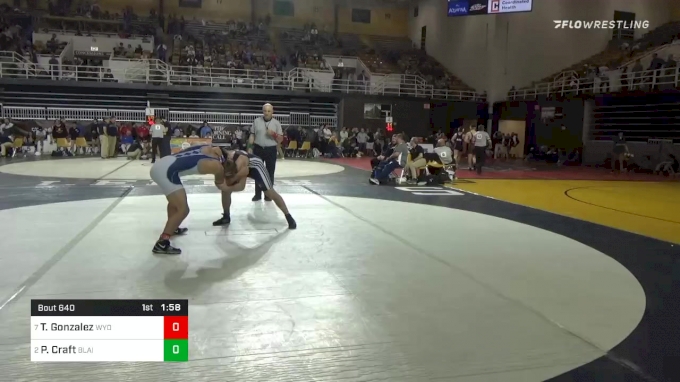 Unlock this video, live events, and more with a subscription!
Get Started
Already a subscriber? Log In
220: #3 Kyonte Hamilton (Georgetown Prep) vs Harrison Levans (Germantown Academy)
Kyonte Hamilton has been displaying all of the skills that have had him rocket up the rankings this year as he has picked up steam. Levans is solid, but he needed a wild finish, including a takedown with 2 seconds remaining, to beat Owen Vietmeyer in his quarter and might have his hands full with Kyonte.
220: #10 Kolby Franklin (Wyoming Seminary) vs #12 Noah Pettigrew (Blair Academy)
These two had split their meetings coming into this season, but Franklin has tilted their blossoming rivalry into his favor by taking both matches this year. The duo have contrasting styles, with Franklin using more of a power game and Pettigrew happy to get in on legs and scramble, far more so than you normally see with a big man. In a surprise day one it was Pettigrew that was no nonsense, conserving energy by getting his pins early and often. Franklin finished off his foes as well, but his match Javier Rios in particular burned a lot more fuel than he probably had planned. This should be a fascinating match as I feel like Pettigrew is going to arrive with a fresh gameplan in hopes of turning the tables and getting to Hamilton who he has split with this season.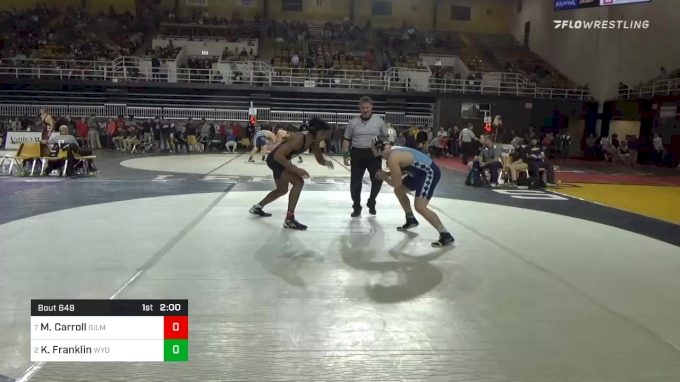 Unlock this video, live events, and more with a subscription!
Get Started
Already a subscriber? Log In
285: #9 Cole Deery (Malvern Prep) vs Elijah Anthony (Blair Academy)
Kudos to Eli Anthony, as his earned points might just end up deciding the team race between these two. Very undersized, Anthony has to employ a variety of tactics to grind out close decisions. He had to use them all and more to get past the mountain that is Brennan Wicks in the round of 16, winning on a bizarre sequence where he drove Wicks on to the cement and everyone anticipated a penalty point, but instead a stall call was awarded against Wicks for somehow backing out. It's worth watching just to hear Wicks' dad going bananas from the stands. In the quarter he neutralized freshman Gabe Moore's 4-0 and ended his Cinderella front side run. I bring all of this up as Cole Deery on paper should have no problems here. Deery has been going about his normal pin happy ways, showing off the skills that brought home a bevy of titles this season. But Anthony will throw everything at him, and avoid being thrown around at all costs. If Deery goes heavy quickly this could be over early, but the longer it goes the more Anthony might frustrate him.
285: #18 Garrett Kappes (McDonogh School) vs Liam Dietrich (Trinity Pawling)
Garrett Kappes will be angling for a shot at the championship later in the day but Liam Dietrich will have other ideas. This one is going to get physical in a hurry. Dietrich will get stuck in and has no issues with a little extra throw on the edge. His quarter with Nate Miller saw the two destroy the table and luckily yours truly managed to catch the laptop and camera running the live feed as it happened. Kappes will be looking to lead with his underhook and certainly has the advantage once he gets on top, so an early takedown or winning the flip could be crucial in this one.