Unlock this article, live events, and more with a subscription!
Get Started
Already a subscriber? Log In
The second-to-last week of the dual meet season had its share of excellent action, but the postseason narratives have now nearly taken shape. The Hawkeyes held on to their rankings in a number of important spots, and several title contenders made themselves known.
Here are the biggest stories from week 16:
Iowa Holds Serve
Saturday night's dual between Minnesota and Iowa had a number of potential landmines for higher-ranked Hawkeyes, but Iowa passed all of their important tests.
At 133, NCAA title contender Austin DeSanto made his return to the mat in fantastic fashion, teching Gopher Boo Dryden early in the third period. Max Murin also returned from injury in a big way by retaining his #3 ranking with a 6-4 sudden victory win over #5 Mitch McKee.
One of the biggest matches of the night came at 149 between #2 Pat Lugo and #7 Brayton Lee. While Lugo was ranked ahead of Lee, this was a test that Lugo had yet to face. He passed with flying colors in a 3-2 decision over the Minnesota freshman.
Kaleb Young beat a ranked foe in Ryan Thomas, Mikey Kemerer pinned Devin Skatzka, and Jacob Warner majored Hunter Ritter. All in all, this was an important night for the Hawkeyes to demonstrate that they are indeed the top team in the country heading into the postseason.
Gable Over Cassioppi Sets Up Showdown With Parris
One match that did not go the Hawkeyes' way was the heavyweight showdown between #1 Gable Steveson and #3 Tony Cassioppi. Steveson picked his spots to a certain extent, but when he pulled the trigger, he scored.
The match between Steveson and Cassioppi became physical as their matches often do, but the extra-curriculars, while certainly a topic of conversation, did not impact the outcome of the match.
Steveson's win sets up a highly anticipated matchup between #1 Gable and #2 Mason Parris of Michigan. Both are Junior World Champions, and both are phenomenal athletes. We could be in store for an outstanding two-part series at the Big Ten and NCAA Championships.
New #1 Nick Lee Pushes PSU Past tOSU
The marquee match of the weekend came on Saturday night at 141 in a dual between Ohio State and Penn State. Then-#1 Luke Pletcher got off to a fast start against new #1 Nick Lee but couldn't sustain his early lead.
Lee's pace and timing overcame Lee in the end for an 8-4 decision. Each guy demonstrated the ability to earn takedowns in that bout which makes their potential rematches anything but predictable.
Lee's win over Pletcher was predictably critical in Penn State's 20-16 win over #3 Ohio State in a wild dual with its share of intrigue. Along the way, #1 Sammy Sasso needed sudden victory over Verkleeren, Quinn Kinner took out a newly returning Brady Berge, and Gas Tank Gary upset Seth Nevills.
NC State Over Virginia Tech Makes Them the Clear #2
The NC State Wolfpack took out the Virginia Tech Hokies on Friday night in a matchup that is a contender for dual meet of the year. This match had matches between highly ranked opponents, bonus points left and right, multiple upsets, and came down to the wire.
At 165, Thomas Bullard pulled off the most improbable upset taking out #7 David McFadden 2-1. #2 Hunter Bolen took out #3 Trent Hidlay in the headliner, and Jarrett Trombley electrified the Wolfpack crowd with a fall.
This dual, and NC State's undefeated season, makes them the clear #2 dual meet team this season which compelled Hayden Hidlay to propose a fair question. Why can't NC State put their ranking on the line against #1 Iowa?
I believe there has to be a way to form a dual national championship. Our resume is good enough to square off against the Big10's best. We've been an incredible dual team the past 5 years and should be able to put it on the line. What's the harm in finding out where we stand? https://t.co/ug6P75lD2u

— HH (@Hidlaymania) February 16, 2020
While a dual meet championship has long been discussed, no format currently exists for such a title to be properly decided. Who would you take in a matchup between this year's #1 Iowa Hawkeyes and #2 Wolfpack?
Title Contender SeaBass is Back
Northwestern 133--pounder Sebastian Rivera hadn't wrestled since the 2019 Midlands Championships until his match on Sunday with Maryland's King Sandoval. Rivera looked dominant in his return with a first period fall over Sandoval.
When we last saw Rivera, he was in a wild bout with Seth Gross that demonstrated how well equipped he is to contend for this year's NCAA title, so his strong return is no surprise.
The timing of Rivera's return could create some problems for the rest of the 133-pounders in the Big Ten as his 1-2 in-conference record is likely to result in a low seed for the two-time All-American. It will be fascinating to see how the Big Ten coaches choose to seed Rivera for the conference championships.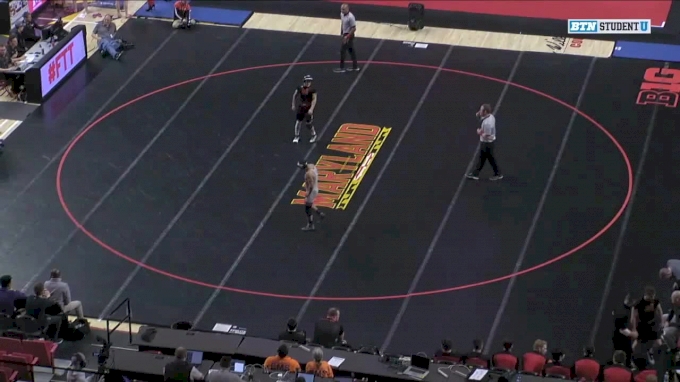 Unlock this video, live events, and more with a subscription!
Get Started
Already a subscriber? Log In
Gannon Gremmel Powers ISU Past UNI
Iowa State and Northern Iowa had a knock-down, drag-out contest inside Hilton Coliseum. The dual had three upsets and was ultimately decided in its final bout between individuals ranked in the top 15.
UNI started off with a bang as #12 Jacob Schwarm pinned #8 Alex Mackall. Iowa State took the next two bouts before #11 Max Thomsen took out #8 Jarrett Degen in a result that is only an upset on paper; after all, Thomsen is now 5-0 against Degen in matches that have not ended early due to injury.
UNI tacked on a win at 157 before Iowa State took wins at 165 and 174, including a potential Big 12 seed shifting upset for #19 Sammy Colbray over #5 Bryce Steiert. UNI's Lujan won at 184, and ISU's Shapiro won at 197 which set up a heavyweight bout that would decide the dual.
Gremmel and Isley each had multiple wins against one another before this match. This time it was all Gremmel with a 4-0 decision in front of his home crowd push his record to 4-2 against Isley and give the Cyclones the win.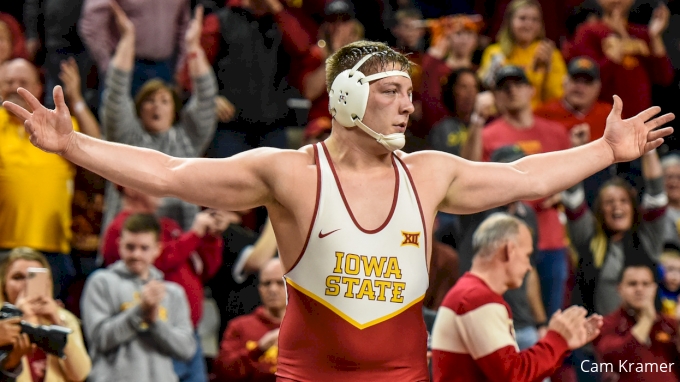 Unlock this video, live events, and more with a subscription!
Get Started
Already a subscriber? Log In