#2 Trey Kibe Commits To Penn State
#2 Trey Kibe Commits To Penn State
Pennsylvania AAA state champ Trey Kibe, who is ranked #2 at 170lbs, just verbally committed to wrestle for the Penn State Nittany Lions.
Feb 17, 2020
by Wrestling Nomad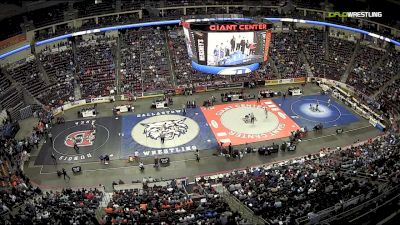 Trey Kibe will be staying in central Pennsylvania as he committed to Penn State today.
The PIAA state champ is currently ranked second at 170lbs. Should he win another AAA crown he will do it in a bracket that features four other nationally ranked wrestlers.
The Nittany Lions have now received verbals from both of the nation's top 170 pounders after Alex Facundo declared his college decision a little over a week ago. Both will join a crowded upper weight room in State College.
Facundo and Kibe are the first two commits of the 2021 class for PSU. Facundo projects currently as a 174/184 and Kibe looks to be a 184/197. They also have true freshmen Carter Starocci at 174, Aaron Brooks at 184, and Michael Beard at 197, not to mention Joe Lee at 165. With Matt Lee and Austin Boone heading to Happy Valley in the 2020 class, they have every weight filled from 149 to 197 for the foreseeable future.
Kibe is ranked 13th on the 2021 Big Board, and leaves just four of the Top-15 uncommitted. He was an NHSCA freshman national champ and finished third this past year. In October he was fourth at Super 32.