Unlock this article, live events, and more with a subscription!
Get Started
Already a subscriber? Log In
On Saturday night, the 7th-ranked Minnesota Gophers travel to Iowa to take on the #1 Hawkeyes. While the dual favors the Hawkeyes, a handful of matches will help set the stage for the postseason.
If #3 Max Murin returns for this dual at 141, he'll have #5 Mitch McKee who has beaten him twice. At 149, #2 Pat Lugo will face a tough test in freshman #7 Brayton Lee. The 174-pound match is a battle of All-Americans as #1 Michael Kemerer sees #8 Devin Skatzka for the first time, and at 184, a surging #21 Owen Webster will take on #10 Abe Assad.
This dual has plenty of action to look forward to, but perhaps the biggest matchup of the dual will happen at heavyweight between #1 Gable Steveson and #3 Tony Cassioppi.
Steveson & Cassioppi Have History
Gable Steveson and Tony Cassioppi have wrestled several times in the past, but they have yet to compete against each other in college. That will change on Saturday night when the Gophers take on the Hawkeyes.
In high school, Steveson, now a true sophomore, and Cassioppi, now a redshirt freshman, were the first- and third-ranked heavyweight prospects in the class of 2018. They are now the first- and third-ranked wrestlers in the NCAA.
Steveson has historically owned this rivalry. These two met at the Junior World Team Trials in both 2017 and 2018. Gable controlled both those matches. In 2018, Gable was able to frustrate Cassioppi in a match that became more contentious as it went along.
Steveson was third at last year's NCAA Championships. This year, he is 10-0 with nine bonus-point wins including major decisions over #16 Seth Nevills and #8 Jordan Wood. His lone decision was a convincing 10-5 win over #5 Trent Hillger.
He has also looked excellent in his freestyle pursuits this season and qualified for the Olympic Team Trials by winning the Bill Farrell Memorial International in November.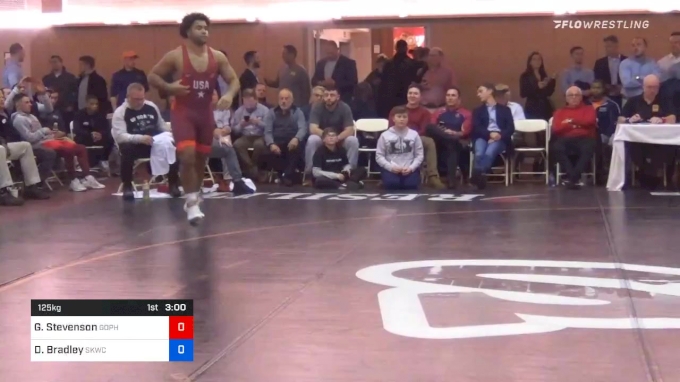 Unlock this video, live events, and more with a subscription!
Get Started
Already a subscriber? Log In
Cassioppi's season has also been solid. He was undefeated until last weekend and has ranked wins over #4 Matt Stencel, #5 Trent Hillger, #12 Gannon Gremmel, #13 Carter Isley, #16 Seth Nevills, #17 Christian Lance, #23 Gary Traub, and #25 Thomas Penola. His lone loss came by fall against #2 Mason Parris last week. Despite the loss, Cassioppi has demonstrated significant development since their last meeting two years ago.
When these two big men meet on Saturday night, Steveson will be the favorite. The nature of Cassioppi's loss to #2 Mason Parris may have lowered his chances of winning in many people's minds, but the bad blood between these two high-powered heavyweights still makes this one of the most exciting matches of the weekend.