UWW
86kg or 97kg for J'den? We'll Know Next Week
86kg or 97kg for J'den? We'll Know Next Week
Team USA has released its roster for the Granma Cup and Cerro Pelado in Cuba. A large contingent of USA wrestlers plan to compete, including J'den Cox.
Feb 7, 2020
by David Bray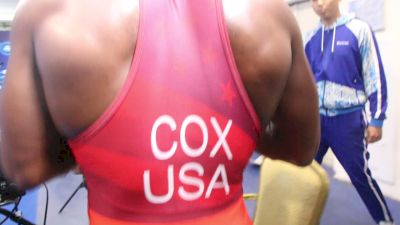 Unlock this video, live events, and more with a subscription!
Get Started
Already a subscriber? Log In
Unlock this article, live events, and more with a subscription!
Get Started
Already a subscriber? Log In
Ever since J'den Cox won his second world title at 92kg in September, the wrestling community has debated whether he would move to 86kg or 97kg for the Olympic year. Cox has kept his weight class decision to himself, but he slated to compete next week in Cuba.
In an enigmatic press release, Cox is listed as either an 86kg or 97kg registrant for next week's competition. If he decides to wrestle 86kg, we could see another chapter in the David Taylor vs J'den Cox rivalry. If he ends up at 97kg, we could see him face a high-school and college rival in Kyle Snyder.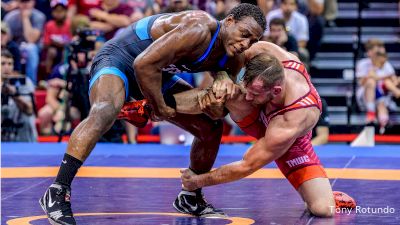 Check out Team USA's full lineup in Taylor Miller's press release for USA Wrestling below.
---
Full article from Taylor Miller at USA Wrestling:
Next week, 24 American men's freestyle and Greco-Roman wrestlers will compete at the Granma Cup and Cerro Pelado in Havana, Cuba.
The Granma Cup, which is the Greco-Roman portion of the tournament, is set for Feb. 11-12, while the Cerro Pelado, which will feature men's freestyle action, will take place Feb. 15-16.
Heading up the men's freestyle squad is J'den Cox, two-time World champion and 2016 Olympic bronze medalist. Cox, who won his World titles at 92 kg, has not yet announced whether he will be competing at 86 kg or 97 kg in Cuba.
Leading the Greco-Roman delegation is 2016 Olympian and four-time Senior World Team member Robby Smith, who will compete at 130 kg, as well as 2019 Junior World bronze medalist and 2019 U23 World Team member Peyton Omania, who will wrestle at 67 kg.
USA Wrestling will report as results are made available. There will NOT be a live stream of the event.
GRANMA CUP and CERRO PELADO
at Havana, Cuba (Feb. 11-12, Feb. 14-15)
Tuesday, Feb. 11
10:30 a.m. – Qualification rounds (GR 55-60-63-67-72-77-82-87-97-130 kg)
Noon – Opening ceremonies
Wednesday, Feb. 12
2 p.m. – Finals (GR 55-60-63-67-72-77-82-87-97-130 kg)
Saturday, Feb. 15
10 a.m. – Qualification rounds (MFS 57-61-65-70-74-79-86-92-97-125 kg)
Sunday, Feb. 16
2 p.m. – Finals (MFS 57-61-65-70-74-79-86-92-97-125 kg)
Men's freestyle roster
57 kg: Daniel Deshazer (Minnesota Storm/Gopher RTC)
57 kg: Sean Russell (Minnesota Storm/Gopher RTC)
57 kg: Nathan Tomasello (Titan Mercury WC/Ohio RTC)
65 kg: Bryce Meredith (NJRTC)
70 kg: Alec Pantaleo (Titan Mercury WC/Cliff Keen WC)
74 kg: Branson Ashworth (Wyoming RTC)
74 kg: Tommy Gantt (Titan Mercury WC/Wolfpack RTC)
74 kg: Nazar Kulchytskyy (Titan Mercury WC/Gopher RTC)
74 kg: Antonio Tolbert (Pennsylvania RTC)
74 kg: Dan Vallimont (New York AC/Pennsylvania RTC)
86 kg: Brett Pfarr (Minnesota Storm/Gopher RTC)
86/97 kg: J'den Cox (Titan Mercury WC/USOPTC)
97 kg: Christian Brucki (NJRTC)
97 kg: Jacob Kasper (Titan Mercury WC/Wolfpack RTC)
97 kg: Hayden Zillmer (Minnesota Storm/Gopher RTC)
125 kg: Youssif Hemida (New York AC/Cliff Keen WC)
Greco-Roman roster
67 kg: Peyton Omania (New York AC)
67 kg: Dominic Damon (NMU-OTS)
72 kg: Riley Briggs (NMU-OTS)
72 kg: Colby Baker (NMU-OTS)
77 kg: Nate Grimes (NMU-OTS)
77 kg: Alec Ortiz (Minnesota Storm)
130 kg: Trace Schirmers (NMU-OTS)
130 kg: Robert Smith (New York AC/Chicago RTC)
National Team coach: Kevin Jackson
Club/RTC coach: Jay Antonelli
Club/RTC coach: Reece Humphry
Club/RTC coach: Dustin Schlatter
Referee: Dimitar Chifudov
Referee: Miles Long
Medical: Chad Smidt