2020 Ohio State vs Nebraska | Big Ten Wrestling
Two #1's Go Down + All The Week 14 Upsets
Two #1's Go Down + All The Week 14 Upsets
Two #1's went down during Week 14 of NCAA wrestling, a week that saw dozens of total upsets.
Feb 3, 2020
by David Bray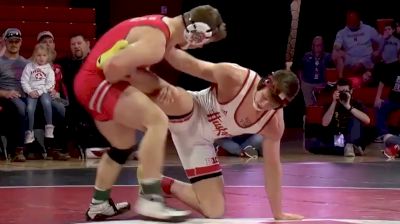 Unlock this video, live events, and more with a subscription!
Get Started
Already a subscriber? Log In
Unlock this article, live events, and more with a subscription!
Get Started
Already a subscriber? Log In
This weekend brought two new #1's, more rankings chaos at 149, 174, and 184, and more than three dozen total upsets. Check out the biggest upset stories of the week, then read through the comprehensive list of all the upsets we could find.
As always, if you see an upset we missed, please email david.bray@flosports.tv so we can be sure to include it. Now, here are the biggest stories of the weekend.
Brock Mauller Takes Out #1 Lewallen
The field at 149 has been parity-packed since the beginning of the season. All-Americans Brock Mauller and Boo Lewallen have been among the title contenders all year, but Lewallen occupied the #1 spot in the rankings when the two met on Sunday.
Lewallen led for most of the match, but Mauller tied it with a takedown late in the third period. He finished Lewallen off with another takedown in overtime and stopped Lewallen's unbeaten streak. We'll have a new #1 when the rankings come out on Tuesday.
#3 Kemerer Over #1 Hall in High-Scoring Affair
Three-time NCAA finalist Mark Hall was the clear favorite on Friday in his match with #3 Mikey Kemerer. He came out with explosive attacks, but Kemerer battled through Hall's positions and came out on top in a wild 10-6 match.
Kemerer's win will make him the new #1 at 174 and sets up thrilling potential rematches at the Big Ten and NCAA Championships.
Norfleet Notches Upset Over #6 Traxler
Arizona State fans have long believed that Kordell Norfleet was capable of greatness. While he's had brilliant moments throughout his career, he hasn't registered very many wins over highly ranked opponents.
He earned the biggest win of his career on Friday with an overtime victory over #6 Nathan Traxler. Stanford's Traxler could have the opportunity to even the series at the Pac 12 Championships, but for now, Norfleet is in control.
Norfleet's win could mean big things for Arizona State who is currently ranked #6 in the country but is vying for a top-four trophy.
DOWN GOES NO. 6‼️

For the second time in as many chances at Desert Financial Arena, @KD70_ takes down a Top-6 opponent! pic.twitter.com/04W1dlvf2M

— Sun Devil Wrestling (@ASUWrestling) February 1, 2020
#7 Griffith Stays Unbeaten, Knocks Off #5 Shields
Stanford was not without its own upset in the dual with the Sun Devils as #7 Shane Griffith Took out #5 Josh Shields. Griffith has put together an undefeated season so far with wins over #13 Ethan Smith, #10 Travis Wittlake, #9 Tanner Skidgel, and now #5 Josh Shields.
If Griffith remains undefeated through his conference tournament, he'll probably have another win over Shields which could reasonably earn him one of the top two seeds at NCAAs.
Go ahead @shanegriffith7 ???

? » @Pac12Network#CardinalCaliber #GoStanford pic.twitter.com/M4Wt3TT4t1

— Stanford Wrestling (@CardWrestling) February 1, 2020
Bucknell's Hartman Pins #8 Monday
The second top-10 upset at 165 came on Saturday when #20 Zach Hartman pinned #8 Kennedy Monday of North Carolina. Monday got the opening takedown, but a takedown, turn, and fall at the end of the first period gave Hartman the upset.
This win, combined with Hartman's pin of #16 Quentin Perez, demonstrates the danger that Hartman could bring into the post-season at 165.
184 Continues to be Chaotic.
The rankings chaos at 184 has been a recent topic of conversation on FRL and among wrestling fans on Twitter. The hierarchy in this weight class became less clear this weekend after another round of upsets.
At the top, #8 Abe Assad had two losses, one to #10 Aaron Brooks and a second to #14 Cam Caffey. This was one of two upsets for Caffey who also took out #13 Zach Braunagel. #9 Taylor Venz took his second loss in as many weeks, this time to #24 Rocky Jordan.
Rutgers' #23 Billy Janzer beat #15 Jelani Emberee, #19 Chris Weiler beat #16 Noah Stewart, and #21 Anthony Montalvo upset #17 Zach Carlson.
To recap, six of the wrestlers ranked between #8 and #17 were upset this weekend setting up an unpredictable postseason.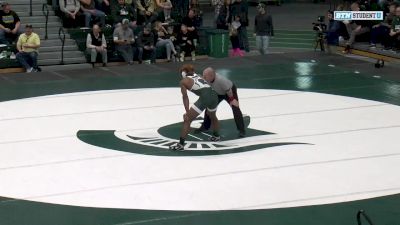 Unlock this video, live events, and more with a subscription!
Get Started
Already a subscriber? Log In
Cardani Bests #9 DeAugustino
The final top-10 upset of the week came at 125 where Illinois' Justin Cardani took out #9 Michael DeAugustino of Northwestern.
DeAugustino has been a pleasant surprise for the Wildcats this season as he finished third at CKLV and second at Midlands. That makes the Cardani upset all the more impressive.
DeAugustino has dropped a couple of bouts recently but will look to get back on track next weekend against Michigan State and Ohio State. Cardani's next action will be against #16 Nic Aguilar of Rutgers on Friday followed by Maryland's Brandon Cray on Sunday.
---
All The Upsets We Could Find
125
125: Justin Cardani, Illinois D;4-2 #9 Michael DeAugustino, Northwestern
125: Trey Keeley, Brown D;7-6 #10 Michael Colaiocco, Penn
125: #17 Kilian Cardinale, Old Dominion D;2-1 #13 Joey Prata, Virginia Tech
125: Jack Medley, Michigan D;2-1 #16 Nic Aguilar, Rutgers
125: Dylan Ryder, Hofstra M;13-0 #25 Joe Manchio, Columbia
133
133: Louie Hayes, Virginia D;5-3 #12 Collin Gerardi, Virginia Tech
133: Justin Patrick, Cleveland State D;4-3 #18 Tim Rooney, Kent State
133: Andrew Wert, Army West Point D;5-3 #20 Nick Farro, Lehigh
133: King Sandoval, Maryland D;10-8 #21 Jordan Decatur, Ohio State
133: Gabe Townsell, Stanford F;7:38 #22 Joshua Krammer, Arizona State
133: Allan Hart, Missouri D;11-7 #25 Reece Witcraft, Oklahoma State
141
141: #21 Shakur Laney, Ohio D;8-7 #13 Dresden Simon, Central Michigan
141: Mitch Moore, Virginia Tech D;6-5 #25 Sa'Derian Perry, Old Dominion
149
149: #6 Brock Mauller, Missouri D;5-3 #1 Boo Lewallen, Oklahoma State
149: #20 Graham Rooks, Indiana D;4-3 #12 Cole Martin, Wisconsin
149: Kenan Carter, Old Dominion D;9-6 #23 Bryce Andonian, Virginia Tech
157
157: #21 Wyatt Sheets, Oklahoma State D;8-6 #11 Jarrett Jacques, Missouri
157: #15 Larry Early, Old Dominion D;3-1 #13 BC LaPrade, Virginia Tech
157: #24 Zac Carson, Ohio D;4-3 #14 Logan Parks, Central Michigan
157: Wyatt Gerl, CSU Bakersfield D;3-2 #25 Jacob Wright, Fresno State
165
165: #7 Shane Griffith, Stanford D;5-3 #5 Joshua Shields, Arizona State
165: #20 Zach Hartman, Bucknell F;2:53 #8 Kennedy Monday, North Carolina
165: #14 Thomas Bullard, North Carolina State D;3-1 #11 Jake Wentzel, Pittsburgh
165: #18 Shayne Oster, Northwestern D;7-6 #15 Dan Braunagel, Illinois
174
174: #3 Michael Kemerer, Iowa D;11-6 #1 Mark Hall, Penn State
174: Brandon Martino, Fresno State D;6-5 #14 Samuel Colbray, Iowa State
174: Gregg Harvey, Pittsburgh D;10-8 #15 Daniel Bullard, North Carolina State
174: Mason Eaglin, Duke D;4-1 #17 Clay Lautt, North Carolina
174: Tyler Morland, Northwestern D;2-0 #22 Joseph Gunther, Illinois
184
184: #14 Cameron Caffey, Michigan State D;3-2 #8 Abe Assad, Iowa
184: #10 Aaron Brooks, Penn State D;7-3 #8 Abe Assad, Iowa
184: #24 Rocky Jordan, Ohio State D;3-2 #9 Taylor Venz, Nebraska
184: #14 Cameron Caffey, Michigan State D;7-6 #13 Zach Braunagel, Illinois
184: #23 Billy Janzer, Rutgers D;3-1 #15 Jelani Embree, Michigan
184: #19 Chris Weiler, Lehigh D;7-2 #16 Noah Stewart, Army West Point
184: #21 Anthony Montalvo, Oklahoma State D;3-1 #17 Zach Carlson, South Dakota State
197
197: #16 Kordell Norfleet, Arizona State D;6-4 #6 Nathan Traxler, Stanford
285
285: #22 Quinn Miller, Virginia D;6-4 #18 John Borst, Virginia Tech
285: David Jensen, Nebraska D;8-3 #23 Gary Traub, Ohio State