2020 Minnesota vs Purdue | Big Ten Wrestling
Reasons To Watch Minnesota vs Purdue
Reasons To Watch Minnesota vs Purdue
Five ranked matchups and a handful of the nation's most exciting wrestlers. Don't miss Friday night's dual between #5 Minnesota and #7 Purdue.
Jan 31, 2020
by David Bray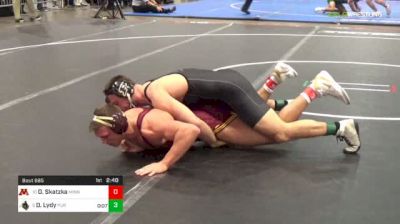 Unlock this video, live events, and more with a subscription!
Get Started
Already a subscriber? Log In
Unlock this article, live events, and more with a subscription!
Get Started
Already a subscriber? Log In
Before Iowa and Penn State square off on Friday night, be sure to check out another premier matchup between #7 Purdue and #5 Minnesota. Here are the top reasons to watch the Boilermaker vs Gopher showdown.
Watch Minnesota vs Purdue LIVE on FloWrestling
Friday, Jan 31 | 7:00 PM ET
1) Will Skatzka Finally Beat Lydy?
Minnesota All-American Devin Skatzka is 0-4 against Purdue's fourth-ranked Dylan Lydy. While Skatzka is the more accomplished wrestler, Lydy has controlled this series.
While Lydy has had his hand raised every time, Skatzka has been within three points in all four of their matches and has pushed the contest to overtime twice. Matches between these two have been ultra-competitive and have averaged nearly 10 points. This one should be equally exciting.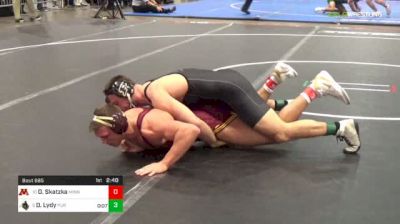 Unlock this video, live events, and more with a subscription!
Get Started
Already a subscriber? Log In
2) Ranked Opponent for #1 Gable Steveson
Gable Steveson is the top-ranked heavyweight in the country. That's reason enough to watch this match, but this time, he'll have a ranked opponent in #25 Thomas Penola.
The Boilermaker freshman has put together a solid season, but he has yet to wrestle Gable Steveson. This match should be all Gable, but Penola won't go down without a fight.
3) #6 Kendall Coleman Faces Another Ranked Foe in #22 Ryan Thomas
Purdue's Kendall Coleman has established himself as one of the top 157-pounders and one of the most exciting freshmen in the country to watch. He currently sits at #6 in the nation and has already wrestled a tough schedule this season.
He'll have another ranked opponent on Friday in Minnesota's #22 Ryan Thomas, who is coming off a win over Elijah Cleary of Ohio State. Thomas is putting together a solid season, but he'll have a tough challenge in Coleman.
4) Red-Hot Pat McKee against #6 Devin Schroder
These two teams boast a combined 13 ranked wrestlers, which creates five matches between ranked opponents. Both wrestlers are ranked at 125, 149, 157, 174, and 285.
At 125, Minnesota freshman Pat McKee is on a seven-match winning streak and has worked his way up to #12 in the rankings. He'll have a big challenge when he wrestles #6 Devin Schroder on Friday.
Schroder's had his best season last year when he finished in the round of 16 at the NCAA Championships. He's looked even better this year with a 20-4 record and a 54.17-percent bonus point rate. His most recent win was a 9-1 major decision over #16 Nic Aguilar of Rutgers.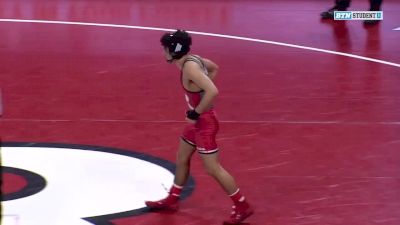 Unlock this video, live events, and more with a subscription!
Get Started
Already a subscriber? Log In
5) Minnesota Natives Parriott and Lee Meet at 149
The 149 matchup features #17 Griffin Parriott of Purdue and #4 Brayton Lee of Minnesota. Parriott had a strong first half of the season, finishing fourth at CKLV and had wins over Max Thomsen, Collin Purinton, and Brock Zacherl.
Brayton Lee won that same CKLV bracket and is looking to get back on track on Friday after a loss to Sammy Sasso on Sunday night. He'll be the favorite, but Parriott is formidable.
When these two met in 2017 at the 2017 Junior World Team Trials, Lee came out on top 6-2. This will be the first meeting in college between these two.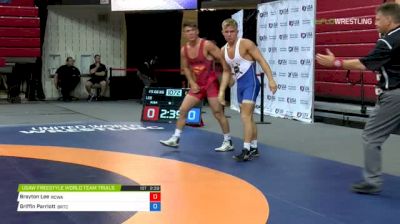 6) #18 Webster's on a Roll. Can He Even the Series with Lyon?
Minnesota's Owen Webster has recently knocked off tough Big Ten foes Rocky Jorday, Jelani Embree, and Johnny Sebastian in order to earn the #18 spot in the rankings, but his Friday opponent, Max Lyon, beat him 5-2 when they met last year.
The 184 field in the Big Ten is extremely competitive. Can Max Lyon repeat the result from last year and continue to add to the Big Ten seeding committee's confusion, or will Owen Webster notch a win that solidifies him in the top half of the Big Ten?