MAC
Alex Madrigal & The 5 MAC Wrestlers On NCAA Statistical Leaderboards
Alex Madrigal & The 5 MAC Wrestlers On NCAA Statistical Leaderboards
George Mason's Alex Madrigal leads the nation in tech-falls, but he's not the only MAC wrestler spearheading certain statistical categories.
Jan 27, 2020
by Mark Spezia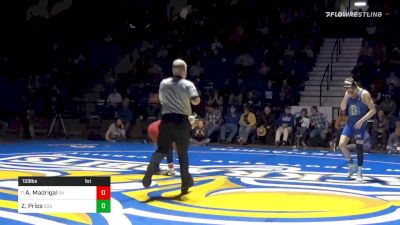 Unlock this video, live events, and more with a subscription!
Get Started
Already a subscriber? Log In
Unlock this article, live events, and more with a subscription!
Get Started
Already a subscriber? Log In
Central Michigan's Matt Stencel and George Mason's Alex Madrigal have both developed a knack for ending matches early – Stencel via pin and Madrigal through technical falls.
It's probably best not to step away while they are in action. Missing a little could mean missing a lot, and there is a good chance you will return to the sight of a referee raising their arms in victory.
In fact, no Division I wrestler has recorded more technical falls than Madrigal, who already boasts 10. Stencel is currently in a six-way tie for second in pins with 11.
When only matches against fellow DI wrestlers are counted, Madrigal has three more technical falls than anyone in the nation, while Stencel's 10 pins are one back of leader Ben Darmstadt, a Cornell sophomore.
That means Madrigal and Stencel are both in the running for year-end awards the NCAA has handed out since 2013 for wrestlers with the most pins and technical falls in each division. Stencel won the award a year ago with 19 pins.
They are hardly the only MAC wrestlers among the nation's leaders, however.
Central Michigan's Dresden Simon is tied for most major-decision victories while Cleveland State's Evan Cheek and Kent State's Andrew McNally are two of the country's winningest wrestlers.
Here is a closer look at MAC wrestlers who are among Division I's top four in falls, technical falls, major decisions or victories.
1. ALEX MADRIGAL, GEORGE MASON
Overall, the senior has a 22-9 record, including the nation-best 10 technical falls and two pins. He has clearly refined that skill after a total of only 12 technical falls in 78 matches his first three seasons. Madrigal is currently ranked No. 8 in the MAC at 141 pounds.
He is not ranked nationally, but owns a 6-2 win over No. 20 Evan Cheek of Cleveland State, who has lost only three times this season. Madrigal has also beaten Buffalo's Marcus Robinson, ranked No. 10 in the MAC.
Madrigal has returned to wrestling after sitting out last season upon transferring from Old Dominion. He was a two-time NCAA qualifier there, but did not win a match at the tournament and went just 3-4 at the MAC Tournament. It goes without saying that Madrigal is intent on reversing those late-season fortunes.
He boasts a 72-37 career record and is 26th in the first NCAA coaches panel rankings.
2. MATT STENCEL, CENTRAL MICHIGAN
It's no surprise to see the junior 285-pounder among the nation's top pinners — again.
In fact, the fourth-ranked Stencel has 32 pins in his last 52 wins, including four in a row at last month's Midlands where he placed second after dropping a 5-1 decision to No. 3 Tony Cassioppi of lowa in the title match.
Along the way, Stencel pinned No. 9 Yaraslau Slavikouski of Harvard and decisioned No. 5 Trent Hillger of Wisconsin.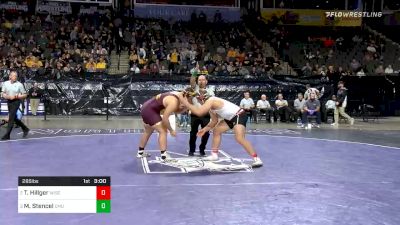 Unlock this video, live events, and more with a subscription!
Get Started
Already a subscriber? Log In
Stencel, a two-time NCAA qualifier and 2019 All-American, is 21-4 this season. The two-time MAC champion's other losses have all come at the hands of second-ranked Mason Parris of Michigan.
Stencel has also beaten No. 17 John Borst (Virginia Tech), No. 18 Ben Sullivan (Army), and No. 24 Cary Miller (Appalachian State).
He has an 80-25 career record with 43 pins, including a 52-10 mark since the beginning of last season.
Stencel is fourth in the first NCAA coaches panel rankings.
3. DRESDEN SIMON, CENTRAL MICHIGAN
The junior, ranked No. 13 overall and first in the MAC at 141 pounds, has 10 major-decision wins. That ties him with American University's Salvatore Profaci and Northern Iowa's Bryce Steiert for most in the nation.
Overall, Simon boasts a 21-7 record with 13 wins coming via major decision, pin, or technical fall. He is experiencing a remarkable turnaround after going just 26-32 in his first two seasons. Among those Simon has beaten by major decision are No. 14 Michael Blockhus (Northern Iowa), No. 17 Grant Leeth (Missouri), and No. 22 Kyle Shoop (Lock Haven). He has also decisioned No. 12 Dylan Duncan (Illinois).
None of Simon's losses have been by pin or technical fall and only top-ranked Luke Pletcher of Ohio State has beaten him by major decision. Simon's other six losses have been by a combined 22 points.
He is 15th in the first NCAA coaches panel rankings
4. EVAN CHEEK, CLEVELAND STATE
The senior 141-pounder, who made his rankings debut at No. 20 last week, is 29-3 this season, placing him third in the nation in victories. American's Kizhan Clarke is first with 32 wins, followed by VMI's Neal Richards (30).
In all, 17 of Cheek's wins have come by pin, technical fall or major decision. He has beaten No. 15 Tariq Wilson (North Carolina State), No. 21 Shakur Laney (Ohio), and No. 24 Peter Lipari (Rider).
Cheek, ranked fourth in the MAC, is back after wrestling as a redshirt last season. He was an NCAA qualifier and Eastern Wrestling League champion in 2018. His career record stands at 97-34.
Cheek is 18th in the first NCAA coaches panel rankings.
5. ANDREW MCNALLY, KENT STATE
The junior 174-pounder, who moved from 21st to 19th in the latest rankings, is 26-6 this season. Only three wrestlers in the nation have more wins this season than McNally, who takes a 12-match winning streak into Saturday's dual against Cleveland State.
McNally, also ranked third in the MAC, has upset No. 9 Layne Malczewski (Michigan State) and No. 11 Philip Spadafore (Maryland) this season. In all, 13 of his wins have come via pin, technical fall or major decision.
Wrestling at 184 last season, McNally went 1-2 at the NCAA Tournament. McNally has a 78-31 career record, including 60-15 since the start of last season.
He is 22nd in the first NCAA coaches panel rankings.
---
Mark Spezia is a freelance writer based in Lapeer, Michigan. He has written for ESPNW, Flohockey, Flint, Michigan-based My City Magazine, the Detroit Free Press, Hour Detroit Magazine and Troy, Michigan-based Oakland Press. He previously worked for the Flint Journal, Lapeer (Michigan) County Press and Daily Mining Gazette in Houghton, Michigan.