Unlock this article, live events, and more with a subscription!
Get Started
Already a subscriber? Log In
Now that each of the three styles has released procedures to select their respective squads for the Pan American Olympic qualifier, as well as the fact that the first Ranking Series tournament of the year has concluded, it seems like a good time to review the options available.
Selection Criteria: Men's Freestyle | Greco-Roman | Women's Freestyle
The Pan Am Olympic qualifying tournament will be from March 13-15 in Ottawa, Canada. In order to guarantee the United States will have a weight represented at the Olympics, the athlete we send will need to make the finals of their bracket, with no true second.
In men's freestyle, the criteria to be chosen are as follows:
Previous World Champion from 2017 or 2018 competing at the same Olympic weight class in which they won their World Championship.
2019 World Team Member at the same Olympic weight class in which they competed during the 2019 World Championships.
World medalist from 2017, 2018 or 2019 at any weight class.
2019 World Team Member from a non-Olympic weight class.
That means we've got the following options. At 57kg, it's Daton Fix as the first choice under criteria 2, plus Thomas Gilman as a 2017 world silver medalist and Joe Colon as a 2018 world bronze under criteria 3. If they choose Fix, he currently is slated to be the two seed behind Oscar Eduardo Tigreros Urbano of Colombia, but if they bypass Fix due to Gilman beating him 2-1 in Rome, Gilman will be the top seed, as would Colon. Although there are still points to be earned at the Pan Am championships the week before the qualifier, currently Cuban U23 world champ Reineri Andreu Ortega will be randomly drawn into the bracket.
Up at 65kg, Zain Retherford is the only option based on the criteria. He is currently the only Pan Am wrestler with seeding points (aside from Jordan Oliver, who is not eligible to be selected if they go by the criteria above), meaning two-time world bronze Alejandro Valdes Tobier, who beat Zain at worlds last September, could be in the random draw.
Jordan Burroughs qualified 74kg for Tokyo with his bronze medal, so moving up to 86kg, David Taylor is the first option followed by Pat Downey, and then potentially J'den Cox if he is dropping down in weight. Taylor still has not yet wrestled yet since badly hurting his knee at Beat the Streets last May, but gets first choice as a 2018 world champ. Downey has 26 separation points, currently making him the three seed if the Olympics started today. Cox would be drawn into the bracket.
But based on this instagram post from the Magicman, unless there's a setback, he'll get the call for Ottawa.
Kyle Snyder's bronze also granted the US a spot at 97kg, so we're finishing off with 125kg. Nick Gwiazdowski has held the world team spot each of the past three years, winning bronze in 2017 and 2018. He has no ranking points but has won Pan Ams three straight years and is a prohibitive favorite to qualify the weight.
Over on the women's side of things, they will be doing wrestle-offs for the four weight classes not yet qualified. The first four weights will be sent to Ottawa for the qualifier, and that team will be determined on February 8 in conjunction with this year's WCWA Championships at Life University outside Atlanta.
At 50kg, reigning world team member Whitney Conder will take on Sarah Hildebrandt, who was in the world finals up at 53kg in 2018. Hildebrant won the Matteo Pellicone and Conder finished fifth (they did not face each other), so as of now either would be the top seed but again the Pan Am championships will come into play.
There will be two legs to 53kg, with 2016 Olympian Haley Augello facing Katherine Shai in the first round. The winner will then face reigning 55kg world champ Jacarra Winchester for the spot. Neither Augello nor Winchester have ranking points, though right now Shai's 10 still leave her behind first seed Luisa Valverde Melendres of Ecuador and Lianna Montero Herra of Cuba, the current two seed.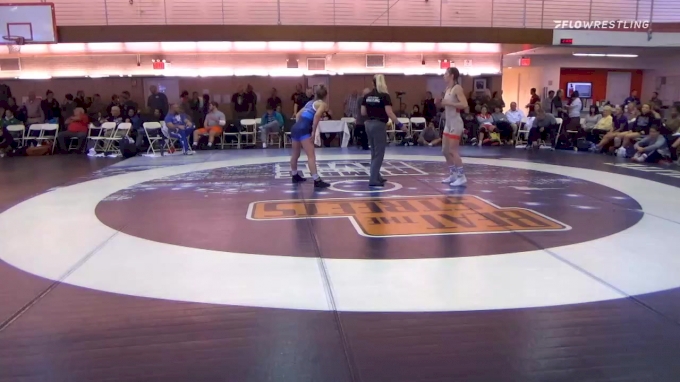 Unlock this video, live events, and more with a subscription!
Get Started
Already a subscriber? Log In
The same multi-round wrestle-off will occur at 57kg, with two-time world silver Alli Ragan facing 2016 Olympic gold medalist Helen Maroulis. Ragan has two senior-level world silvers, two junior-level world bronzes, made the University Games finals in 2013 and was fifth in the world in 2014, but has never made an Olympic team. The last time they wrestled was in college back in 2013. The winner will square off against reigning world teamer Jenna Burkert in the finals.
There will be no wrestle-off at 62kg; it will be 2019 world teamer Kayla Miracle representing America. Miracle is guaranteed to be the top seed at the qualifier no matter who wins the Pan Am championships the week before. She won the Pan Am Games this past year and was bronze at the championships in 2018, falling to Yaquelin Estornell Elizastigue of Cuba. The United States is already qualified at 68kg and 76kg.
Over to the Greco side, our country will be sending a full squad as the Red, White, and Blue needs to qualify every weight still. It sounds as though the plan right now is to send the six world teamers from Kazakhstan to Canada. If for whatever reason they can't go, the next option will be the finalists from December's Senior Nationals in Fort Worth.
At 60kg, Ildar Hafizov is the first choice. The winner of Senior Nationals was Leslie Fuenffinger, who Hafizov beat in two matches at Final X to earn the 60kg spot. Fuenffinger beat Sam Jones in the championship match, who qualified for the Olympic Trials with his third-place finish at the Bill Farrell and was third on the ladder at 63kg in 2019.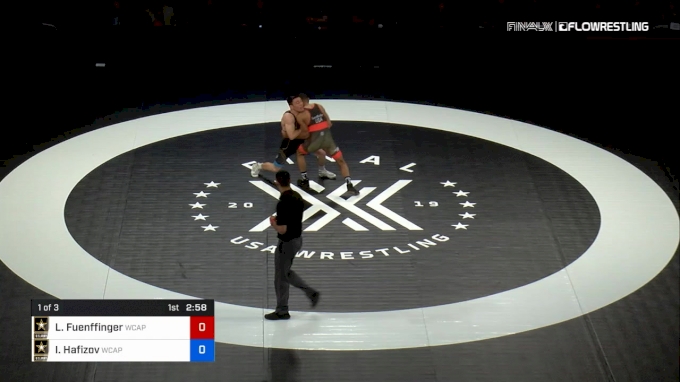 Unlock this video, live events, and more with a subscription!
Get Started
Already a subscriber? Log In
Hafizov was a 2008 Olympian for Uzbekistan, and Ellis Coleman was a 2012 Olympian for America. Coleman has held down the spot at 67kg for all three years of this quad and was bronze at the Pan Am Games with a silver earlier in the year at the Pan Am championships. Past national team member Alejandro Sancho won Senior Nationals, beating Junior Trials runner-up Calvin Germinaro in the title bout.
Up at 77kg, Pat Smith was the world teamer. He has Pan Am golds from 2016 and 2017, plus his Pan Am games title last year. He beat Kamal Bey in three matches at Final X: Rutgers, and Bey won Senior Nationals over veteran Jake Fisher.
Joe Rau won the Olympic Trials in 2016 and won the 87kg world team spot last June. Jon Anderson defeated Pat Martinez to win the gold in Fort Worth. Meanwhile at 97kg G'Angelo Hancock has been the world teamer all three years this quad, so he will likely go to Ottawa, but Lucas Sheridan and Daniel Miller are waiting in the wings.
Finishing off with heavyweight, Robby Smith made it very clear on a recent visit to Northwestern that 2018 world silver Adam Coon will be going to Ottawa. Cohlton Schultz beat Jacob Mitchell last month so they are the depth right now.