Unlock this article, live events, and more with a subscription!
Get Started
Already a subscriber? Log In
For the Iowa Hawkeyes, starting out duals with Spencer Lee has been a tone-setter — and a strong one at that.
The two-time national champion at 125 pounds has scored bonus points in all of his matches this season, outscoring opponents 115-8 in seven of his nine folkstyle matches. The other two? He pinned his opponents in less than a minute.
For a team whose focus last year was on wrestling for a full seven minutes, the tides have shifted into scoring points on top of points. Lee is never done wrestling. He steps onto the mat and usually steps off again within the first three minutes.
"I just want to score points," Lee said. "If I'm not scoring on top then I might start cutting guys and go back to my feet. It doesn't really matter. It's a 'scoring points' mindset and that's all I think about on the mat."
That mentality has engulfed the Hawkeyes in a wave of "never enough," and if they come out of the tunnel swinging, it gives them an edge.
Iowa has dominated teams with three shutouts — one against a top-25 ranked Purdue — and piling on bonus points has been key. Against Nebraska on Saturday, however, the team which set a Midlands record for points scored tallied just two bonus points on the night.
Watch Spencer Lee take the mat vs Purdue's Devin Schroder: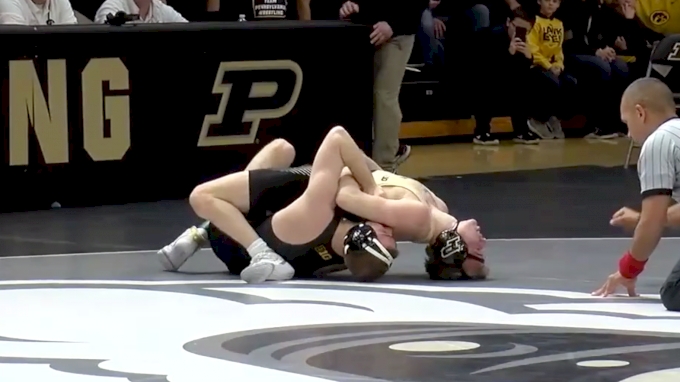 Unlock this video, live events, and more with a subscription!
Get Started
Already a subscriber? Log In
Those two, of course, came from Lee's 18-0 technical fall against the only unranked opponent Nebraska put out. As for the rest of the Hawkeyes, they weren't on top of their game.
"I think we were flat," head coach Tom Brands said. "We got down out of the tunnel too early from upstairs. There's just a lot of things . . . I'm not making excuses. I'm just saying there's a lot going through my head. Nebraska went to Madison, they were flat, you know what they were coming in here to do."
Iowa packs a punch to begin their home duals, and it extends beyond just Lee. The man who follows him is a force to be reckoned with, and he's arguably more dangerous on the mat now that he's reigned in his emotions more this season.
Austin DeSanto at 133 pounds is relentless, scoring points on points right after Lee — which gives the Hawkeyes the ability to go double-digits after just two matches.
DeSanto followed Lee at Purdue with a high-scoring match of his own: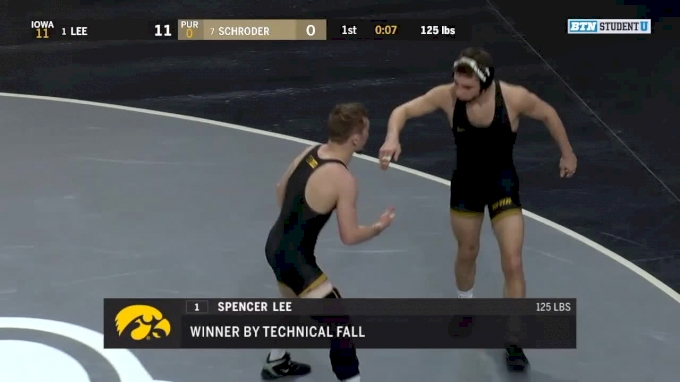 Unlock this video, live events, and more with a subscription!
Get Started
Already a subscriber? Log In
For the rest of Iowa's lineup, it does just fine. It's a lineup that set the record at Midlands without Lee in the finals, and without one major component in the point-scoring mentality: Michael Kemerer.
Kemerer's last three matches have been close, but the way he wrestled to open the season and the style he's known for is hard to ignore. He set a precedent in his first dual meet since the 2017-18 season with a 20-0 technical fall.
All three of these wrestlers can deliver attack on attack on attack to their opponents. Against Nebraska, a point of emphasis following the meet was the need to score points sooner, rather than digging out of a hole in the third period.
Dominating early — and often — will be key as Iowa's next two names on the schedule feature No. 3 Ohio State and No. 2 Penn State.
"We've just got to stick to what we do and we've got to be patient, and we've got to know (that) people have talked about guys coming in here with a strategy to beat us," Kemerer said. "We're the No. 1 team in the country. No one's going to come in and not treat it like the most important match. This match for other teams is circled and highlighted on the schedule. We've got to know that."
---
Anna attended the University of Iowa, where she covered multiple sports from volleyball to football to wrestling. She went to Pittsburgh in March 2019 for the NCAA DI Wrestling Championships and did live coverage of the entire event and Spencer Lee's second-straight NCAA title. Follow her on Twitter.