2020 Matteo Pellicone | UWW Ranking Series
Seeding Points For The Olympics After The First Ranking Series Event
Seeding Points For The Olympics After The First Ranking Series Event
The seeding points for the Olympic Games and the continental qualifiers as they stand after the Matteo Pellicone, the first Ranking Series event of 2020.
Jan 18, 2020
by Wrestling Nomad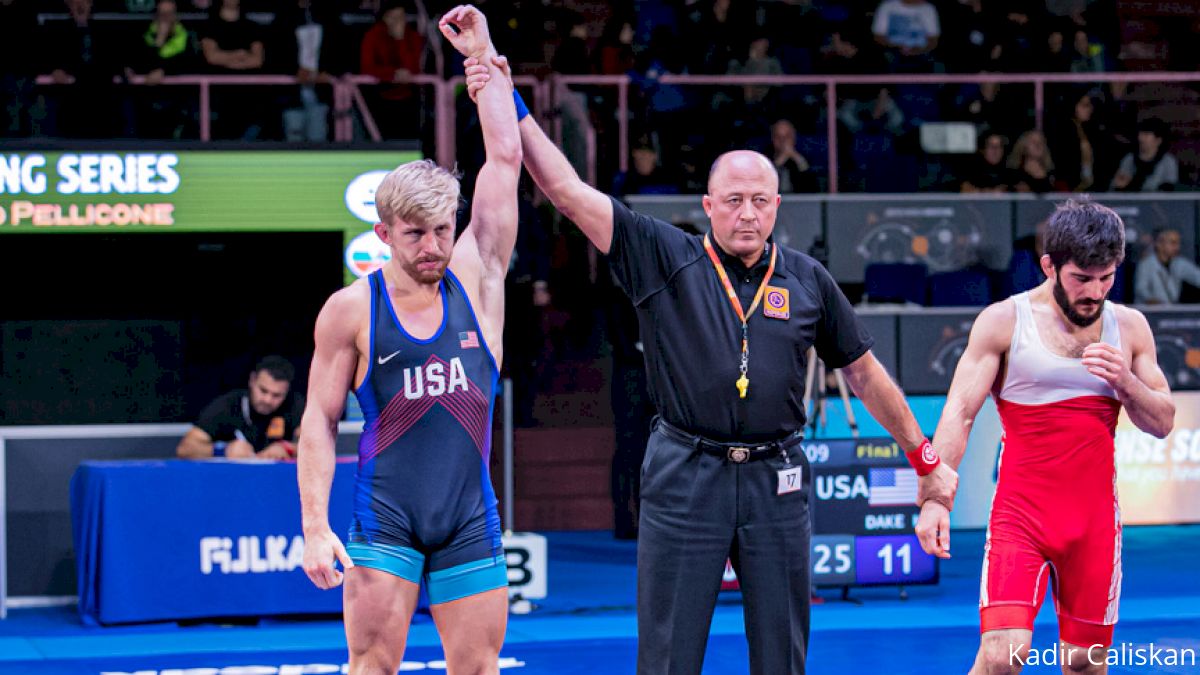 Unlock this article, live events, and more with a subscription!
Get Started
Already a subscriber? Log In
The Olympic Games will be seeded for the second time, and there are three opportunities to earn seeding points. The first of those was this weekend in Rome at the Matteo Pellicone, which concluded earlier today.
We've tallied the seeding points earned after this first Ranking Series event, which serve two purposes. The first is as we mentioned to separate the top four seeds at the Olympics in Tokyo this August. The second is to separate the top two seeds at the four different continental qualifiers in March.
Prior to the continental qualifiers, those countries who have not yet guaranteed themselves a place in the Games can earn seeding points at their respective continental championships. For example, Italy is not yet qualified at 57kg in men's freestyle, so they could send an athlete to the European championships to try to earn separation points for the European Olympic qualifier.
Those same points apply to any athletes entered in the last chance qualifier in early May, which allows any country around the world to enter that has not yet won a slot in the Olympics. After that, there is a second ranking series event in Warsaw, Poland in June, which is the final opportunity to earn separation points for Tokyo.
Below are the points earned by weight class, and remember that these points only apply to the athlete that earned them; they cannot be shared between wrestlers from the same country. An * indicates that nation has qualified that weight for the Games.
Men's Freestyle
57kg
| | | | |
| --- | --- | --- | --- |
| Seed | Name | Country | Points |
| 1 | Zaur Uguev | *RUS | 60 |
| 2 | Suleyman Atli | *TUR | 40 |
| 3 | Stevan Micic | *SRB | 32 |
| 4 | Nurislam Sanayev | *KAZ | 25 |
| 5 | Ravi Kumar | *IND | 25 |
| 6 | Reza Atri | *IRI | 20 |
| 7 | Bekhbayar Erdenebat | MGL | 18 |
| 8 | Givi Davidovi | ITA | 16 |
| 9 | Thomas Gilman | USA | 16 |
| 10 | Oscar Eduardo Tigreros Urbano | COL | 14 |
| 11 | Joe Colon | USA | 14 |
| 12 | Yuki Takahashi | JPN | 12 |
| 13 | Minghu Liu | CHN | 12 |
| 14 | Daton Fix | USA | 10 |
| 15 | Andrii Yatsenko | UKR | 10 |
65kg
| | | | |
| --- | --- | --- | --- |
| Seed | Name | Country | Points |
| 1 | Gadzhimurad Rashidov | *RUS | 60 |
| 2 | Bajrang Punia | *IND | 41 |
| 3 | Daulet Niyazbekov | *KAZ | 40 |
| 4 | Iszmail Muszukajev | *HUN | 25 |
| 5 | Selahattin Kilicsallayan | TUR | 24 |
| 6 | Takuto Otoguro | *JPN | 20 |
| 7 | Tulga Tumur Ochir | *MGL | 20 |
| 8 | Haji Mohamad Ali | BRN | 18 |
| 9 | Alexander Semisorow | GER | 16 |
| 10 | Jong Chol Son | PRK | 14 |
| 11 | Jordan Oliver | USA | 14 |
| 12 | Zain Retherford | USA | 12 |
| 13 | Vasyl Shuptar | UKR | 10 |
| 14 | Erik Arushanian | UKR | 10 |
74kg
| | | | |
| --- | --- | --- | --- |
| Seed | Name | Country | Points |
| 1 | Zaurbek Sidakov | *RUS | 60 |
| 2 | Frank Chamizo | *ITA | 40 |
| 3 | Daniyar Kaisaonv | *KAZ | 32 |
| 4 | Jordan Burroughs | *USA | 25 |
| 5 | Zelimkhan Khadjiev | *FRA | 25 |
| 6 | Mao Okui | *JPN | 20 |
| 7 | Kamil Rybicki | POL | 18 |
| 8 | Khadzhimurad Gadzhiyev | AZE | 16 |
| 9 | Kyle Dake | *USA | 16 |
| 10 | Murad Kuramagomedov | HUN | 14 |
| 11 | Soner Demirtas | TUR | 14 |
| 12 | Seungchul Lee | KOR | 12 |
| 13 | Fazli Eryilmaz | TUR | 12 |
| 14 | Franklin Gomez Matos | PUR | 10 |
| 15 | Azamat Nurykau | BLR | 10 |
86kg
| | | | |
| --- | --- | --- | --- |
| Seed | Name | Country | Points |
| 1 | Hassan Yazdanicharati | *IRI | 60 |
| 2 | Deepak Punia | *IND | 40 |
| 3 | Patrick Downey | USA | 26 |
| 4 | Stefan Reichmuth | *SUI | 25 |
| 5 | Artur Naifonov | *RUS | 25 |
| 6 | Carlos Izquierdo Mendez | *COL | 20 |
| 7 | Myles Amine | *SMR | 20 |
| 8 | Ahmed Dudarov | GER | 18 |
| 9 | Taimuraz Friev | ESP | 16 |
| 10 | Zahid Valencia | USA | 16 |
| 11 | Alex Dieringer | USA | 14 |
| 12 | Sohsuke Takatani | JPN | 12 |
| 13 | Fatih Erdin | TUR | 12 |
| 14 | William Raffi | ITA | 10 |
| 15 | Illia Archaia | UKR | 10 |
97kg
| | | | |
| --- | --- | --- | --- |
| Seed | Name | Country | Points |
| 1 | Abdulrashid Sadulaev | *RUS | 60 |
| 2 | Sharif Sharifov | *AZE | 40 |
| 3 | Kyle Snyder | *USA | 39 |
| 4 | Magomedgadji Nurov | *MKD | 25 |
| 5 | Elizbar Odikadze | *GEO | 20 |
| 6 | Alisher Yergali | *KAZ | 20 |
| 7 | Magomed Ibragimov | UZB | 18 |
| 8 | Mohammadhossein Mohammadian | IRI | 18 |
| 9 | Nicolai Ceban | MDA | 16 |
| 10 | Aliaksandr Hushtyn | BLR | 16 |
| 11 | Magomed Musaev | KGZ | 14 |
| 12 | Murazi Mchedlidze | UKR | 14 |
| 13 | Ali Shabanibengar | IRI | 12 |
| 14 | Pavel Olejnyik | HUN | 12 |
| 15 | Abraham de Jesus Conyedo Ruano | ITA | 12 |
125kg
| | | | |
| --- | --- | --- | --- |
| Seed | Name | Country | Points |
| 1 | Geno Petriashvili | *GEO | 60 |
| 2 | Taha Akgul | *TUR | 40 |
| 3 | Oleksandr Khotsianivskyi | *UKR | 25 |
| 4 | Khasanboy Rakhimov | *UZB | 25 |
| 5 | Zhiwei Deng | *CHN | 20 |
| 6 | Badzha Khutaba | *SYR | 20 |
| 7 | Egzon Shala | KOS | 18 |
| 8 | Amir Zare | IRI | 16 |
| 9 | Yadollah Mohebi | IRI | 16 |
| 10 | Bilyal Makhov | RUS | 14 |
| 11 | Jamaladdin Magomedov | AZE | 14 |
| 12 | Alexandr Romanov | MDA | 12 |
| 13 | Yusup Batirmurazev | KAZ | 12 |
| 14 | Amar Dhesi | CAN | 12 |
| 15 | Nick Matuhin | GER | 10 |
| 16 | Daniel Ligeti | HUN | 10 |
Women's Freestyle
50kg
| | | | |
| --- | --- | --- | --- |
| Seed | Name | Country | Points |
| 1 | Mariya Stadnik | *AZE | 60 |
| 2 | Emilia Alina Vuc | *ROU | 54 |
| 3 | Valentina Islamova Brik | *KAZ | 25 |
| 4 | Oksana Livach | *UKR | 32 |
| 5 | Ekaterina Poleshchuk | *RUS | 25 |
| 6 | Yanan Sun | *CHN | 20 |
| 7 | Evin Demirhan | TUR | 18 |
| 8 | Sarah Hildebrandt | USA | 16 |
| 9 | Yuki Irie | JPN | 16 |
| 10 | Ellen Riesterer | GER | 14 |
| 11 | Victoria Anthony | USA | 12 |
| 12 | Fredrika Ida Petersson | SWE | 12 |
| 13 | Devi Nirmala | IND | 10 |
| 14 | Whitney Conder | USA | 10 |
53kg
| | | | |
| --- | --- | --- | --- |
| Seed | Name | Country | Points |
| 1 | Yong Mi Pak | *PRK | 60 |
| 2 | Vinesh Phogat | *IND | 41 |
| 3 | Mayu Mukaida | *JPN | 40 |
| 4 | Qianyu Pang | *CHN | 37 |
| 5 | Luisa Valverde Melendres | ECU | 32 |
| 6 | Maria Prevolaraki | *GRE | 20 |
| 7 | Roksana Zasina | *POL | 20 |
| 8 | Lianna Montero Herrera | CUB | 16 |
| 9 | Sarah Hildebrandt | USA | 14 |
| 10 | Vanesa Kaladzinskaya | BLR | 12 |
| 11 | Katherine Shai | USA | 12 |
| 12 | Lannuan Luo | *CHN | 10 |
| 13 | Meng Hsuan Hsieh | TPE | 10 |
57kg
| | | | |
| --- | --- | --- | --- |
| Seed | Name | Country | Points |
| 1 | Risako Kawai | *JPN | 60 |
| 2 | Odunayo Adekuoroye | *NGR | 43 |
| 3 | Ningning Rong | *CHN | 40 |
| 4 | Iryna Kurachkina | *BLR | 25 |
| 5 | Jowita Maria Wrzesien | *POL | 20 |
| 6 | Anastasia Nichita | *MDA | 20 |
| 7 | Marina Simonyan | RUS | 18 |
| 8 | Giullia Rodrigues | BRA | 16 |
| 9 | Anshu Anshu | IND | 16 |
| 10 | Alli Ragan | USA | 14 |
| 11 | Linda Morais | CAN | 14 |
| 12 | In Sun Jong | PRK | 14 |
| 13 | Alina AKOBIIA | UKR | 12 |
| 14 | Jenna Burkert | USA | 12 |
| 15 | Grace Bullen | NOR | 12 |
62kg
| | | | |
| --- | --- | --- | --- |
| Seed | Name | Country | Points |
| 1 | Aisuluu Tynybekova | *KGZ | 76 |
| 2 | Taybe Yusein | *BUL | 40 |
| 3 | Yuliia Tkach | UKR | 30 |
| 4 | Kayla Miracle | USA | 26 |
| 5 | Yukako Kawai | *JPN | 25 |
| 6 | Henna Johnansson | *SWE | 25 |
| 7 | Marianna Sastin | *HUN | 20 |
| 8 | Jong Sim Rim | *PRK | 20 |
| 9 | Liubov Ovcharova | RUS | 14 |
| 10 | Kriszta Tunde Incze | ROU | 14 |
| 11 | Mariana Esanu | MDA | 12 |
| 12 | Jia Long | CHN | 12 |
| 13 | Iryna KoliIadenko | UKR | 10 |
68kg
| | | | |
| --- | --- | --- | --- |
| Seed | Name | Country | Points |
| 1 | Tamyra Mensah-Stock | *USA | 74 |
| 2 | Jenny Fransson | *SWE | 40 |
| 3 | Blessing Oborududu | NGR | 30 |
| 4 | Danielle Lappage | CAN | 26 |
| 5 | Anna Schell | *GER | 25 |
| 6 | Battsetseg Soronzonbold | *MGL | 25 |
| 7 | Sara Dosho | *JPN | 20 |
| 8 | Alla Cherkasova | *UKR | 20 |
| 9 | Feng Zhou | CHN | 16 |
| 10 | Agnieszka Wieszczek | POL | 16 |
| 11 | Koumba Larroque | FRA | 12 |
| 12 | Alina Makhynia | UKR | 10 |
| 13 | Divya Kakran | IND | 10 |
76kg
| | | | |
| --- | --- | --- | --- |
| Seed | Name | Country | Points |
| 1 | Adeline Gray | *USA | 60 |
| 2 | Hiroe Minagawa | *JPN | 40 |
| 3 | Aline Focken | *GER | 37 |
| 4 | Qian Zhou | *CHN | 34 |
| 5 | Elmira Syzdykova | *KAZ | 30 |
| 6 | Erica Wiebe | CAN | 30 |
| 7 | Epp Mae | *EST | 25 |
| 8 | Hui Tsz Chang | TPE | 18 |
| 9 | Alla Belinska | UKR | 16 |
| 10 | Natalia Vorobeva | RUS | 12 |
| 11 | Kamile Gaucaite | LTU | 12 |
| 12 | Vasilisa Marzaliuk | BLR | 10 |
Greco-Roman
60kg
| | | | |
| --- | --- | --- | --- |
| Seed | Name | Country | Points |
| 1 | Kenichiro Fumita | *JPN | 60 |
| 2 | Sergey Emelin | *RUS | 40 |
| 3 | Mirambek Ainagulov | *KAZ | 25 |
| 4 | Ali Reza Nejati | *IRI | 25 |
| 5 | Lenur Temirov | *UKR | 20 |
| 6 | Elmurat Tasmurdov | *UZB | 20 |
| 7 | Ivo Angelov | BUL | 18 |
| 8 | Sailike Walihan | CHN | 16 |
| 9 | Ivan Lizatovic | CRO | 16 |
| 10 | Victor Ciobanu | MDA | 14 |
| 11 | Islomjon Bakhramov | *UZB | 14 |
| 12 | Razvan Arnaut | ROU | 12 |
| 13 | Firuz Tukhtaev | *UZB | 12 |
| 14 | Erbatu Tuo | CHN | 12 |
| 15 | Sachin Rana | IND | 10 |
| 16 | Kerem Kamal | TUR | 10 |
67kg
| | | | |
| --- | --- | --- | --- |
| Seed | Name | Country | Points |
| 1 | Ismael Borrero Molina | *CUB | 60 |
| 2 | Artem Surkov | *RUS | 40 |
| 3 | Mate Nemes | *SRB | 25 |
| 4 | Frank Staebler | *GER | 25 |
| 5 | Fredrik Bjerrehuus | *DEN | 20 |
| 6 | Mohamed El Sayed | *EGY | 20 |
| 7 | Gevorg Sahakyan | POL | 18 |
| 8 | Hansu Ryu | KOR | 16 |
| 9 | Makhmud Bakhshilloev | UZB | 16 |
| 10 | Deyvid Dimitrov | BUL | 14 |
| 11 | Abouhalima Abouhalima | *EGY | 14 |
| 12 | Atakan Yuksel | TUR | 12 |
| 13 | Anthony Palencia | VEN | 12 |
| 14 | Qiye Tian | CHN | 12 |
| 15 | Ruben Marvice | ITA | 10 |
| 16 | Ashu Ashu | IND | 10 |
77kg
| | | | |
| --- | --- | --- | --- |
| Seed | Name | Country | Points |
| 1 | Tamas Lorincz | *HUN | 60 |
| 2 | Alex Bjurberg Kessidis | *SWE | 40 |
| 3 | Mohammadali Geraei | *IRI | 25 |
| 4 | Jalgasbay Berdimuratov | *UZB | 25 |
| 5 | Karapet Chalyan | *ARM | 20 |
| 6 | Askhat Dilmukhamedov | *KAZ | 20 |
| 7 | Paulius Galkinas | LTU | 18 |
| 8 | Zotlan Levai | *HUN | 16 |
| 9 | Roman Vlasov | RUS | 16 |
| 10 | Pavel Liakh | BLR | 14 |
| 11 | Yunus Emre Basar | TUR | 14 |
| 12 | Viktor Nemes | SRB | 12 |
| 13 | Sajan Sajan | IND | 12 |
| 14 | Wuilexis Rivas Espinoza | VEN | 12 |
| 15 | Emrah Kus | TUR | 10 |
| 16 | RaVaughn Perkins | USA | 10 |
87kg
| | | | |
| --- | --- | --- | --- |
| Seed | Name | Country | Points |
| 1 | Zhan Beleniuk | *UKR | 60 |
| 2 | Viktor Lorincz | *HUN | 56 |
| 3 | Denis Kudla | *GER | 25 |
| 4 | Rustam Assakalov | *UZB | 25 |
| 5 | Mikalai Stadub | *BLR | 20 |
| 6 | Atabek Azisbekov | *KGZ | 20 |
| 7 | Daniel Hechavarria | CUB | 18 |
| 8 | Ivan Huklek | CRO | 16 |
| 9 | Azamat Kustubayev | KAZ | 14 |
| 10 | Junjie Na | CHN | 12 |
| 11 | Sunil Kumar | IND | 14 |
| 12 | Luis Avendano Rojas | VEN | 12 |
| 13 | Ali Cengiz | TUR | 12 |
| 14 | Pat Martinez | USA | 10 |
| 15 | Joe Rau | USA | 10 |
97kg
| | | | |
| --- | --- | --- | --- |
| Seed | Name | Country | Points |
| 1 | Musa Evloev | *RUS | 60 |
| 2 | Artur Aleksanyan | *ARM | 40 |
| 3 | Melonin Noumonvi | FRA | 26 |
| 4 | Mihail Kajaia | *SRB | 25 |
| 5 | Cenk Ildem | *TUR | 25 |
| 6 | Tadeusz Michalik | *POL | 20 |
| 7 | Giorgi Melia | *GEO | 20 |
| 8 | Mohammadhadi Saravi | IRI | 18 |
| 9 | Nikoloz Kakhelashvili | ITA | 18 |
| 10 | Felix Baldauf | NOR | 16 |
| 11 | Artur Omarov | CZE | 16 |
| 12 | Gabriel Rosillo Kindelan | CUB | 14 |
| 13 | G'Angelo Hancock | USA | 14 |
| 14 | Semen Novikov | UKR | 12 |
| 15 | Matti Elias Kuosmanen | FIN | 12 |
130kg
| | | | |
| --- | --- | --- | --- |
| Seed | Name | Country | Points |
| 1 | Riza Kayaalp | *TUR | 60 |
| 2 | Oscar Pino Hinds | *CUB | 40 |
| 3 | Abdellatif Mohamed | EGY | 32 |
| 4 | Muminjon Abdullaev | UZB | 26 |
| 5 | Heiki Nabi | *EST | 25 |
| 6 | Iakobi Kajaia | *GEO | 25 |
| 7 | Amir Ghasemimonjezi | *IRI | 20 |
| 8 | Eduard Popp | *GER | 20 |
| 9 | Murat Ramonov | KGZ | 18 |
| 10 | Moises Perez Hellburg | VEN | 14 |
| 11 | Beka Kandelaki | AZE | 12 |
| 12 | Lingzhe Meng | CHN | 12 |
| 13 | Oskar Marvik | NOR | 10 |
| 14 | Adam Coon | USA | 10 |