2020 MidCals
5 Storylines To Follow At The 2020 MidCals Wrestling Tournament
5 Storylines To Follow At The 2020 MidCals Wrestling Tournament
Here are five things to watch at the 2020 MidCals tournament in Gilroy, California.
Jan 15, 2020
by Pablo Di Maria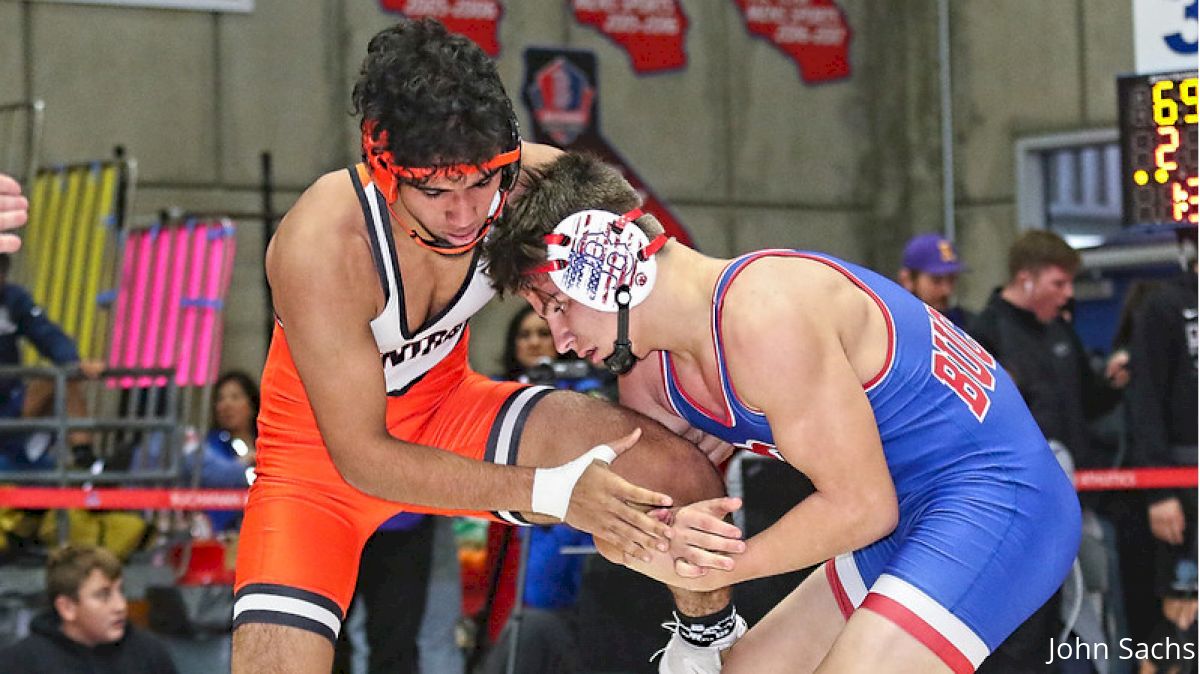 Unlock this article, live events, and more with a subscription!
Get Started
Already a subscriber? Log In
The 2020 MidCals Tournament will be held on Friday, January 17, and Saturday, January 18. The MidCals Tournament will also be adding a girls division for the first time ever. The tournament usually attracts the best teams from the Central Coast in California and its surrounding areas. After a wild weekend at 5 Counties and Battle for the Belt, the fans in attendance should enjoy a weekend full of excitement.
Watch the 2020 MidCals LIVE on FloWrestling
Before they do so, we take a look at just a handful of the top storylines to watch for
1. Buchanan or Poway for the team title?
This year's tournament will not feature Oklahoma power Tuttle High as they will be competing at the Beat the Streets competition in Chicago. Nevertheless, the tournament will be highlighted with the addition of the #1 and #2 teams in California.
Buchanan High, ranked #1 in California, hasn't been tested by any team from the Golden State, their lone loss this season was to Montini Catholic High out of Illinois. The Bears recently traveled to New Jersey and came back to the West Coast undefeated as they beat St. Joseph Regional (N.J.) 38-21, Pope John (N.J.) 51-15, Bergen Catholic (N.J.) 47-15, and St. Anthony's (N.Y.) 84-0. Poway High dismantled the competition at the Battle for the Belt tournament as they scored 351 points and had finalists from 106 to 132. If both squads bring their "A" wrestlers, the fans in attendance should enjoy some great matches between both teams.
2. Is Andre Gonzales the favorite at 106?
Double Fargo national champion Andre Gonzales (Poway) made the drop to 106 last weekend and looked great as he defeated the #3-ranked wrestler Beau Mantanona (Palm Desert) 8-5 in the finals to win his second Battle for the Belt tournament title. At MidCals, he should look forward to another challenge as Raymond Lopez (Buchanan) could be there and we could potentially see a matchup between the No. 1- and No. 2-ranked wrestlers in California. Lopez looked unstoppable at Doc Buchanan as he pinned his finals opponent, and he is coming off from an undefeated weekend after traveling to the East Coast. Lopez is a returning champion of this event as last year he defeated Isaiah Marrujo of Cleveland (New Mexico) 6-2.
3. Can Chase be stopped?
Michigan State signee Chase Saldate (Gilroy) has been on a tear this season. He is coming off from winning the 5 Counties tournament at 152 pounds by dominating the #2 wrestler in the country Sonny Santiago (St. John Bosco) 9-1. In the tournament, Chase won all his matches via bonus point while recording five falls; his fastest fall was recorded in 37 seconds while his longest match prior to the finals was in 3:16. Many of his peers have described him as a wrestler that is competing as a "Division I athlete" with his outstanding style of wrestling that makes no mistakes. So far this season he has won individual titles at the Clovis West Shootout, Reno TOC, Doc Buchanan and now 5 Counties. He was a champion of this event last year as he defeated the current University of Nebraska wrestler Tyler Dean, 6-4 in the finals.
4. Who will be the upset kid this weekend?
We saw it two weeks ago when Dylan Cedeno (Bergen Catholic, N.J.) advanced to the finals of Doc Buchanan despite not being seeded high. Those outside of New Jersey were shocked in disbelief and wondering who he was. I am sure his name was searched nationwide to find out about his previous results at the state tournament. We've seen it year after year, wrestlers announcing themselves to the high school wrestling world at these types of tournaments. So, who will it be this weekend? A couple of names you should be keeping an eye on include Tye Monteiro (Garces Memorial) and Kannon Campbell of Buchanan. Both of these athletes have the potential to play the dark horse at this event.
5. Wrestlers to watch
The tournament will feature some of the best wrestlers in the Golden State. Poway senior and Campbell signee Aaron Gandara, ranked 15th in the country at 152 pounds by FloWrestling, has one loss on the season to Chase Saldate (Gilroy) and will be looking for a second state title as he was a state champion in Arizona during his sophomore campaign. He will be ready to have a rematch with Saldate after losing 10-2 in the finals of Reno TOC. J.T. Stinson (East Nicolaus) is ranked #3 in California with his latest showing being a runner-up finish at Battle for the Belt. Stinson is a two-time state place winner looking for his first California state title this season. Poway sophomore Brock Bobzien (120 pounds) and Monte Vista Christian junior Christian Cabuag (126 pounds) are ranked among the top five at their weight in California.