2020 Matteo Pellicone | UWW Ranking Series
Women's Freestyle Matteo Pellicone UWW Ranking Series Preview
Women's Freestyle Matteo Pellicone UWW Ranking Series Preview
Thirteen of America's best women plus a LOADED international field. Check out what's going down in women's freestyle at the Matteo Pellicone.
Jan 14, 2020
by JD Rader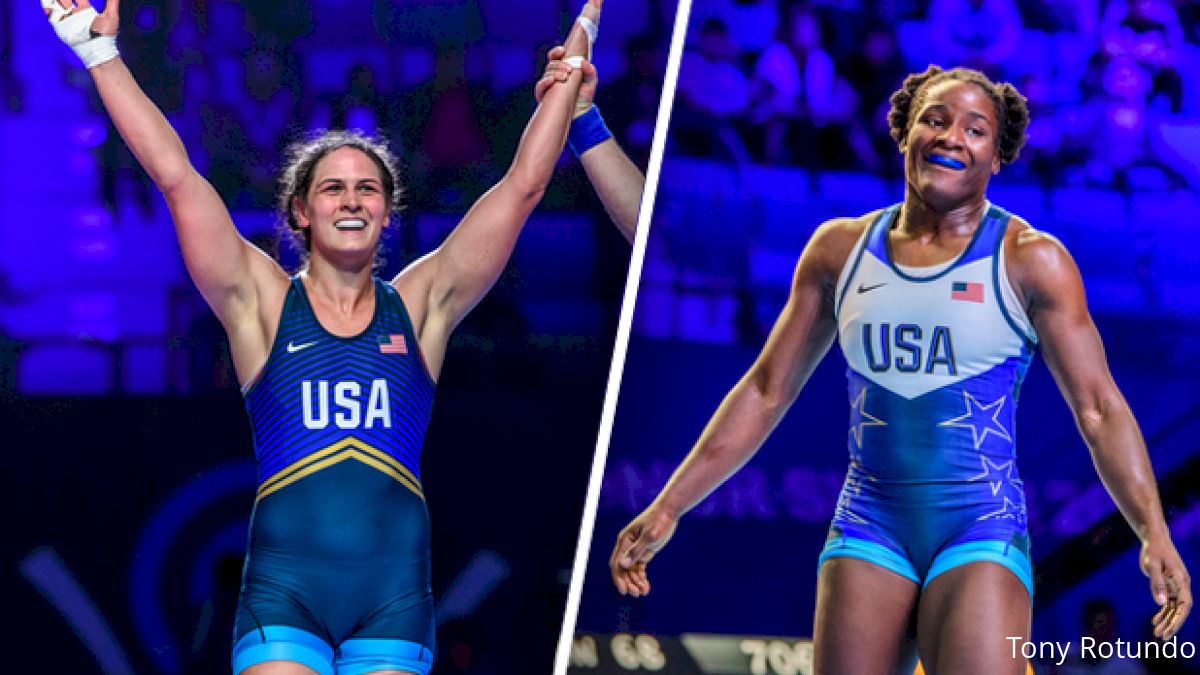 Unlock this article, live events, and more with a subscription!
Get Started
Already a subscriber? Log In
A total of 45 Senior World/Olympic medalists will be wrestling across the six Olympic weights this week in Rome. So, yeah… you could say it's going to be pretty awesome.
Watch the Matteo Pellicone LIVE on FloWrestling
January. 15-18 | 4:30 AM Eastern
USA Roster
50kg - Sarah Hildebrandt
50kg - Whitney Conder
50kg - Victoria Anthony
53kg - Katherine Shai
53kg - Areana Villaescusa
57kg - Alli Ragan
57kg - Jenna Burkert
62kg - Macey Kilty
62kg - Mallory Velte
62kg - Kayla Miracle
68kg - Victoria Francis
68kg - Tamyra Mensah-Stock
76kg - Adeline Gray
---
50kg
With Sarah Hildebrandt dropping down to 50kg for the Olympic year, this is one of the weight classes where we could get a preview of the special Pan Am wrestle-off. Hildebrandt and Conder have a bit of a history when they were both at 55kg, but haven't competed since the 2016 Non-Olympic Weight Word Team Trials, where Hildebrandt took it two matches to none (4-3, 3-2).
Victoria Anthony is the third American at this weight, and she and Conder are no strangers either. The two wrestled in both 2018 and 2019 Final X for the 50kg World Team spot. Conder earned the spot both times, but Anthony did take one match in 2018.
Outside of the three Americans, Emilia Vuc of Romania, Oksana Livach of Ukraine, and Yanan Sun of China will all be women to watch. Vuc won World silver in 2017 and 2019, Livach won World bronze in 2018, and Sun won Olympic gold in 2012 and bronze in 2016.
---
53kg
The Americans at this weight are Katherine Shai and Areana Villaescusa. Shai was in last year's Final X against Hildebrandt at 53kg, but Villaescusa is coming down from 55kg. The two have already wrestled twice this season, with Villaescusa coming out on top both times. 10-0 for third place at the Bill Farrell and 4-4 in the semifinals of Senior Nationals.
Outside of Shai and Villaescusa, you should keep your eye on Qianyu Pang of China, Vinesh Vinesh of India, Ekaterina Poleshchuk of Russia, and Lannuan Luo of China. Pang has won World bronze at 53 the past two years, Vinesh is one of India's rising stars in the sport and won World bronze as well last year, Poleshchuk won World bronze last year at 50kg, but has competed most of her career at 53kg, and Luo won U23 gold last year at 55kg, but actually made China's Senior team back in 2017.
---
57kg
57kg is another weight where a potential Pan Am special wrestle-off matchup could take place. This time, it's between Alli Ragan and Jenna Burkert. At the wrestle-off, Ragan will take on Helen Maroulis first with the winner getting Burkert. Ragan-Burkert is still a juicy matchup between a two-time World Team member and a two-time World silver medalist. Ragan beat 4-0 and 5-0 at 2018 Final X, but Burkert competed at Worlds when Ragan was unable to due to injury.
Outside of Ragan and Burkert, Linda Morais of Canada, Ningning Rong of China, Emese Barka of Hungary, and Pooja Dhanda of India could all challenge for a title at this weight. Morias won World gold at 59 last year, Rong won World silver last year and gold in 2018, Barka is a three-time World bronze medalist, and Dhanda won World bronze in 2018.
---
62kg
62kg could feature another Final X rematch, this one between Mallory Velte and Kayla Miracle. The pair wrestled in both 2018 Final X and 2019 Final X, with Velte winning the World Team spot in 2018 and Miracle winning the spot last year. Velte brought home bronze in 2018 and while Miracle didn't earn a Senior World medal last year, she did win U23 silver.
Macey Kilty is the third American at this weight. She's moving down from 68/65kg. Kilty is young but extremely talented. Last year she won both U23 and Junior World silver, losing to Japan in both finals. Most recently, she third at Senior Nationals.
Outside of the three Americans at this weight, Aisuluu Tynybekova of Kyrgyzstan, Inna Trazhukova of Russia, Liubov Ovcharova of Russia, Yuliia Tkach of Ukraine, Sakshi Malik of India, and Marianna Sastin of Hungary or difference makers at 62kg. Tynybekova was the World champ at this weight at this weight last year, Trazhukova was the World champ at 65kg last year, Ovcharova won World silver at 59 last year, Tkach won bronze in 2018, Malik has had underwhelming Worlds the past three years, but won Olympic bronze in 2016, and Sastin is four-time World medalist, three-time Olympian, and has finished fifth at Worlds the past two years.
---
68kg
One of America's current greatest wrestlers, Tamyra Mensah-Stock will be taking in action for the first time in 2020 this week. After taking World bronze in 2018, Mensah-Stock won her first World title last year in dominating fashion. Last year's 72kg World Team member Victoria Francis is dropping down this season. In her 68kg debut at Senior Nationals, she made the finals but was pinned by Forrest Molinari.
Outside of the two Americans, you should keep an eye on Alina Stadnik of Ukraine, Xiaoqian Wang of China, Alla Cherkasova of Ukraine, Anna Carmen Schell of Germany, Feng Zhou of China, Danielle Lappage of Canada, and Anastasija Grigorjeva of Latvia. Stadnik won World silver last year at 72 and gold in 2013 at 67kg, Wang won bronze last year at 65kg as well as U23 silver at 72kg, Cherkasova won gold in 2018 (the same bracket Mensah-Stock took bronze in), Schell took bronze last year, Zhou was bronze in 2018 and silver in 2015, Lappage was silver in 2018, and Grigorjeva won bronze in 2017 and 2014.
---
76kg
Five-time World champion Adeline Gray will be the only American at this weight, but she will be a slight favorite over the international field.
Natalia Vorobieva of Russia, Paliha Paliha of China, Aline Rotter-Flocken of Germany, Erica Wiebe of Canada, Vasilisa Marzaliuk of Belarus, Ekaterina Bukina of Russia, Martina Kuenz of Austria, and Qian Zhou of China are all difference makers as well.
Adeline's biggest competition will be Vorobieva. The Russian won Worlds last year at 72kg and in 2015 at 69kg, plus Olympic gold in 2012 and silver in 2016. Three-time World medalist and 2014 champion Rotter-Flocken wrestled Gray tough at Worlds last year and 2016 Olympic champion Wiebe held Gray to a 3-1 decision at the 2018 Worlds.
Marzaliuk is a three-time World bronze medalist and won silver in 2017, Bukina won Olympic bronze in 2016 and is a two-time World medalist, Kuentz won bronze in 2018, and Zhou is a two-time medalist herself.
---
Not one single down weight. This tournament is going to rule so much. 57kg, 62kg, 68kg, and 76kg will be wrestled in their entirety on Thursday. 50kg and 53kg, along with the non-Olympic weight classes will be wrestled in their entirety on Friday.